August 2nd, 2014 / 5:06 pm
Random
Alexandra Naughton
Catalog of ri¢h poets: Matt Margo
Are poets really ri¢h? It's the question of the ages. What is ri¢h, even? It is another question. Does it have meaning? Is it quantitative? Is ri¢h a lifestyle? Is ri¢h a feeling? Is ri¢h more than a feeling (more than a feeeeeeeling)?
I feel rich when I walk into a bookstore and steal copies of my own book. I feel broke when I get my royalty check amounting to sixty cents. I feel rich when I get tipped tokens on webcam sites. I feel broke when I calculate the value of said tokens. All poets want is a little token of appreciation. Can all the poets please get some?
Matt Margo is today's ri¢h poet, poeming away for a little gold coin. Or gold chain and medallion. Swag.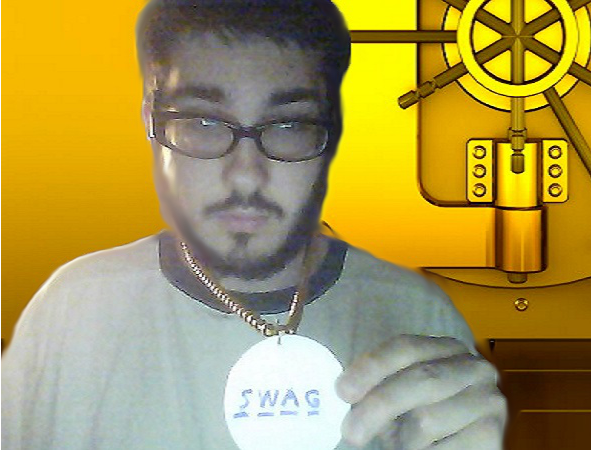 foe tha love of this
the money i linger over
is due entirely to
hours spent sitting around in the great
solar system designed
to be known as a kmart.
the money i shoot
only wants to maintain direct eye contact,
construct interesting beats, and
stare at my workplace.
my money is a poem wandering down mountains,
not a big word, just a thought,
a calming wash,
a spike through
a structural godsend.
ABOUT THIS POEM
This poem is included in my chapbook what i would say, which consists of found language from my Facebook posts strung together algorithmically. Each line is the result of chance, but each stanza is the result of taste—my attempt to compromise with the technology in terms of constructing meaning. The meaning being constructed in the case of this poem pertains to cash, which rules everything around me. I've never actually worked at a Kmart, but I do still understand the struggle of trying to invoke those dead presidents and keep them safe in wallets, checking accounts, and sock drawers. Yesterday I graduated from college, and today I am already feeling the tremendous pressure of needing but not having a job. The title of this poem is, of course, an allusion to my favorite Bone Thugs-N-Harmony song. But do we really live for the love of money? What other options do we have? The love of poetry?
Matt Margo i$ the author of When Empurpled: An Elegy (Pteron Pre$$, 2013), whi¢h you $hould pur¢ha$e $o that Matt Margo may one day be a Ri¢h Poet.
Tags: ri¢h poets
One Comment
August 2nd, 2014 / 7:25 pm grunge music jokes—

grunge music jokes

Catalog of ri¢h poets: Matt Margo | HTMLGIANT