Alexandra Naughton
—
I think
I am
averse
to long
left-aligned
and
narrow
poems written
like this
I think
because I
think line
breaks mean
something
and I
don't see
much meaning
in these
I think
I am
averse to
publishing
long
left-aligned
and narrow
poems
arranged
like this
in
print
because it
seems
like a
waste
of
paper
and if
you submit
one to
me, like
the ice bucket
challenge
made me think
'oh no, the
environment,
the drought,
the waste,'
then I
will probably
try to
edit
your
long
left-aligned
and narrow
line break
riddled
poem
into some
prose.
I posted this question on facebook: 'What makes boring poetry boring?'
People responded with a variety of reasons: no imagination, using tired techniques, failure to innovate, failure to obscure, the smack of phoniness, being too safe, being edgy for the sake of being edgy, cliches, the culture of commodification, not making an emotional connection. All of these make sense. All of these are different.
On the surface, the lit scene seems pretty nice. It's nice to play nice, right? It's nice to play nice when you're satisfied with the state of things, because not playing nice would upset the order. But sometimes we need a kid in the sandbox to kick some toys around to remind us that things are pretty fucked up. No matter how fun the new swing set looks. No matter how big little Danny was able to build his castle.
Andrea Coates is that kid. Love her, hate her, you probably have a strong opinion on the Canadian writer so discontent on the state of things in the writing world, even the language she uses on her blog is dismantled and reformatted to bring greater meaning.
And it's greater meaning for a greater cause. Andrea Coates' struggle is not a personal one, though she has used her self personally as a sort of bait to prove her point: the writing industry is inherently sexist. This is something a lot of us realize but can't always articulate. Coates calls for accountability, the dismantling of our existing sexist infrastructure. Let's get more excited about women and their writing and less excited about what writer dudes they've slept with.
This is part in parcel of Coates' mission, based on my reading of her work, and my personal interactions with the writer. Some may not agree with her methods, but I think it is clear that she is trying to do good work.
When I was in Nashville during my poetry tour, I was approached by an Artic Fox. Well, actually, I was approached by Josh Spilker, because the Artic Fox came to him first to ask if he would publish an interview, and Josh pointed to me and said, 'ask her, she has a bigger following,' or 'ask her, she writes for HTMLgiant,' or something like that, sorry if I'm misquoting you, Josh. So the Arctic Fox told me about this interview he did with Andrea Coates last year and I was like, 'yeah, send it to me.' I like Andrea Coates. I think she is a fascinating mind, so of course I jumped to publish the interview. Here it is, live and uncut.
Arctic Fox: I've been reading Your Blog, and I how you feel about T-Lin. I'm pretty curious about whether or not you're familiar with Mira Gonzalez and or Moon Temple also sorry if it's not cool to message u as a strngr
Alexandra Naughton
—
'I mean, it's cool if you stay quiet, but… I like singing.' – Conor Oberst
How I feel about blogging and social media and I guess performance in general.
Swallowing pearls, drinking chicken's blood, fighting off creepy clergymen: these are among the many bizarre challenges our protagonist must endure in Valerie and Her Week of Wonders (Dir. Jaromil Jireš, 1970). Valerie, played by the beautiful Jaroslava Schallerova, is a 13 year old girl living with her grandmother in a small town where religion is paramount and old-time ideals are treasured. She spends her days practicing piano, attending church services, and having tea with her grandmother: all things seemingly ordinary for an obedient child. But beneath the pretty surface there is something rotten about this rustic Czechoslovakian hamlet. Vampires! Lecherous priests! Debauching actors in animal masks! And witch-hunting townspeople!
Are poets really ri¢h? It's the question of the ages. What is ri¢h, even? It is another question. Does it have meaning? Is it quantitative? Is ri¢h a lifestyle? Is ri¢h a feeling? Is ri¢h more than a feeling (more than a feeeeeeeling)?
I feel rich when I walk into a bookstore and steal copies of my own book. I feel broke when I get my royalty check amounting to sixty cents. I feel rich when I get tipped tokens on webcam sites. I feel broke when I calculate the value of said tokens. All poets want is a little token of appreciation. Can all the poets please get some?
Matt Margo is today's ri¢h poet, poeming away for a little gold coin. Or gold chain and medallion. Swag.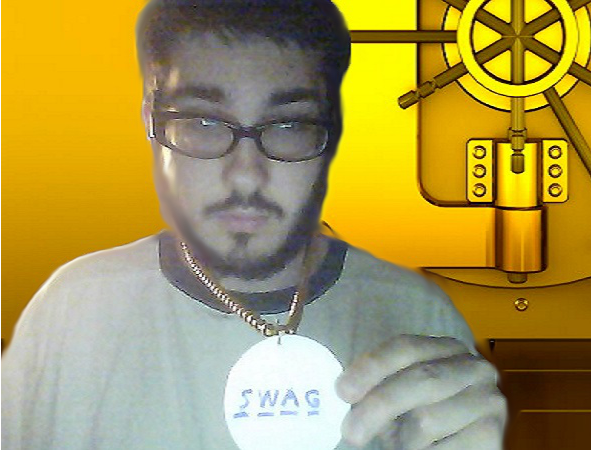 foe tha love of this
the money i linger over
is due entirely to
hours spent sitting around in the great
solar system designed
to be known as a kmart.
the money i shoot
only wants to maintain direct eye contact,
construct interesting beats, and
stare at my workplace.
my money is a poem wandering down mountains,
not a big word, just a thought,
a calming wash,
a spike through
a structural godsend.
ABOUT THIS POEM
This poem is included in my chapbook what i would say, which consists of found language from my Facebook posts strung together algorithmically. Each line is the result of chance, but each stanza is the result of taste—my attempt to compromise with the technology in terms of constructing meaning. The meaning being constructed in the case of this poem pertains to cash, which rules everything around me. I've never actually worked at a Kmart, but I do still understand the struggle of trying to invoke those dead presidents and keep them safe in wallets, checking accounts, and sock drawers. Yesterday I graduated from college, and today I am already feeling the tremendous pressure of needing but not having a job. The title of this poem is, of course, an allusion to my favorite Bone Thugs-N-Harmony song. But do we really live for the love of money? What other options do we have? The love of poetry?
Matt Margo i$ the author of When Empurpled: An Elegy (Pteron Pre$$, 2013), whi¢h you $hould pur¢ha$e $o that Matt Margo may one day be a Ri¢h Poet.
Ri¢h like a ¢ockaroach scrambling and fighting other lesser insects for a bite of discarded pizza ¢rust. Ri¢h like a fifty ¢ent soda. Rich like a fire poker in the bottom. Rich like green eyeshadow all over your face. Carabella Sands is a ri¢h poet, and if you ever saw her reading poems laying on a concrete floor, you would never have any doubts about it.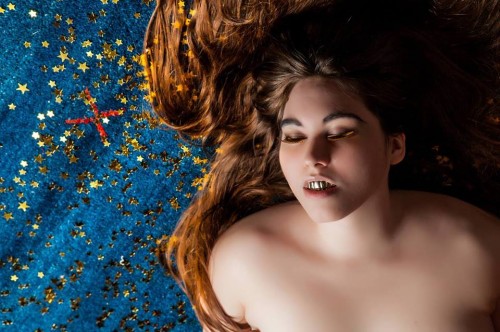 photo credit
Pornography
I hugged your boyfriend last night
He felt real good and warm
I tried to connect my brain to yours
All the way in Disney World
So you could get an image
Our bodies
A leading center
And imagine your bodies
I wanted you to feel him
And need to come home
ABOUT THIS POEM
Fuck. This poem is about love obviously. Feeling so good about hugging someone that you feel bad someone else doesn't get the chance to do it. I don't know how to write an "about this poem" Can't I pay someone to do it for me?
Carabella Sands is the ri¢hest poet ever. She owns the sun and most other stars. Her Tumblr is made of platinum and diamonds.
I usually write the introductions on my own posts around here, but Manuel Arturo Abreu's intro is hella cute. And their post is hella cool and good and important. Sooooo /Tsaritsa out.
Poets stack that immaterial paper by living in the danger zone. Making written or typed marks is a way of briefly reminding ourselves we exist. It's easy to forget when you're rolling in the dough. The world is confusing when the spirit is so rich. This is why I say "you feel me?" Alexandra the based goth (aka Tsaritsa aka Billy Corgan's Whore aka the version you were afraid to ask for) asked me for a poem for her Catalog of ri¢h poets and I sent her this one about changing the game.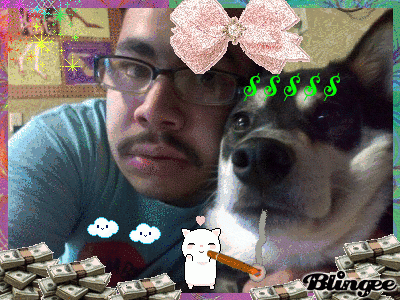 VIRTUOSO
Mr. A and Mr. B had just graduated from the same college. Mr. A was a biology major and Mr. B was a physics major.
º
Mr. A felt the need to "change the game." He vaguely knew about biometrics, and wanted to learn how to code, but felt like his "instincts had failed him," that he'd discovered about Silicon Valley too late, or something, and should've started coding when he was ten, maybe. He would have been a virtuoso by now.
º
Mr. B wanted to become part of a startup. He was a quiet beast at coding. He remembered once when a white guy wrote in a notebook, after a conversation with him, "QUANTUM COMPUTING → $$$" and then said he had to go do something. He was carrying a purple yoga mat. He had said he had just finished rehab for "a bunch of dumb shit."
º
Mr. B's parents had visited recently from India. He felt "drastically changed" from the experience, and stopped smoking cannabis. He had not been back home to Tamil Nadu in two years. He felt aversion to the idea of returning, but only had three months to remain in the US after graduation before needing to find employment, before his "grace period" ran out. He tells Mr. A, "I'm an alien. That's what they consider me, like the government you know."
º
Mr. A remembers when one of his friends told him a story about "how I believed for way too long that 'illegal alien' meant actual aliens, like from outer space, and I was hateful and afraid, until when I was like nine I learned it just meant real people, who like, the government or other random people had decided weren't allowed in this country, and I was like oh, that's so evil."
ABOUT THIS POEM
VIRTUOSO is a poem about being the best there ever was. Changing the game is a pressing concern to most people. Thus my poem is an example of Search Engine Optimization (SEO). The key is that both characters are my real-life friends. One is American, one is not. Therefore, because quantum computing, yoga, cannabis, and immigration issues are trending, I firmly believe this poem will soon become the first google search result for "i don't understand why people have to work to stay alive why can't we just walk around and talk and heal from history and stuff." I worked as a personal assistant for a self-described 'SEO wizard,' I know what I'm doing. He also had two poodles. VIRTUOSO is from a chapbook called List of Consonants, forthcoming from Dig That Books.
manuel arturo abreu is a poet and forgone soul based in portland. They are from the Bronx so the epithet 'boogie-down' applies here if you need a reason to google 'manuel arturo abreu.' manuel likes emo sexts, jazzercising, and sketchy ecoqueer fantasias. Their ideal date is a group of people sharing a laptop to show each other music online. manuel is hard at work tweeting, editing at greybook , and sleeping things off. Hire them, email for more info hearingdeafone@gmail.com.
Random
/
Comments Off

on Catalog of ri¢h poets: Manuel Arturo Abreu
June 3rd, 2014 / 6:57 pm