May 7th, 2014 / 7:56 pm
Random
Alexandra Naughton
Catalog of ri¢h poets: Elizabeth Foster
Poets make that guap, right? Easy money. At least that's what my nine to five office co-workers keep telling me.
It's easy being poor, it's much harder to be a ri¢h poet. People who are not poets have no idea how real the struggle is. Major label publishers, celebrities, Jay-Z– everyone wants a piece of the lyrical genius. It can be super overwhelming. Don't even get me ranting about all those diamonds that get thrown at us on our way to the subway for the evening commute. Yowch! Thankfully, those precious stones can be ground up and sprinkled on cat litter to make that shit shine.
Today starts the first in a series profiling real life rich poets so that you get to know them, understand their pain. Please enjoy this poem by Elizabeth Foster and recognize that it's hard out here for a ri¢h poet.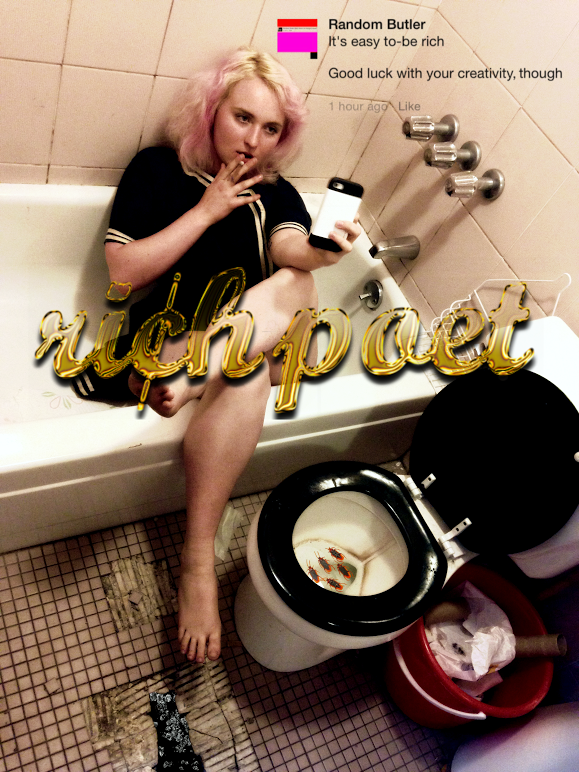 bklyn
there is a wormhole
under the toilet
in the second bathroom
i would advise not
to move the board
that has been carefully
placed over it
for 5 years
every now and then
it spits out expired coupons
for a hardware store in Indiana
i can't remember the name of
there is a family of cockroaches
living in the microwave
i'm convinced they'll live on
long after we get around
to that murder suicide
we promised the planet
i still use it because
i think it's kind of romantic
there is a cat living
inside the radiator
in the living room
i know this because
sometimes when i lie awake at night
regretting all the things i forgot to tell you
before i lost your number
i can hear it hissing
i wonder why it's so scared all the time
maybe it is lonely
and doesn't know how to make friends
haha kind of like me
ABOUT THIS POEM
i dropped out of college twice but im debt free 4 fucks sake
catch me at the library snorting lines between each stanza w/ my man ben franklin
if i had a dollar 4 every twitter follower the bills would exceed my bank statement
i have 15 metro cards but i still jump turnstiles
i donated my last $27 to children's international then closed my bank account
stealin' all my groceries from whole foods cuz that peasant shit's below me
duh these shoes are prada
nah I ain't gonna tell u how I got em
watch me walk up in the MET takin selfies in front of Dali's 4 under 50¢
like no shit all the normies wish they were a ri¢h poet like me
elizabeth foster is a 21 yr old ri¢h poet living in the sparkling metropolis that is south bklyn. elizabeth can't really be bothered to write an engaging bio and recommends you learn how to use google because it's 2014 and that shit is pretty damn useful. follow elizabeth on twitter and tumblr. "Sent from the artist's iPhone"
16 Comments