October 31st, 2008 / 2:00 pm
Random
Blake Butler
elimae's Reading List in Archives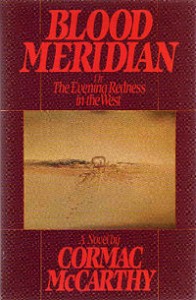 Randomly stumbled on an old list of Recommended Reading from the elimae archives, including lists of recommendation by Deron Bauman, Brian Evenson, Michael Kimball, Norman Lock, Dawn Raffel, B. Renner, M Sarki, and several excellent others. The lists form a pretty wonderful net of texts many of which I have loved, and many others I've never heard of or have meant to read. I added I think 5 things to my Amazon wishlist off of it. Worth exploring.
A preponderance of Cormac McCarthy reemphasizes the fact that if you haven't read BLOOD MERIDIAN and SUTTREE by now, well, fuck, get to work.
Deron Baumann, oddly, refers to BLOOD MERIDIAN though specifically only wants pages 5-165, which is about as far as I got the first time I tried to read it. It's a dense mother. But now that I've read it twice and change, and still not quite having absorbed a lot, I have to say, the images near the end with the child in the desert hiding from the Judge as he passes back and forth into the sand are one of the images that has haunted me most in all my reading ever.
Other names that appear on the lists rather frequently: Gordon Lish, Samuel Beckett, Amos Tutuola, Italo Calvino, Diane Williams. Though there is also a lot of hidden nuggetry and apocrypha.
This is a good puzzle, in a way, I love these kinds of lists. I want more.
So, not sure what to read next? You probably can't go wrong with most of what's on here.
Old elimae is like scrolls: if you've never dug from the early years, jeez. Go.
Tags: ELIMAE, gordon lish, reading list
10 Comments