June 12th, 2009 / 11:06 pm
Uncategorized
Matthew Simmons
Emily Frey's Airport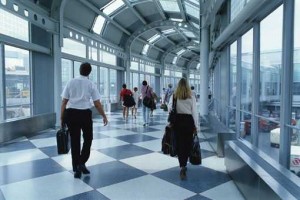 I've been meaning to link to Emily Frey's impressive book of short poems Airport for a little while. I've read it three or four times, and have enjoyed it.
I think, though, it is fair to say that I remain intimidated by poetry, as I am merely a prose writer who wishes he had the facility to express himself poetically with the power that a rare few do.
When I get intimidated, I figure it's best to just say what I like about a piece of work and let the rest discover it without the subtracting influence of my numb-fingered, foggy-brained keyboard tappings on the it. Here goes.
Here is, I think, my favorite piece. It feels central to me:
How do we live
much less
breath
in this place
of potential
disaster?
I don't mean
burning clouds
but the people
on the ground
ready to
forget us
before we
come down
I am, and have been ever since my teens, a nervous flyer. I spend my time in airports walking back and forth from terminal to terminal, waiting for the layover to end, looking at the public art or moving through the weirdly lit tunnels. I'm usually on a mild sedative, too. So I experience airports in small doses. In vague stills. In time lapse.
Frey's Airport seems to me to do the same. The pieces seem to fall together, ordered by a disorderly consciousness.
We're on the plane. We're off the plane. We're spinning in the revolving doors. We're getting something to eat. We're waiting for our baggage. We're existing in the airport, the unplace place in every city.
It's not the undestination. Not the antidestination. It's, I don't know, the adestination. It doesn't care if you are going there or not.
That comes through in Airport. That's why I like it.
Also, really beautiful piece of work. The "cover" is gorgeous. And the designer from Blue Hour Press set all the titles in Frutiger, the font originally designed for the Charles De Gaulle International Airport that one sees—according to the note on the type—in almost all airports.
Tags: Airport, Emily Frey
16 Comments