April 29th, 2011 / 9:14 am
Random
Christopher Higgs
Four bookstores in Chicago

Just returned home, having spent the past few days helping my brother move to Chicago. After we unpacked the moving truck, we hit up a few bookstores. Here's what I thought about them:
The first place we went to was up in Wicker Park, which seems to be hipster central. Every block contained a fixie shop, a sushi restaurant, a thrift store, and a neon Pabst Blue Ribbon sign. Myopic Books, a used books spot right in the heart of it all, didn't have anything too exciting. I saw a copy of Brian Evenson's The Wavering Knife for $7, and also a copy of Derrida's Dissemination for $10, both of which are good finds, but ultimately the selection struck me as blah. What I mean by that is: they had very little by way of strange or unique or hard to find weirdo shit. This was especially disheartening because the front window of the place boasted a few good looking oddities, like a first edition of Gertrude Stein's Stanzas in Meditation, a creepy human anatomy pop-up book, an interesting Atlas printing of a surrealist novel by four lesser-known surrealists, and so on. In other words, they entice you into the place promising interesting stuff, but once you get into the stacks you find a bunch of Doris Lessing books and a signed copy of Rod McKuen's Rusting in the Rain.
(I will say, however, across the street from Myopic Books we had tasty milkshakes at a place called Earwax Cafe.)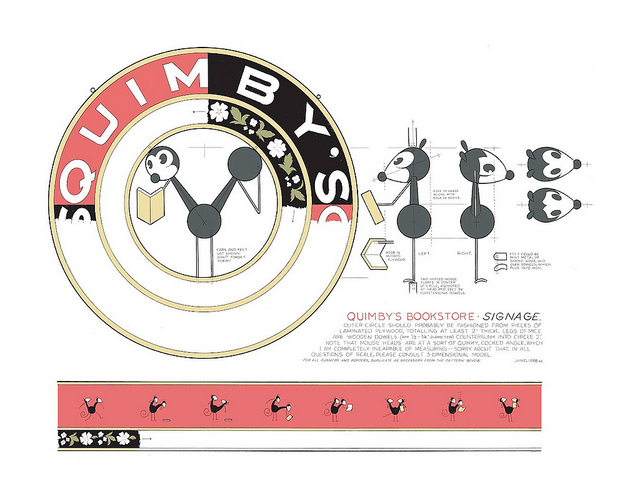 Next, we went to Quimby's, which is only a few blocks from Myopic. This is a strange joint. They specialize in comic books/graphic novels and zines. They sell new stuff, not used stuff. They also have a hefty selection of literary journals and magazines along with a slim selection of indie/small press titles. My brother found a particularly odd zine composed entirely of ultra-realistic naked drawings of Seth Rogen in various sexual positions. No words, just Mr. Rogen in his birthday suit. And for the life of me, I can't remember if he was depicted as circumcised or not. I suppose it doesn't matter.
The thing about Quimby's is that it carries a bunch of interesting things, especially in terms of the graphic novels/comic books — but for some reason they charge cover price for those things. This seems strange to me. I mean, why would I pay cover price for something when I could order the exact same thing off Amazon for half the price? Here's an example: I saw this cool looking Fantagraphics book that I thought my wife would really enjoy called Castle Waiting by Linda Medley. Cover price is $29.95, which is what Quimby's charged. Instead of buying it there, I waited until I got home and I bought it "like new" from an Amazon seller for $15.00 (including shipping).
Makes me wonder: how does a store like Quimby's stay in business? Are there really that many people who buy zines and/or ethically disbelieve in Amazon? Speaking as someone who is relatively poor, I simply can't afford to shop at places that charge double what Amazon charges. If, on the other hand, there was some kind of incentive to buy from Quimby's beyond the whole "ethical value in supporting small business" angle, then I may have bought it from them. I'm looking for a two for one deal or something. Anything that makes it worth my while as a consumer. Unfortunately, anti-capitalist ethics best befit those privileged individuals who can afford to throw away $15 on principle. I'm not one of those individuals.
The next place we went to was Powell's down in Hyde Park, down by The University of Chicago. Hands down the best of the four places we visited. They had a killer selection of used fiction and poetry, a bunch of oddities, and the prices were reasonable. I got a copy of Salvador Dali's Hidden Faces (his only novel, which I believe is currently out of print in the US — but in print in the UK under the Peter Owen imprint) for $5. I also got a copy of Francesco Maria Guazzo's Compendium Maleficarum (which is this badass 17th century field guide for the beginning demonologist) for $9.
More used book stores should adopt Powell's pricing policy. Most of the fiction I looked at was $5. That price moves inventory. That price competes with the internet. That price makes me spend more money in the long run because I can spend $20 and get four books — that's a good deal.
The last place we went to was on the U of Chicago campus, The Seminary Co-operative Bookstore.
(Well, technically there was one other used bookstore we went to called O'Gara & Wilson — which purports to be Chicago's oldest used book store — located across the street from Powell's — but seriously, their selection was utterly dismal, thus unworthy of sustained consideration)
The Co-op had a strong selection. All new stuff, no used stuff. Heavy on the academic front. Plenty of compelling titles, including a complete selection of The Loeb Classical Library, and other critical works you don't often find in bookstores like a whole shelf of books on Deleuze — in addition to the large selection of work by Deleuze. This place reminded my brother & I of this great bookshop in Denver called The Tattered Cover.
All in all, Powell's took the cake.
96 Comments