June 28th, 2011 / 2:18 pm
Random
Jimmy Chen
Greatest freak out ever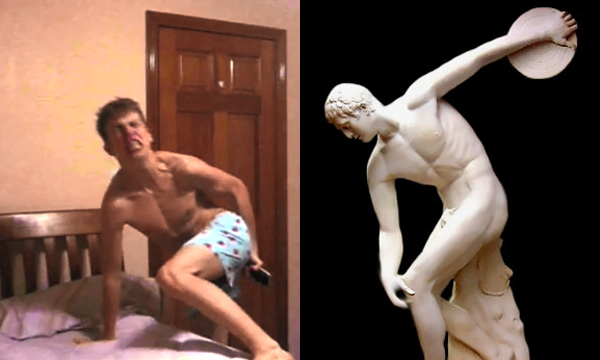 In 2009, a young man named Stephen became very upset when his mother cancelled his World of Warcraft account. Should you deride a child for being so invested in the sub-parallel world of the internet, I ask what you are doing here. His brother Jack recorded what ensued inside the former's room, which most of you have seen. It is entropic, cathartic, and harrowing. At one point, Stephen attempts to insert a remote control "up his ass," which is less a comment about shitty television than a residual impulse from one's anal stage (1-3 yrs) in psycho-sexual development. I wonder what shows Stephen watches at night, the distance from the world he feels as gathered by the talking faces. This contributor will note his sculpturally toned young body; the contracted neck muscles of taut anger; the stately plant of his right arm; and the eager arch, while not exactly graceful, of his hip, as he invites the inadament object into this being. Myron's "Discobolus" (450 BC), of grace and harmony of the human form, has been since critiqued by both art historians and athletes as a rather inefficient way to throw something — but art has never been about distance, but rather, nearness. To touch a marble body is to feel cold unflinching flesh, the timeless detached heart of mere form. To get inside a person, you may as well be a remote.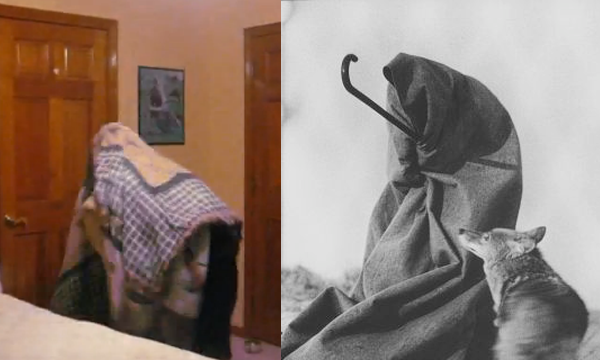 At one point, Stephen covers himself with his blanket — perhaps handed down from a generation, softened by his grandmother's hand, inside which he or his brother may have been carried to their present home, or simply spunk stained from a dream his body couldn't control. Our final stage (genital, 12 yrs-death) may point to the need to be ensconced inside something warm, or to ensconce that which needs. The greatest diplomacy between men and women is wordless, printed on the letterhead of skin. One day Stephen will lose his virginity. He will spend the rest of his life trying to get back inside, and the inside may somehow feel like the outside — that wilderness of a partner's heart — when he's finally there. In 1974, Joseph Beuys was carried on a gurney from an ambulance into a New York city gallery, where he spent three days with a wild coyote. The performance piece was called "I Like America and America Likes Me," having, exiting on said gurney, never stepped foot in this country. At 19, he volunteered for the German air force, and was shot down in Crimea, whose men nursed him back to health by wrapping him in fat and felt, which are staple motifs in his work.
If every boy's bedroom is a gallery, then the metaphor may be too easy. The uncurated performance of life keeps on happening, for the stupidest or saddest of reasons, unseen by one's mother, or brother, but only the latter's camera, until it's seen 49 million times by strangers, empowered to "like" it or not in our most unnecessary democracy. A television channel is its own world, even its demographically targeted commercials subscribing to the narrative. I recently upgraded my Comcast to the $99 "triple bundle," (internet, cable, phone) given that I had been inexplicably paying $120 for much less. I small-talked to the woman on the phone about how comedic Comedy Central was; how historically accurate the History channel was; how much food was portrayed on the Food network. Our conversation sort of spiraled from there into silence as I imagined her in my bed. Every sentence is a hymn, an ode to another person. That evening I picked up a "standard box" at the on-site store and at home attended to the "in" and "out" wire-sex behind it. The package came with a remote, into which I inserted new AA batteries. I calmly pressed the "on" button but nothing happened. I calmly pressed it again. Nothing. Then I not-so-calmly said "Jesus Christ," contemplated sodomizing myself with the remote, but simply walked five ft. over to the dead machine, and brought it to life with a trembling finger.
Tags: Greatest freak out ever, joseph beuys
20 Comments