October 13th, 2008 / 1:37 am
Uncategorized
Blake Butler
Narrative Magazine is edited by George W. Bush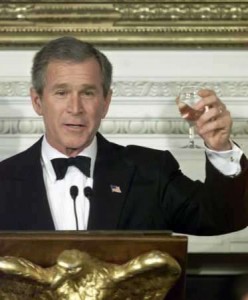 It seems a lot harder for an online literary journal to be smarmy in the way of Zoetrope: All Story: since it's the web, usually there's a bit more wide of a perspective, and you tend to get a better grab bag of unusual work.
Narrative Magazine is near the top of my list of online journals that feel like they are edited by George W. Bush.
First off, you have to 'join' the site so you can even read the posts. It's a free website, but in order to have 'backstage access' (is this Guns N Roses?) you have to sign up and let them spam you, which honestly is probably too much hassle for a lot of people. Geesh.
Moreso, though, it's the content. Right now on the site they are featuring a story by Kate Chopin…
Yes, that Kate Chopin, and no I am not kidding. I mean, in case you didn't feel claustrophobic enough reading the Awakening in high school, they figured they should give you a chance to catch up with the new new shit. MMM.
For the most part, also, Narrative is known as a place where 'slush pile' is a thing that curdles in the whey.
Which is weird, considering their TWENTY DOLLAR SUBMISSION FEE, which I will discuss more after the jump.
Have you seen this? This online magazine wants you to pay them $20 to submit your story or $10 for a set of five poems (up from $5 a pop whenever I last looked a year or so ago). They offset this idea by the fact that they dont 'charge for subscriptions' to their WEB JOURNAL (though they do offer print versions that are $16 on amazon only). Well, wee ha! That is purely criminal, especially considering a journal that publishes so many already large names that are clearly solicited, as you can tell by looking at their Duotrope stats, which state that out of the last 98 subs they've gotten, they've taken 2, and it took them 65 days to on average to reply to the rejection.
I am so confused over the $20 thing, I am going to post the sub guidelines right here:
Submission Fees: Narrative is a nonprofit organization with the ambition of encouraging good literary work. We do not charge readers for the magazine. We do charge a nominal submission fee, which helps cover the basic administrative costs related to receiving, reading, and responding to submissions. Also, a portion of the reading fee helps fund our annual Narrative Prize. Our desire is to connect readers and writers, and we strongly encourage anyone interested in submitting work to read the magazine before submitting. You may read the magazine for free. If you enjoy reading it and wish to submit, we hope you will feel that the reading fee, which is lower than most literary magazine subscription fees, is more than justified by the quality of the work the magazine offers. We are strongly committed to publishing debut and emerging writers. The reading fee is $20 for prose manuscripts, $10 for up to five poems, and $10 for audio submissions.
I really feel disgusted. I won't even get into the content-wise shitting on Narrative that I was going to get into, about how they only seem to publish a very specific kind of writing by a certain sect of people, but since I don't feel like joining the site and signing in, that will have to be gleaned by just looking at the front page.
I can't even say anything else.
Tags: george w. bush, narrative magazine
114 Comments