August 24th, 2012 / 5:48 pm
Random
Jimmy Chen
On Sacrilege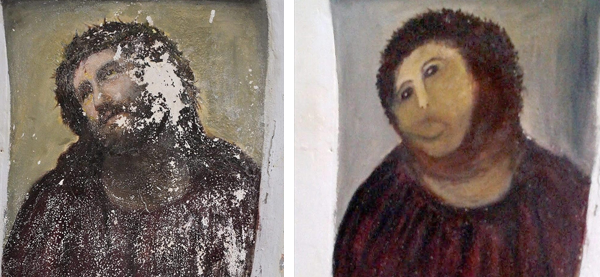 Provincial painter Elías García Martínez painted, sometime in the 19th century, Jesus Christ as mirrored in our minds; or rather, in the accepted manner by which our minds have been irrevocably influenced — the tilt in the head, sullen look, blanketed yet speculative eyes perhaps wondering if He, just before his "Ecco homo" crucifixion, should have simply conceded to the Romans that he (left column of H now broken off) was just a man. Christianity's solipsist ethos is based off an antagonistic bluff: that this Man was much more than that. A hundred or so years later, one 80-year-old woman Cecilia Giménez, in the Santuario de la Misericordia, a Roman Catholic church in Borja, Spain, voluntarily "restored" the brittle fresco to such a comical simian degree, that the irony of the church's denial of man's evolution from ape is felt upon me.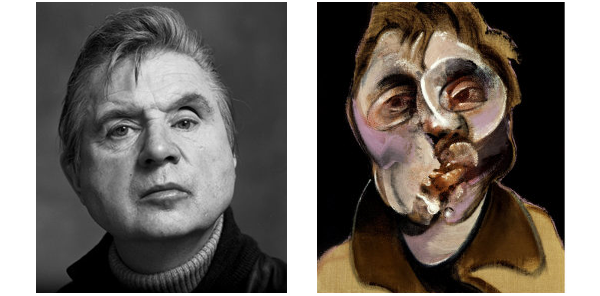 Self-portraiture is traditionally painted using a mirror. The challenge is to consolidate both form and one's psyche's impression into marks with which an accurate semblance (pictorially and/or emotionally) is brought forth. Before the age of Mac Photobooth narcissism, the self-portrait was a tedious and solemn task. To have to look into who you are, past the translucent sheen of the retina cam. Modernist angry guy Francis Bacon preferred using photos to paint people, even himself. This denial of the "real self" in favor of the represented self may explain our passive concession to the latter. Years later, now, every Holga-esque Instagram filter is the empty nostalgia of time past. We'd like to believe that veritable things happened to us, when in fact 'twas just brunch, emitted out in 10 seconds to 10,000 followers and 1,000 friends if you're lucky. In 1995, as satirical critique, one Ivan Goldberg, M.D., proposed Internet addiction disorder (IAD) as a formal diagnosis in the Diagnostic and Statistical Manual of Mental Disorders (DSM-IV), though it has yet to be included. Academic authorities dispute the disorder, as they fear it would legitimize the merely pathological behavior. Put simply, diseases are immune to judgement, and the jury's still out on who's to be blamed.

In 2004, one Heather Raybon suffered severe third-degree burns to her face (i.e. melted off) in an explosion while making crystal meth. After numerous surgeries over many years, her face has been rendered painterly. One imagines Rembrandt with a palette knife making her from nowhere. Because Sudafed (the over-the-counter nasal decongestant) is used in the self-making of crystal meth, most pharmacies now impose a limit to the amount of .mgs one can buy each day; naturally (yet oddly) Sudafed's "street value" in the drug trade has increased exponentially. Methamphetamine is a psychostimulant drug which induces euphoria, as accompanied by hyper-alertness, increased energy, concentration, confidence, and libido. In short, you become a better person than you are. Self improvement via the synapse is the road most traveled. During WWII, both allied and axis forces administered the drug to soldiers and military personnel. From 1942 to his death, Hitler had it pumped into his vein by his personal physician. In the 1950s, Japanese companies gave their workers meth to increase productivity, a nice nod to both Nagai Nagayoshi and Akira Ogata, Japanese chemists who first synthesized methamphetamine and crystal meth in 1893 and 1919, respectively.  In 2011, Raybon was caught and arrested again for making the drug using a dangerous "one-pot method" (self explanatory) in a trailer park in Minton, Florida. She had more burns, elsewhere, from elsewhere.
The nearest Walgreens to my home is on 24th street and Potrero Avenue, across from which there are perennial gang shootings between two Latino gangs who yet somehow diplomatically seem to take turns driving down 24th st. in those cars with those shocks that bounce many Sundays around 4pm with those hotties with little tropical paintings on their fingernails and gothic font tramp stamps in the back seat, their competing cloying perfume unsmelt because of a cold. All the recent gentrifiers getting cheap vegetables at native prices, including me, bashfully look away, not from guilt, but semi-racist self-preservation. I run into Walgreens for some Sudafed, get "carded," pass the I.D. test, and pop two pills upon entering my 800 sq. ft. ongoing coffin i.e. my condominium. I'm not addicted to meth, or heroin, or coke, just alcohol, the internet, and sometimes diet coke. Minor-meme "Die ok," as left over by the erasing of 't' and 'c    e' in Diet Coke's logo, feels post-Nietzschean as negativity fetish. Cynicism as supplement to hope. I like the non non-drowsy i.e. drowsy Sudafed. I like lying in my bed looking at my ceiling, the egg shell white brittle as the egg tempura paintings of Pompeii, or some buried land where its entire populace was left as frozen as the paintings under ash. We X-ray man to find disease, and paintings to find man. Suddenly, my face changes.
10 Comments