June 19th, 2009 / 2:28 pm
Uncategorized
Jimmy Chen
Possible texts from David Byrne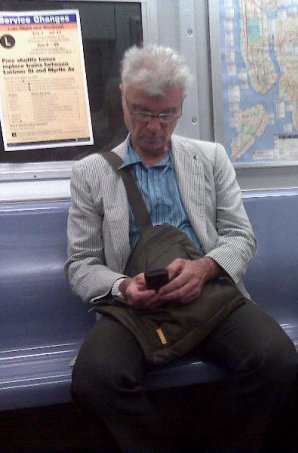 I came across this photo of David Byrne on the L-train in NYC and wish to offer some possible text messages from him:
–wtf no signal
–where's moma?
–w8 up i'm on the L
–3 chords 2 many
–lol eno is emo
–CD release party 2nte?
–gf is better

–omg Bb yes
–gr8 a fan
–new wave bitch
–stop making ¢
I guess now is the time to give a "shout out" to David Bryne, who unlike other heros, remain enthralled with the — um — enthralling world around them. What's the secret Dr. Bryne? How do you still be so cool?
Tags: David Byrne
16 Comments