December 17th, 2009 / 1:48 pm
Uncategorized
Justin Taylor
Reading Ray Backwards (guest-post by Alec Niedenthal)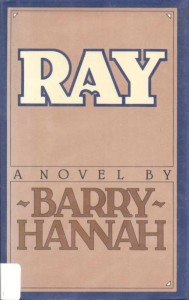 If Gary Lutz does it–and he says he does–I don't know how he does. In an interview with Michael Kimball, Lutz says, "Maybe part of the explanation of why I write the way I write has to do with the way I sometimes read. I sometimes read a book from back to front, sentence by sentence-a practice that, as one might imagine, can give a completely different disposition to a book." I've been trying to read Barry Hannah's slim marvel, "Ray," back to front. Sentence by sentence. It won't work. A book like "Ray" has a certain velocity, speed, force. You'd think that because most sentences here are jewels, are the sharpest of diamonds, that one could isolate them and pick them apart from the bone outward. But it's become clear to me that Hannah's sentences sing precisely because they are deeply embedded in a system of voice which, however fragmented the narrative structure of "Ray," is a system, and therefore, to my mind, necessary.
The story goes that Hannah gave Gordon Lish a 500-page or so manuscript, Lish worked it over with his demanding Lishy hands, and what we have is pretty much a collection of the draft's most striking sentences. But a book is written with and in a certain code. It would be easy to say that the experience of reading "Ray" from back-to-front was disorienting. It was more than that. Back-to-front, it was nauseating. Part of me wants to say something about the human brain having been conditioned to absorb narrative in a linear fashion. But the other half tells me it isn't so much the complete narrative body as it is the narrative of the voice itself.
Each sentence tells a story. Lutz and Lish both understand the sentence as self-contained, as an object–in Emmanuel Levinas's words, "more material than all matter." As Lutz says in a recent interview with We Are Champion, "Every sentence should feel like the nucleus of the story in which it will eventually appear." But what are the dimensions of the sentence? Why should the sentence end at a period? If we think of the sentence as an object-in-itself which works in isolation, are we not perpetuating traditional, straightforward modes of storytelling? Here, I'll pick a sentence out of "Ray" at random. "I promise not to take a jet anymore." This is Ray addressing his stepson. It's a great sentence on its own. "[T]ake a jet": take it where? We love the awkward poetry. This passage, in context, is an arresting (and, I think, particularly beautiful) interruption of the narrative, which is tenuous in the first place.
Let's arrange and rearrange the surround of our "jet" sentence:
Never be cruel, weird, or abusive.
I promise not to take a jet.
I love your mother.
Amy, Bobby, too.
This boy is so full of loves the juice comes out his eyes.
Or:
This boy is so full of loves the juice comes out his eyes.
Amy, Bobby, too.
I love your mother.
I promise not to take a jet.
Never be cruel, weird, or abusive.
This seems arbitrary, yes. But the first one, read linearly, has more force. It's a rhythm which fits. Would you read poetry backwards? If, as the avant-garde now regularly posits, there is no distinction, really, between poetry and prose, how is reading backwards, for the pure sensuality of the sentence, justified? Prose can be plotless and still enthrall on the sentence level. But plot and narrative are not identical terms. There is a narrative to sentence the same way there is a narrative to music; a voice vibrates in a certain key because it takes up a certain narrative. Even the most fucked of books has a narrative, a code, an insistent deferral of resolution. Not resolution in terms of plot, but in terms of language and the space of that language. Which resolution, it could be argued, is in fact an opening-up. Sure, Burroughs, for instance, cut up his work and it worked, but the DNA-matter of his work allowed for that kind of approach.
A careful reading has rules–rules that can be bent, manipulated, headbutted, but if broken, I am not truly engaging with the text at hand. I am violating the thingness of the work. Dismantling plot–which seems to be a pivotal project of the avant-garde right now–is worthwhile in my mind, but perhaps it's something like a transcendental illusion to think we can overcome narrative.
In reading "Ray" backwards, one intends to strip plot of its devices–character, drama, scene–and solidify the sentence. But we would be wrong in thinking language gets its force from plot. Narrative happens on the level of the sentence, with no exteriority of plot. Etc. Language is deferral, a system perpetually subject to its own re-opening, etc.
Yes, okay, but what does sending the text ascramble do?
Reading "Ray" back-to-front, more than anything, allowed me to more deeply engage with "Ray" in a front-to-back reading. Instead of getting a sense of how each sentence works alone, I grew to understand how the Hannah's sentences form a network, a system of reference, repetition and recurrence. How the sentence îsˆ"more material than all matter." But not taken in isolation. If we objectify (in the sense of hardening) each sentence–and a backwards reading certainly did just that–then the work becomes flat. Sentences lose their power, their intergration and velocity; we drain the work of its dynamism and performance. Momentum slows. The ethic of the text nearly disappears; what's left is mostly debris.
"Ray," nor any worthwhile work of words, is not, cannot possibly be read as a random smattering of sentences. Its complexity comes precisely from a dissimulation of simplicity. Like all great works of fiction–of art–it denies its own absolute truth; it hides slyly inside of a lie.
The next time you reread a book, try reading it backwards, maybe by sentence, maybe by paragraph–maybe hold the book vertically and read it that way. The experience works you over, gets you squeamish; it felt distinctly like violating something holy, like eating the Talmud. It is, in a very literal sense, an inversion of time. The sentences stand still while everything else topples.
"Hear me, poets. I have certain feelings."
Tags: Alec Niedenthal, Barry Hannah, gary lutz, Ray
105 Comments