September 11th, 2009 / 7:27 pm
Uncategorized
Ryan Call
Reading Russia: Chapter 1 of Viktor Shklovsky's Theory of Prose
And so, in order to return sensation to our limbs, in order to make us feel objects, to make a stone feel stony, man has been given the tool of art. The purpose of art, then, is to lead us to a knowledge of a thing through the organ of sight instead of recognition. By "enstranging" objects and complicated form, the device of art makes perception long and "laborious." The perceptual process in art has a purpose all its own and ought to be extended to the fullest. Art is a means of experiencing the process of creativity. The artifact itself is quite unimportant.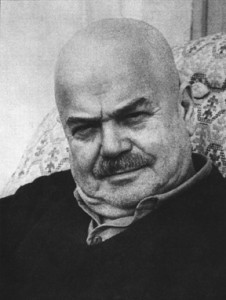 I'm slowly working my way through Viktor Shklovsky's Theory of Prose (translated by Benjamin Sher and published by Dalkey Archive Press). I've read the introduction by Gerald Bruns, the translator's preface, and the first chapter so far and have been pleased with the result. Especially fascinating to me is this idea of ostraniene (Sher admits to having translated this neologism by coining the word 'enstrangement') and how it works in art, or rather prose (fiction, for me). It seems to me that ostraniene is a foundational piece of Shklovsky's theory; therefore, it's worth devoting some time to here.
Chapter one, titled 'Art as Device,' begins with a discussion of art as an image-based sort of production.
Shkolvsky takes several pages to prepare this concept; he quotes Potebnya ("There is no art without imagery, especially in poetry" and "Art is thinking in images") and Ovsyaniko-Kulikovsky (paraphrased in the chapter: "Poetry is a special mode of thinking – to be precise, a mode of thinking in images. This mode entails a certain economy of mental effort that makes us 'feel the realative ease of the process.'"). Then Shklovsky goes about breaking down these two ideas: art as imagistic and art as economy of thought. He says:
The work of successive schools of poetry has consisted essentially in accumulating and making known new devices of verbal arrangement and organization. In particular, these schools of poetry are far more concerned with the disposition than with the creation of imagery. In poetry, where imagery is a given, the artist does not so much "think" in images as "recollect" them. In any case, it is not imagistic thinking that unites the different arts or even the differetn forms of verbal art. And it is not the changes in imagery that constitued the essential dynamics of poetry.
And:
If we examine the general laws of perception, we see that as it becomes habitual, it also becomes automatic. So eventually all of our skills and experiences function unconsciously – automatically.
I read this as a reaction to the idea of economic artistry. That is, the economic pursuit of art merely leads to automatization, which, according to Shklovsky, "eats away at things, at clothes, at furniture, at our wives, and at our fear of war." Thus, "life fades into nothingness."
His rejecting the Russian Symbolists leads to Shklovsky's stating his own idea regarding the purpose of art, which I quoted at the beginning of this post. And, Shklovsky suggests, in order to "return sensation to our limbs," we must first confront that which has been enstranged. Sher, in his introduction, explains a little bit about this term and why he coined it:
And so, after some reflection, I decided to coin the word "enstrange," enstrangment," built on the same congate root [my note: as "estrange" and "defamiliarization," which Sher discusses earlier in the introduction]. While positive (see other en- prefix words such as "enthrall"), it is also strongly associated with the counterpointing "estrange," "estrangement."
Enstrangement, then, is a method by which the artist takes the mundane, the everyday and makes it new and exciting and weird and maybe a little scary to the viewer while simultaneously, perhaps, creating some sort of odd recognition, deja vu, whatever. I think, based on how I understood this chapter, for Shklovsky, enstrangement is the making of an object into an active textual object, a textual object that can interact, somehow, with the reader. According to Shklovsky, enstrangement is "the removal of [an] object from the sphere of automatized perception." Shklovsky's nearly constant examples of pleasing enstrangement come from Tolstoy's writing:
In "Shame," Tolstoi enstranges the idea of flogging by describing people who, as punishment for violating the law, had been stripped, thrown down on the floor, and beaten with switches. A few lines later he refers to the practice of whipping their behinds. In a note on this passage, Tolstoi asks: "Just why this stupid, savage method of inflicting pain and no other: such as prisking the shoulder or some such other part of the body with needles, squeezing somebody's hands or feet in a vise, etc."
After Tolstoy comes a discussion of riddles and how enstrangement plays a part in their success. I won't quote any of his examples, as I'd like to move on to examples of successful enstrangement in things I've read recently; instead, think of any of your favorite riddles and how they rely upon the making strange some mundane situation through the undermining of your expectations.
Then Shklovsky closes the chapter with a look at plot construction:
All things considered, we've arrived at a definition o fpoetry as the language of impeded, distorted speach. Poetyic speech is structured speech. Prose, on the other hand, is ordinary speech: economical, easy, correct speech (Dea Prosae, the queen of correct, easy childbirth, i.e., head first). I shall speak in more detail of the device of impeding, of holding back, when I consider it as a general law of art in my chapter on plot construction.
***
So, back to enstrangement, where do we see it happening now? Is there a better term by which you could describe this effect (so as to avoid confusion with the term 'estrangement')? Do you find yourself perhaps disagreeing or resisting or wanting to shift a little Shklovsky's concept? Is there a way you think of it in your head that is unique to how you learned to read? I've often found myself thinking that reading the stuff I like to read is similar to climbing an enormous wall (I first felt this while reading Kafka's The Trial): it is both difficult and exhilirating, especially as I near the top and can look out over all of the text/story I have risen. And so I can't help but think of some of my literary heroes when I think more about Shklovsky's enstrangement. I see it happening in the stories of Christine Schutt, Gary Lutz, Barry Hannah, Diane Williams, Ben Marcus, and so on. I realize these are easy levers to pull here at HTMLGIANT, but I can't help myself. I pull them all the time. If I'm not reading something new, chances are I'm revisiting a story by one of them (and others of their kind).
I imagine that many of those people that everyone puts on their lists of towering or amazing or influential or whatever authors in some way create that effect for their readers: this wonderful newness that we can 'relate to' or recognize or feel resonate in our brains/hearts in some way. It is a weird effect, this combination of newness and recognition, as though it shouldn't even be possible, and yet I know it when I see it.
Tags: Viktor Shklovsky
53 Comments