November 28th, 2013 / 6:01 pm
Random
Matthew Simmons
Thanksgiving Morning, 2013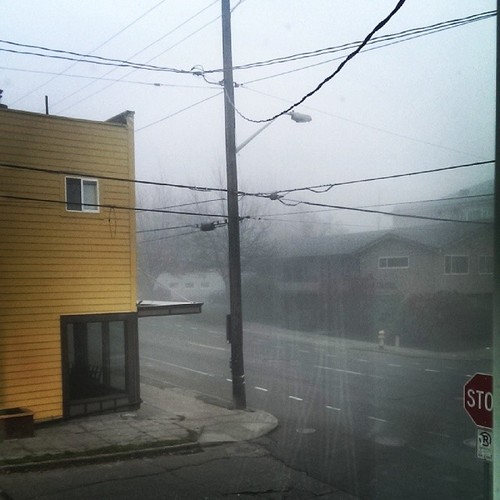 We had some plans but an unexpected medical procedure canceled those plans. My significant other was called away because of the procedure. She was enlisted to care for the person on whom the medical procedure was performed. (Everything is just fine. Just so you know.) I was left alone at home to fend for myself.
I decided I would go out for a long walk, because what else would I do? Having no specific place to go, I decided to go in a direction for a duration. And then a reverse direction for an approximately similar duration. I went out for a walk.
I forgot my gloves. I passed a couple on the street, remembered that I had forgotten my gloves and might want my gloves, so I circled the block to grab them. In front of my house, I passed the same couple on the same side I had just passed them. We laughed at the oddity of it—that we hadn't turned around, but were passing each other again in roughly the same way, farther along in their walk and technically farther along in mine.
Anyway, I grabbed my gloves and restarted my walk.
I got far, too. Out into the section of my neighborhood where it bumps up against the edges of the next neighborhood over. Where two edges meet, and there are large buildings where people and companies store things. Lots of empty shops. Bus stops with one person at each.
I saw a man with a short bob haircut. His hair was jet black and parted in the center. The sides were curled in like tusks on his cheeks.
He was at a bus stop standing under a Subway billboard. The sandwich didn't look too bad. Food photography is a marvelous lie. One of our best ways to lie, really. It's a real achievement in human deception. In reality, the chicken on the sandwich that the lying food photo had almost convinced me I wanted would probably be boiled white with a gentle gray undertone. And—though I can't swear to this—the grill marks would probably be food-grade paint airbrushed on after the chicken was boiled.
I don't know, though. I'm not really a foodie.
At some point, I was waved over to a warehouse and a truck. My plans were canceled, so I allowed myself to be waved over. I took the earbuds out of my ears—I was walking and listening to Jamie Iredell on the Other People Podcast—and said hello. A man said hello. I said hello again, which is a thing I do and hate that I do.
He asked me if I wanted to make $100. My plans were canceled so I allowed myself to go ahead and make $100 in some way. (I probably had limits to how, but decided to roll the dice and find out if this man's $100 could be earned in a way that was within my limits.)
The man brought me into the warehouse. There were two other people like me there, people bundled up but not wearing official-looking overalls. I should mention that the man was wearing official-looking overalls. I stood with the two other people.
There are these boxes here, the man said, and what we want is for you to load these boxes onto this truck. And then you'll get in the truck. The truck will drive to another warehouse. At that warehouse, you will unload these boxes. And then you will be paid and we will bring you back here or to your homes if you live on the way. The man did not tell us which way we were going. The other two didn't ask. I forgot to ask.
We loaded many boxes. They were large, but seemed to only be 1/4 full. Whatever was inside the boxes was heavy, but could easily have been packed in smaller boxes. They shifted awkwardly. They were awkward to lift and carry. We were not allowed to help each other. We each had to take a single box. One at a time. No teams. The man specifically said no teams. I don't know what was in the boxes. The other two didn't ask. I forgot to ask.
We got in the truck, and held on tight to some straps that were holding down the boxes. We drove for a while.
It felt like we were still moving when the back of the truck door lifted and light came in. (It was dark inside the truck during the drive.) We got out of the truck in another warehouse and waited for the boxes to be unstrapped. We unloaded all the boxes we had loaded.
Good work, said the man. He handed us each a stiff, yellow ticket. Take these to the back. There's a window back there. Hand the man at the window the ticket, and he make sure you get paid.
We walked to the back. I was first at the window. The man at the window took my ticket. He was eating something with chocolate frosting on it—a brownie, I guess, because it didn't look like cake—and he had some on his fingers so he wiped his hand on his official-looking overalls. Through the door, the man said. I went through the door.
I was handed a tray. I was walked to a room. I was asked to put my phone and wallet on the tray. I put my phone and wallet on the tray.
Someone asked me to open my mouth. I did so. He had a tiny piece of gauze in his hands. He grabbed my tongue with the gauze, lifted it up, and moved it from side to side. He was inspecting my mouth.
They—there were many I don't know how many there were many—grabbed my hands and massaged the blood to the ends of my fingers. I was pulled up and around. My head was tilted back and something was squirted into my eyes.
I felt calm.
And then there were towers of gold. Flakes of gold flaked off the towers of gold.
The water was running somewhere.
A large metal vent vented blue. Floor bounced. The planet alumnied me. I felt honored to have attended.
There was a red box with a rough surface. Someone took my blood.
I was walked to a table with a microscope. Silver beads on the walls. I was pushed eyeward to the microscope. Inside I saw my blood and knew it was mine because each cell had my name stenciled on it.
I got closer and closer to the stencil my blood red hello.
I flattened.
It was easy.
I was home sitting on the welcome mat and it was only a couple of hours later. I had $100 in my wallet. I had my phone back. I must've been on the way because they had dropped me at home. The house was/is empty. It's just me here now.
Happy Thanksgiving, I guess.
Tags: jamie iredell, thanksgiving
12 Comments