October 22nd, 2013 / 11:26 am
Random
Shane Jones
Who Wears a David Foster Wallace Shirt?
I'm hesitant to discuss Wallace post-suicide because there's a holiness that somehow feels dry-humped when he's discussed online. I approached The Pale King with this kind of hesitation and also with large amounts of excitement, anxiety, and eventually, shame. I didn't feel right reading that book. In many ways, I wish it didn't exist, even though it's brilliant in set piece after set piece. There's been more books since, and each have appeared in a skin-crawling "wait-we-have-more" fashion. It's not that the books themselves are new – most are old essays, obscure interviews, a graduation speech, and even, an undergrad thesis. It's the kind of thing capitalism rots and succeeds at – mask it as honoring the work and publishing it for the fans, cash in.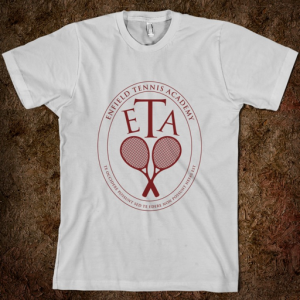 We all saw the books coming. What threw me off was a link to a t-shirt with an Enfield Tennis Academy logo of crossed tennis rackets and maroon text. I saw this more than a year ago and I haven't forgotten it. I'm not going to be mean here because when I first saw the shirt I kind of liked it. It seemed so ridiculous and fun and ironic and eventually, yeah, exactly the kind of thing Wallace would shake his head at. But there's something deeper and stranger going on here.
Here's a compilation of text I've curated from twitter, tumblr and instagram regarding the Enfield Academy t-shirt (I emailed the graphic designer of the original design for an interview but she declined). I'll let the text speak for itself, but I think what's interesting, and this is why my feelings were all twisted up regarding a fucking t-shirt, is that there's a major level of shame involved in owning this. You have to make some kind of excuse that you own it, and even if you get past that, then you feel like no one else is going to get the shirt and those who do get the shirt will no doubt look at each other and go back to the beginning and mirror shame off each other.
"I'm always disappointed when no one at my son's preschool comments on my Enfield Tennis Academy shirt."
"Don't know what's worse: my roommate who got the Enfield Tennis Academy T-shirt or me initially not getting the Infinite Jest reference."
(man in shirt pic) "if I don't have to explain this to you, then you're probably as nerdy as I am" #hoodie #infinitejest #davidfosterwallace #awesome"
"One of my favorite shirts! The back is a little IJ joke courtesy of my great friend Christopher Schaeffer aka ghostsorballoon and I laugh everytime I wear this shirt. I've never had anyone sidle up to me and chat me up about DFW while wearing this though, so :////"
"all i want is a good enfield tennis academy tshirt"
Counter girl: "What's that, a tennis shirt? Do you play tennis?"
Dude: "No."
Counter girl: "Poser!"
Dude: "Well, actually—this will sound a little pretentious, but this shirt is from the tennis academy in the book Infinite Jest."
"The only thing I don't like about wearing my Enfield Tennis Academy shirt is that no one seems to get it :( "
"purchasing this shirt as a conversation starter to meet my future husband"
"If I bought an Enfield Tennis Academy shirt, would you hold it against me?"
(close-up body shot, female) "shameless" #infinitejest
"just met a guy on the street wearing an Enfield Tennis Academy shirt that said INCANDENZA on the back omg"
"Whatever, I just ordered an Enfield Tennis Academy t-shirt. Shut up, I'm awesome. No, shut up."
23 Comments