December 18th, 2009 / 9:28 am
Random
Sean Lovelace
You Owe Me Nothing! (And, You Sir, Will Pay)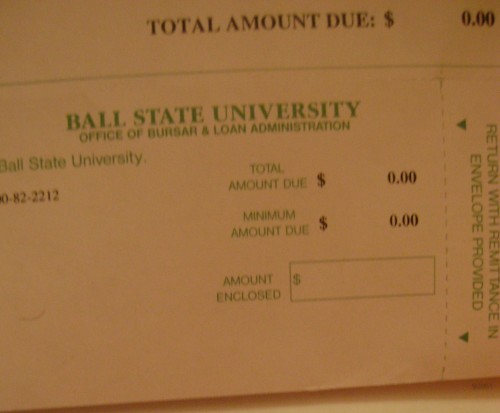 Yesterday my employer, a local university, sent a bill to my house. I owe the university $0.00 immediately! That is Zero Dollars and Zero Cents. The university is not playing around. In their words: PAYMENT DUE. In their words, my options are an INSTALLMENT PAYMENT PLAN or LATE PAYMENT FEE. I am also instructed to KEEP TOP PORTION FOR YOUR TAX INFORMATION.
What are your favorite surrealist/absurdist artists or text?
I am going:
Alice Rahon. I first saw her paintings in Denver and they made me pause, stand until my shins hurt,  lose time (a good sign). She even does that eerie "Van Gogh" yellow, but hers are less Shimmering Field, and more Cave Drawings at a Dance. Rahon is also a poet, but of her poetry I know smidgen.
Dennis Rodman. Don't laugh. Following a profound depression and suicide attempt (1993), Rodman's head went lop, and his art began (his body and nights the canvas). His essential works include the autobiographies, Bad as I want to Be and I should Be Dead by Now; the night of March 16, 1996 (16 rebounds and an on-court head-butt of referee, Ted Bernhardt. Rodman was spotted later at a local bar, and wearing a wedding dress.); and the 2005 episode of the reality show, Celebrity Mole. Rodman was cast for one reason, foolish chaos. Nice try, cynical CBS. With an intellect and persistence that served him well as an elite rebounder and NBA champion (5 times), Rodman ended up winning the show, and $220,000.
Charles Simic: Easily the most accessible of surreal poets. His book The World Doesn't End: Prose Poems won the 1990 Pulitzer Prize and pissed off a lot of people. (Prose poems are considered dogs by the literary parvenu; surreal prose poems are rabid dogs pissing themselves on their yellow rugs.) A great teaching text—one way to show language can easily trump content/context. You can talk about this until blue in your forehead, but have your students read this book. They will understand.
The stone is a mirror which works poorly. Nothing in it but dimness. Your dimness or its dimness, who's to say? In the hush your heart sounds like a black cricket.
Nuff said.
Oh, and I paid the bill. I wrote a check for exactly Zero Dollars and Zero Cents. Put it in the return envelope and sent it away. I had to pay for my own stamp. But it was worth it.
Tags: Alice Rohan, charles simic, Dennis Rodman Existential Poet, surreal women
33 Comments