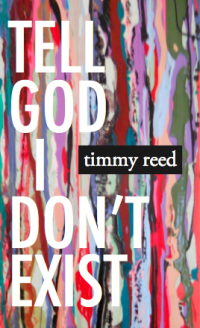 Tell God I Don't Exist
by Timmy Reed
Underrated Animals Press, 2013
92 pages / $12.00 buy from Underrated Animals Press
1. The album Shrines by Purity Ring is easily in my top five albums from the past five years. When I hear the lush electronic wooziness of songs like "Fineshrine" I feel like I'm being hugged—enwrapped in a surreal, dreamy blanket of sound.
2. When I read Timmy Reed's Tell God I Don't Exist I get a similar sensation.
3. These stories are hazy fever dreams, ecstatic jokes, deviant fairy tales.
4. When describing this collection the word twee comes to mind.
5. Twee is so often taken as derogatory, but this collection is saccharine sweet in a good way.
6. There's a lot of handholding in these stories.
7. There's a lot of candy, too:
"We eat licorice shoelaces and wayward mosquitoes, but we mostly eat sweets. We scarf cannolis. We munch crullers. We visit the snowball stand in bare feet and sleep next to pitchers of lemonade. We grow fat on melancholy pastries. We sweat sugar in the sun. We speak, through a saccharine haze, of taking vitamins. We speak in the past tense of the future as if it were part of a childhood dream."
8. I found this inside my copy of the book: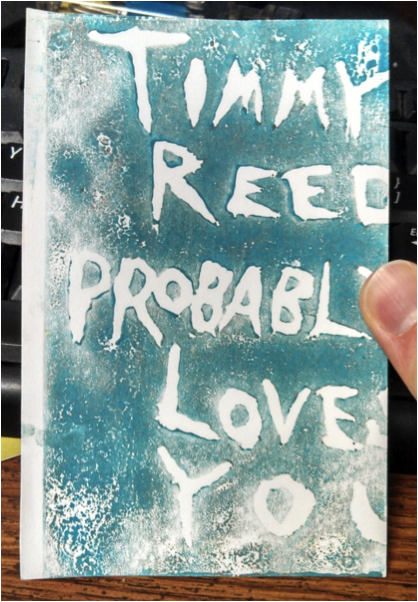 9. I really hope everyone's copy comes with a print that tells them that Timmy Reed (in all likelihood) loves them, because it's true.
10. Reading this collection feels as if Timmy Reed is speaking directly to his readers. That's how this collection feels, like a friendly Post-it in your lunchbox or an anonymous affirmation in your Tumblr askbox.
11. Timmy Reed's stories drip with a childlike wonder that is far too rare in literature today—especially in the alt lit scene. These stories are about people trying to find joy and purpose in a joyless, meaningless existence.
12. "I enjoy life but know I cannot live forever and this makes me sad but also jealous and angry of entities (like the planet) that will get to experience more life than me," is how the story "I Will End and the Planet Will End But I Will End First and For That I Am Jealous of the Earth"  begins. Reed's prose shows this need to live life and love it for what it is.
13. Reed uses parataxis to create almost infantile scenes like this one from "Wet Sugar":
Ruth asked me to take her out for another walk. We sprinted from tree to tree for cover. Ruth seemed to know where she was headed. I didn't care. I just wanted to be at home. I didn't want our mother to be alone either. I didn't want anyone to be alone or get hurt or feel bad. More than that, I didn't want to think about those things anymore. I imagined crawling underground to sleep for a long time, hundreds of years, and yawning when somebody found me.
14. Remember, this is meant to be praise for the book.
15. The story "Starfish" isn't a story as much as it is a musing. It is five paragraphs on how great it would be to know "someone who was born holding hands with a starfish." "It would be a constant reminder that life is not as bad as it seems."
16. The sincerity is refreshing.
17. I'm nervous to lump Timmy Reed in with the New Sincerity (Is this even a thing anymore?) given this site's history with the subject, but his writing reminds me of Miranda July's.
18. When I first read July's No One Belongs Here More Than You I felt excited in a way that a short story collection hadn't made me feel before. Me and You and Everyone We Know did the same thing for me with film. They felt so quirky, raw, unrestrained.
19. Since then I've read a lot more books, seen some more independent film, and gotten burned out on the whole twee as fuck thing, but then I read Tell God I Don't Exist and like a post-ironic madeleine and it all came rushing back to me.
20. In a world of posturing and worrying about public perception, it's liberating to let loose and give in to the ecstatic joy that characterizes Reed's oeuvre.
21. And have you read his Twitter account?
22. https://twitter.com/BMORETIMMYREED/status/420647667589320704 and https://twitter.com/BMORETIMMYREED/status/430667824235679744 are just a few of many gems.
23. If anything, Reed's Twitter furthers my point as to how unfiltered and sincere this guy really is.
24. But honestly who gives a damn if he's really sincere or not?
25. Just read his book already.
Quincy Rhoads lives in Clarksville, TN with his wife and their son. His writing has appeared in Thought Catalog, Everyday Genius, and What Weekly. He teaches English composition and introductory literature courses.
Tags: 25 Points, Tell God I Don't Exist, Timmy Reed, Underrated Animals Press