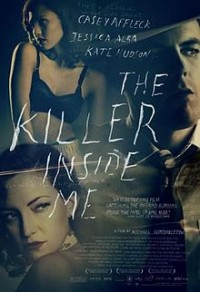 The Killer Inside Me
by Jim Thompson
Vintage, 1991
256 pages / $14.95 buy from Powell's
1. Lou Ford is a small town sheriff who kills people in extremely gruesome ways (though the language chosen to describe it is subdued).
2. He strikes everyone in town as a moron, and somehow when he starts killing this makes it all the more irksome.
3. Stanley Kubrick called it "probably the most chilling and believable first-person story of a criminally warped mind I have ever encountered." And he was correct.
4. The novel's author, Jim Thompson, was known as Dimestore Dostoyevsky, which is also correct.
5. Lou Ford takes a lot of baths and reading this in a hot bathtub is very difficult.
6. Jim Thompson is one of the most intriguing figures to ever write a story about a killer and—unlike most—he does it best in the first person.
7. The ending will probably make you wish you were still in the thick of the narrative, which is either a sign of the novel's excellence or an observation that ending something this strange and unconventional is not-fucking-easy.
8. Lou Ford takes to bashing around a hooker named Joyce Lakeland, who likes it a great deal and encourages him to keep coming back.
9. Casey Affleck stars in a film rendition of this book that recently came out and although it's pretty spot on I think you'll find when reading that some things just cannot translate.
10. Though the convention of the cops being on the killer's tail plays a part in this book you're hardly on the edge of your seat wondering about the morality being discussed here; this is, more than anything, a work of art by an artist before it is a poorly-crafted slice of genre fiction.
11. Jim Thompson drank a whole helluva lot and lost his mind on several occasions before writing three or so of Stanley Kubrick's movies and hence is one of the most important authors you can never read enough of.
12. One time I bought a dog-eared copy of this book and while reading it in the bathtub got so fed up with the previous owner's notes I let it plop into the tub and bought a different copy.
13. I have no idea how I discovered Jim Thompson, I don't care, and I haven't looked back since.
14. Stephen King likes him a lot but then one gets the impression when reading such a mad genius as Thompson that King doesn't know the first thing about interesting fucked up literature.
15. Sex and cops and death in a small Texas town where nothing really matters anyway; suddenly you wonder whether everyone's just going to explode at the novel's close.
16. Jessica Alba plays the hooker in the movie and when I watched it for the first time everyone I was with became very uncomfortable but there was something they missed; the why of it all was a very literary thing, the emotion couldn't simply be conveyed with these two actors doing exactly what's described in the book, a novel like this needs to get inside your fucking head.
17. Towards-ish the end of the book a character says "A weed is just a flower out of place," and although it really only lends itself to the lunacy of the book as far as relevance is concerned that quote hasn't left my mind since.
18. Imagine Holden Caulfield as an absolutely insane southern sheriff with balls and no respect and a father who left behind all sorts of medical equipment and books about anatomy and that sort of thing who walks around spewing hokey language to seem like the village idiot so he can go out at night and burn holes in the hands of bums with cigars and maybe you're a step closer to how compelling Lou Ford is as a character, but not really.
19. Texas is the ideal American state for psychopathia, with California in a close second and New York coming up after that and the entire Midwest in fourth, but first and foremost those Texas nutjobs take the cake.
20. Similar to Thompson's novel Pop. 1280 in that the protagonist is a murdering sheriff and yet the two sound quite different, and even feel different in retrospect. Looking at two books by the same author that involve murder like, say, Glamorama and American Psycho by Bret Easton Ellis I actually find this feat by Thompson to be quite astonishing.
21. While what Kubrick notes is absolutely true, there's also a factor of general insanity—unrelated to serial-killers, I mean—at work here that's transferable to anyone's life in a bad spot. You cling to what you know, you relish a good meal, you take extra time in the bath, and if your avocation happens to lean towards the macabre, you hurt people very badly without batting an eye.
22. Not batting an eye is important, because it's this subdued language and strict adherence to local vernacular that makes this book so haunting and original.
23. This book is haunting and original. If there are two words that describe The Killer Inside Me they are "haunting," and "original," and if there's a pulp author you choose to pick up this year you could do a helluva lot worse than Thompson.
24. Though he wrote more experimental books as well-—Savage Night comes to mind almost exclusively—-this one does mark a very unique point in the author's life where everything is finely crafted and deeply-felt emotionally.
25. After it was published, Thompson went on to write insanely fast and of varying degrees of quality after seeing the effect of this one book. Towards the end of his life, however, he'd drifted back into obscurity, but something kept his hopes alive. Though none of his novels were in print in America when he died of a series of strokes due to alcoholism, he had his wife hold onto them for something like twenty years, vowing that they'd come back; and in this like so many other things throughout his career, he was absolutely goddamn right.
Grant Maierhofer is the author of The Persistence of Crows and the weekly column A Cabana of the Mind for Delphian Inc., his unrelated work can be found at GrantMaierhofer.Org. He lives in Wisconsin and is currently at work revising a second novel for publication next fall.
Tags: 25 Points, jim thompson, The Killer Inside Me, Vintage