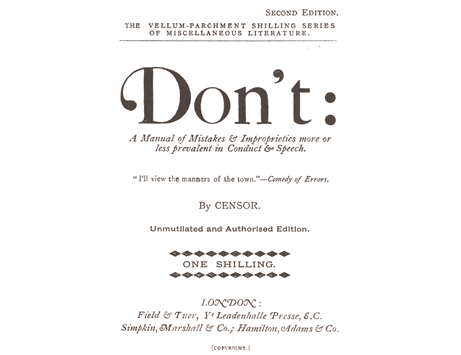 Don't: A Manual of Mistakes & Improprieties more of less prevalent in Conduct and Speech, by "Censor," real name Oliver Bell Bunce (1st ed. D. Appleton & Company, New York, 1884) is a little known book full of hilarious advice, offered in earnest, for both ladies and gentlemen of refined sensibilities. Here Oliver beseeches us regarding spitting.
Don't expectorate. Men in good health do not need to expectorate; with them continual expectoration is simply the result of habit. Men with bronchial or lung diseases are compelled to expectorate, but no one should discharge matter of the kind in public places except into vessels provided to receive it. Spitting upon the floor anywhere is inexcusable. One should not even spit upon the sidewalk, but go to the gutter for the purpose. One must not spit into the fire-place nor upon the carpet, and hence the English rule is for him to spit in his handkerchief — but this is not a pleasant alternative. On some occasions no other may offer.
Expectorate is a fancy way of saying hacking up phlegm (I only know this because I drink Robitussin Expectorant when I'm out of booze). Don't use fancy words in place of common ones, I could say, but I did just use beseech. He has a thing with opening one's mouth, even if nothing comes out:
Don't have the habit of letting your lip drop and your mouth remain open. "Shut your mouth," is the advice of a savant, who has written a book on the subject. Breathe through your nostrils and not through your mouth; sleep with your mouth closed; keep it closed except when you open it for a purpose. An open mouth indicates feebleness of character, while the habit affects the teeth and the general health.
Here is a well-mannered man with all the right tact and absolutely no friends. One can gather how he wrote the book: bent over a table, his narrow cursive fueled with indignation. I love how he obliquely invokes himself in the third person. Andy Rooney has met his match in the complaint dept. Just when I thought I'd found my dream roommate, Oliver goes on to say "Don't drink too much wine." Okay sir, but would you believe me if I said I feel a cough coming?
Tags: Oliver Bell Bunce