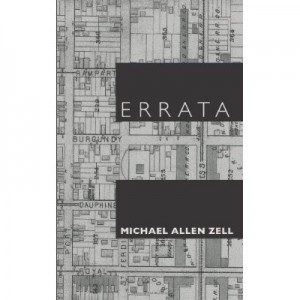 Errata
by Michael Allen Zell
Lavender Ink, August 2012
112 Pages / $15.00 Buy from Amazon
It seems that Michael Allen Zell took a page from Joyce in constructing his novel, following the idea of writing a simple story in a complex matter. Though instead of burying a narrative in puns, homonyms, invented words, syntactical buggery, and so on, Zell let's the narrative of his novel Errata wind and turn much in the same fashion that the books protagonist, Raymond Russel (an homage to Roussel for sure), drives his taxi through the city of New Orleans: never from point A to point B, as most fare would expect, but rather in methods that involve spelling out his own name by looping through streets, taking roads that are less visited and more lonely, deviations upon deviations, until finally arriving at his point. And it is in this construction, the simple narrative interrupted by diversion, that the book holds its strength.
Errata's narrative is casually described as neo-noir on the back of the book, and to summarize the book rapidly this would, indeed, suffice, but to reduce the book to this cliché–clichés existing only in language, not in the narrative of life, as our narrator remarks on the last page of the book–takes away what it is that makes the short book so pleasurable. It's filled with asides, asides on literature, mostly on Melville's Confidence Man, Schulz's "Street of Crocodiles," Infante's Three Trapped Tigers, and of course, oh yes of course, the ever present Borges. Aside from literature there is much discussion of beards, of a life being lived casually and hermit-like, to the enjoyment of simplicity; all outside of systematic structures that dominate the 20th century. Though it's set in the mid-1980s there's little to indicate that outside of a few passing phrases, there is no cultural nostalgia here, and similarly the location of New Orleans seems but a moot point to what's happening: there is a girl, there is a man, there is a life lived to only a certain degree, there is a climax: Call the burial, dirt rest.
Zell's book approaches the text as a reader more than a writer, aware of what brings the author pleasure in reading, this pleasure is in turn passed on to the reader, "Raymond, do you want to look back on your life and think at least I watched a lot of television??" There's a three page rant about how printed dialog is a futility; there are cues that make me think of what a friend said about writing, how most readers simply confuse the idea of "character development" with authorial intent, a terrible habit picked up in reductive literature classes offered in primary education, these early moldings of the head when we learn to be taught what exactly makes "good literature."
But the story, buried beneath everything else, is simple and solid. There is a plot that the narrator becomes involved in. There is an excessive amount of insomnia, which leads, in turn, to the writing of the notebook that we, outside of this textual diegesis, are reading, Errata; there's a meta-text that doesn't wink at the reader, rather actually probes & functions on the level of affect. This is, perhaps, one of the smartest contemporary novels that I've encountered, and because of that, I ultimately appreciate it being written. As a nod to the novel's protagonist, I consider it the highest honor to now be using the book, which I've finished, to prop up my crooked desk, which formerly would shift back and forth, rocking like a boat on the gentle sea as I typed letters and words and numbers into this machine. A book as infrastructure, something solid.