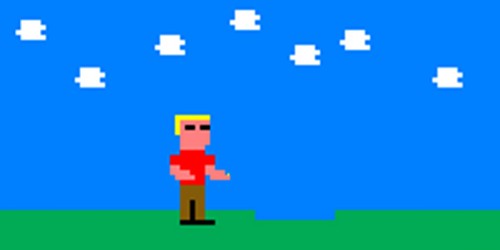 One of the things I'm noticing lately is that I'm, I think not just a little sick, but completely sick of narrative video games. Or at least I am sick of games that have big, ambitious narratives.
Because I'm sick of big, ambitious narrative video games, I've found myself playing discrete-narrative, gameplay-centric little indie games. And old games.
So that's why I've been thinking about Chaser 2 again.
I imagine if you played games on an 8-bit home computer, you remember the Chaser games. I played all my Chaser and Chaser 2 on my friend Chad's Commodore 128 (COMMODORE'S NEW ONE TWU-KNEE-ATE!), and only during sleepovers. There'd be three or four of us. We'd play D&D or the Marvel Superheroes RPG. We'd listen to WASP or Metallica or—if they were nice enough to let me choose something—the Cro-Mags. We'd play through a couple of encounters, sneak a beer from Chad's dad or maybe smoke the oregano someone sold me that I swore was pot—"I swear it's pot, guys,"—and then if we took a break, we'd play video games.
Chaser 2 was better than Chaser. It was deeper and stranger and had better music. Here's a Chaser 2 breakdown.
GAMEPLAY
Chaser 2 was one of the earliest of the ENDLESS RUNNING games—a sort of subset of the platform game where a nearly right-justified character had ran endlessly to the left over a scrolling track with certain death on his tail. In Chaser and Chaser 2, behind was an angry mob. The story that framed the game: Chaser—who was, in fact, the chasee—had stolen something of value from the mob. The valuable would sometimes glint gold in Chaser's hand. He ran to escape, valuable item successfully purloined.
Next, the obstacles. Holes in the ground and rocks would approach from the right, and one would jump over them. Low tree branches would approach from the right, and one would duck under them.
As the game progressed, the speed increased. Rocks and branches slowed Chaser's progress. A cloud of dust and pitchforks—the angry mob—would at first peek through on the right and work to overtake Chaser. The more rocks or branches one hit, the more the cloud moved to overtake Chaser. Falling in the holes was death.
Thing was, death was always certain in Chaser 2. There was no winning. Only new distances to achieve, or longer plays. The score was a timer, adding a point a second.
The mob would overtake you eventually, or the fall would get you in the end. You couldn't escape with your treasure no matter how far or long you ran. That is the nature of the endless running game. It's futile. Chaser 2 was futile, ultimately.
Or so it seemed.
GRAPHICS
Quick answer here: Awful, even for the time. There are a number of contemporary indie game developers who fetishize the low-fi, clumsy pixel look of old-school games, but in the mid-'80s, everyone was trying to do their best to make the most of what they had to work with. The Chaser and Chaser 2 crews—maybe because they were lazy, maybe because of incompetence, but likely because they were focused elsewhere—seemed to barely try. See blogpost header image.
MUSIC
I've had some trouble finding programming or designer information for Chaser 2, but I did find an MP3 of the music, and here's an interesting coincidence. The Chaser 2 soundtrack composer is credited as Adrianne Coleman.
And again I'll say, sometime soon I'll put together a comprehensive post (or two) on the 1950s songwriter turned 1960s psychedelic musician turned 1970s and beyond electronic music composer Adrianne Coleman. There's just a lot to say about her. Yeah, maybe two.
But here's a little something about Chaser 2's music. If you use iTunes, highlight a track, go to the FILE menu, and GET INFO on the song. Click the INFO section in the window that pops up. Note that there is a COMMENTS field.
When I did this with the Chaser 2 soundtrack MP3—I wanted to see what YEAR the track was credited to—I saw the following phrase in the COMMENTS field:
"promethius [sic] chord"
If you look for information on the Prometheus Chord, you find a Russian composer named Alexander Scriabin. Scriabin died in his early 40s. He spent the last few years of his latest interested in theosophy. The Prometheus or Mystic Chord was the basis of much of his late work. He believed that it spoke to us about things that our mind couldn't conceptualize, but could apprehend. It revealed things bigger, wider, or deeper than a single, expressible thought. Or a series of interconnected thoughts that managed to find expression through, say, the power of metaphor and story. The Prometheus Chord revealed bigger things than those. Things that brought not just the whole of our conscious mind to the task of understanding them, but our evolving mind—the thought in the moment, and the thought in the next moment in chorus with the original thought, and all the thoughts we have had, and all the thoughts we were going to ever have. All of them would play a part in the Prometheus Chords work within us. It was a better way to talk to our brains. It bettered our brains.
Scriabin was also a synesthete who had music speak to him in color, and had colors reveal music to him. Scriabin loved the color red.
(Here's an aside: When Scriabin died, it was from sepsis. The sepsis was the result of a sore on his upper lip. Aldophe Sax—inventor of the saxophone—was nearly killed by a tumor on his upper lip. Sax was, at the time he developed the tumor, writing music that he believed would allow him to communicate with a dead son. In his journals, he wrote about playing his song of communion with the departed and feeling a brush against his lips, a freezing moment of contact, which he believed was between himself and his lost son. More research into Scriabin is warranted.)
The Chaser 2 music—beautifully rendered by the Commodore 128's amazing little SID Chip—is based on the Promethues Chord. It rises dizzyingly through it, and speeds up as the game speeds up.
Almost to the end of the soundtrack MP3, the music slows to a strange crawl, flips over, and begins to echo and whine. Most people who played Chaser 2 never heard this part of the soundtrack.
I did, though.
HIDDEN LEVEL
One night, we're drunk and playing Chaser 2, and it's one of those invincible playthroughs. My brain is just the game, my hands are just the game, my eyes are barely focused on anything. I don't think I'm breathing, I'm not anywhere.
The timer is going, numbers adding, seconds clocking way faster than seconds clock. Jump rock, duck branch, jump two rocks, jump hole in the ground. Starting to get frantic. Hit a rock here, hit a branch there. Still, I've been in this forever. Up arrow, over a rock. Down arrow, under a branch. Jump two rocks, duck two branches. Hit a rock, duck a branch, jump a hole in the ground. Mob is gaining. I'm not looking directly at anything. I'm playing with just peripheral vision. I'm unfocused.
Mob nearly upon me. There it is ahead: three rocks in a row—you can just get over three in a single jump—and a hole in the ground right after it. If I hit the first rock to jump the other two and the hole in the ground, I slow and the mob gets me before I get off the ground. If I jump all the rocks, I'm in the hole. I do a quick, strange calculation: Chaser would rather fall to his death than be beaten to death by the crowd. Chaser would rather take himself out than let someone else take him out. So Chaser jumps. I have Chaser jump. Chaser falls in the hole in the ground.
The screen goes blood red. But the screen doesn't usually go blood red when Chaser falls to his death. The screen goes black and then we see a bloody Chaser from above, dashed on rocks. Head emptying. Legs and arms all this way and the other.
The screen goes red and the music slows and flips and echoes and whines. My eyes itch. A red box with a rough surface.
A blood red hello.
Chaser in the underground, the mob now in front of him instead of behind. Chaser cycling colors. Silver beads along a blood red wall, and a deep red floor. Chaser catches the mob. Chaser embraces the mob to his blood red bosom, and suddenly I'm singing.
And it cuts and my friends haven't been watching. It's just been me. I don't ever want play Chaser 2 at my friend Chad's house again.
TL;DR REVIEW
SCORE 8 OUT OF 10 HOLDS UP TO REPEATED PLAYTHROUGHS A FINE ADDITION TO THE CANON OF CLASSIC VIDEOGAMES LOOKING FORWARD TO IT ON MY MOBILE DEVICE AVOIDS THE SEXIST TROPES SO COMMON TO OLD LAZY VIDEOGAME WRITING TIME TO SCOUR EBAY FOR A COMMODORE 128 AND A FIVE AND A QUARTER INCH CHASER 2 FLOPPY DISK AND I'LL BE IN MY OFFICE IF YOU NEED ME I'LL CHANGE THE BEDSHEETS TOMORROW NIGHT I'LL MAKE US DINNER TOMORROW NIGHT I'LL HANG THE SHELVES AND SOME PICTURES ON THE WALL TOMORROW NIGHT AND I WON'T LEAVE IT ALL TO YOU ANYMORE JUST ONE MORE NIGHT I'LL STOP WRITING AND WORRYING ABOUT MY WRITING SO MUCH WE'LL BE FINE THIS TIME THIS TIME THINGS WILL BE BETTER I PROMISE JUST MAYBE I'LL PLAY ONE MORE NIGHT AND FIND MY WAY ALL THE WAY TO THREE ROCKS AND A HOLE IN THE GROUND AND AFTER WE'LL GO OUT JUST THE TWO OF US YOU AND ME AND I WON'T FORGET THAT I SAID WE COULD GO OUT I KNOW I WON'T FORGET THIS TIME AND THEN WE'LL BE BETTER I PROMISE
Tags: chaser 2, prometheus chord