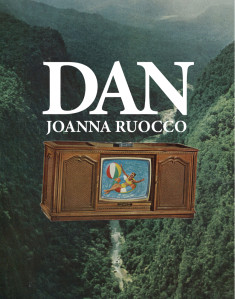 Dan
by Joanna Ruocco
Dorothy, A Publishing Project, Oct. 2014
152 pages / $16  Buy from Dorothy or Amazon
Joanna Ruocco is a word wonder maker and in Ruocco's newest novel, Dan (due out from Dorothy, A Publishing Project Oct. 1st) she has managed to not only build unbelievable structures with words but to also build an actual city. This city is Dan. And it is a place we have been before. Or maybe we haven't. It's a place shoved so far back into the recesses of the mind that only through reading her words do we realize that those feelings, the emotions she constructs, are already within. Reading Dan is like having a bot worm medically expelled from your body. You suspected there was something wrong, something in you that wasn't right, and by mysterious ways of medical linguistics Ruocco has not only identified the parasite, but found it in the deep recesses of your soul and pulled it out through your tear ducts for you to see and examine. Or perhaps reading Dan is more like the act of having your ears cleaned. With each page a tube is stuck deeper within your drum and Dan mounts, pushing warm alien water into your skull, pulling out chunks of orange gunk so big you end up questioning your true size. I conceived my ear canal to be X size. But, my god, my ear canal is triple X. And dear lord can I hear better. After reading Dan you'll hear things in the way you speak, in the way others speak, that you simply did not hear before.
Within the narrative many of these linguistic nuggets come by way of male characters giving of prescriptive advice. Our protagonist's father, Zeno Zuzzo, looks over at a group of loitering ladies and warns:
"Do you see the ears?…Those women are conspiring, always conspiring. Why else would they need ears so close to their mouths? They're whispering things to themselves, Melba. They're stirring themselves up."
These bizarre, otherworldly observations are gifted to us throughout. They are occurrences that could only take place in Dan, or are perhaps what make up Dan itself.
Thus Ruocco leads us inside ourselves by way of location. Dan is a small male-heavy hamlet in the middle of somewhere. The residents of Dan know of nowhere. Or maybe there is nowhere else. Some residents do leave, but they don't so much leave as disappear. Our charismatic protagonist, Melba Zuzzo, for a period of time thought Dan was island. And maybe it is. Or maybe isn't. In Dan, things are turned not upside down, but sideways, just tilted enough so we can recognize them. The only other female we meet in Dan is Melba's mother, Gigi Zuzzo, who tirelessly requests the absurd. Melba, did you have the hair on your forearms removed? When was the last time you went shopping? Gigi Zuzzo says, Melba you do not shop enough and this will be the end of you. How else is one to expand their horizons except by way of consumerism? The conversations that Melba has with Gigi, like all the conversations Melba has, are at once absurd but intimately familiar. Have I had this conversation with my mother before? Yes. Did she ask me to remove the hair from my forearms? No. But everything else was the same. The cadence, the rhythm, the sudden carping turn. It's like Ruocco has been eavesdropping on me and my mother my entire life, and given my conversations back to me in Dan, de-familiarizing them just enough for me to recognize them.
And this effect is extremely funny. Melba's conversations and the way they turn to a place you know and then turn to a place you forgot you knew elicit not only self-recognition but laughter. In the middle of the book you'll find yourself pointing to your own chest and giggling, thinking, oh God, I have had that conversation and I am a fool.
And you won't just see yourself in the dialogue. You'll recognize people you know in the residents. We meet Dr. Buck, the creepy town doctor; Randal Hans, Melba's questionably unintelligent contemplative ex; Officer Greg, a well meaning albeit accusatory policeman; and Don Pond, the smitten "first customer of the day" at the bakery in which Melba labors. But perhaps the most entertaining character that circles around Melba is Mark Rand, Melba's landlord. In Dan, landlords are not the scum we know them to be, but rather selfless social workers who provide shelter to those unable to buy their own homes. They are figures worthy of the utmost societal respect. Mark, as Melba's mother points out, is over worked and underpaid and we have to be thankful that there are people in the world like Mark who are willing to give themselves to such a selfless career as property management. Thus Mark and Melba's interactions provide such hilarious satire, such merciless glee and overall sagacity that I would urge you to read Dan if, for none of its other fabulous qualities, simply to be able to better humor the sadistic trial that is retrieving your apartment's security deposit.
But the thing about Ruocco, and specifically about Dan, that will cut open your heart and splay it wide is the language. The words Ruocco chooses are a specially curved knife that awakens realities previously unseen. Like a skeleton key Ruocco has found combinations to unlock more doors then we knew we had. If for nothing else, read Dan for the sentences, and the way the words rub up against each other, placed so perfectly that you know they could not have otherwise been arranged.
***
Rita Bullwinkel's writing has appeared or is forthcoming in NOON, The Fanzine, Everyday Genius, The Brooklyn Rail, Heavy Feather Review, Paper Darts, Two Serious Ladies and the book Gigantic Worlds: An Anthology of Science Flash Fiction.
Tags: Dan, Dorothy, joanna ruocco