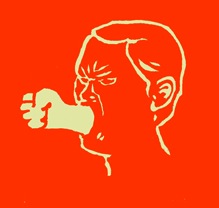 There's a new chapbook online at H_NGM_N — Dan Magers's White-Collar Worker: I Am a Destiny. This one is definitely worth a longer look (and at free, it's way underpriced). Magers is paying attention to life and giving us not the best sentences to describe it, but the one-liners that best highlight everything else (like, "Someone is having a lot of trouble/in the bathroom." or "I'm bleeding from the nose. It's not broken.") Even if you aren't — as Magers seems to be — paying attention to arty music and its culture ("The amps are the band. The dudes are the roadies.") and ramming around with collegiate drunkards ("I have no idea what these kids are talking about./Lacan and baby food.") you'll see there's lots to laugh at and more to find marvelous. I read it quickly and found my reading to be informed by Magers's early reflection:
Meaning contains a glancing similarity
to what is happening to me.
Tags: Dan Magers, h_ngm_n