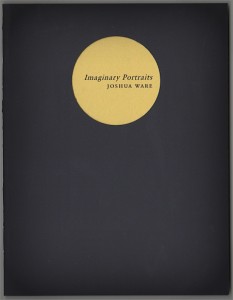 Imaginary Portraits
by Joshua Ware
Greying Ghost, 2013
Limited Edition / Chapbook Page
My thumb surfs Instagram. I sit at my desk to write this. I am constantly distracted by a false reality. There are people I know there. They are eating tacos, taking pictures of sunsets, their partner stares out from a small screen I hold in my palm, I press like to let them know I see them. There is no way to escape our new duality, but I think it helps to be aware of this reality. Here is the problem: what is real or more real. How do we classify reality & does this change through location, movement, isolation. Joshua Ware introduces me to a world I know well. Here it is winter. I am wearing a hat. I am looking at myself as reflection. I am not sure it is really me.
A small blue book / It fits well in my hands. Small poems / Coy, they coax & murmur / I know you / the shape of darkness
You are dressed for winter, a chill in the air. Waiting. What forms do we take when met with a lens? How do we become a recreation/abstraction? How are we changed?
You sit atop a gray river / side rock, as water rush / swallows your voice, drowning you / by volume. The poet relocates to a new city. A traveling between two regions. Wind gusts through our private stillness. We are always somewhere. There is a struggle in always knowing where you are. Is it supposed to make you different? Should we expect change? Your muted / mouth opens a space for / poetry
Hello, avoidance. The escape plan proposal is returned, rejected. I sit at my desk with coffee. It is cold now. I feel this speaking to some part of me. No matter how surrounded I am there is loneliness in my body.
IMAGINARY PORTRAIT
In an otherwise darkened room
computer-light illuminates the contours of
your face, mimicking the neon shine of
an interstate motel sign that burns
through cornfield and prairie grass
somewhere in Middle America, as you drift
into a reverie of body parts, hoping to avoid looking at
yourself while you look at yourself
in a mirror. But your reflection
returns to you always in words
and the charred remains of cornstalks.
Welcome to Cleveland // Now Leaving Beauty
The light flickers. The sign an imprint. My imagined Welcome Home. Light & dark. Common because we feel the heavy of change on us. We adjust. We react to day, night. Some season we are always waiting for. Always waiting to meet the next person. Constant hand shakes, cheek kisses. Hello. Nice to meet you. I walk away more alone.
Here I would like to say: Ware has constructed this perfect movement, ordering. The artist in control. I am delicately jerked from one meditation to the next. In a movement of mourning I am consoled. Rust blooms on one page. The next a silver sparkle, your toes on the bathroom floor. This book is highly flammable.
behold nothing but / your imaginary eyes
There is another person here. Throughout. But we cannot see them. We can't really see the poet either. Here I find my meaning: we are always seeing/seen. We become trapped by the expectations of our experiences. A snowglobe: catastrophic, solemn, false.
I think:
Self-aware
Self-conscious
Self-concerned
Self-absorbed
Self-loathing
in humility / meditation
when singular becomes plural and everything is / double of what is double / already: naked bodies entwining / imaginary into real
These faces are sliding. It is a blurred reality. All feeling is covered in snow. We are watching behind glass. Watching vs. Being. We take pictures to remind ourselves we exist. We hope someone will see us. In this book I find a struggle with pictures, mirrors, computer screens, snowglobes, and reflection alongside season, nature, and region. The car crashes into delirium.
In the moment between impact and recognition / you commune with the dead / in a gloaming of french chalk and talcum, / crying for poetry, crying for life.
I recently had a conversation (Should I say argument? Would that be more honest?) re: the separation of poetry from the person. The poet & the person, as if we could live two distinct lives. As if our poetry is not a reflection of our lives. There is selfishness in poetry. This is what makes us feel it. Why should we explain the poem when everyone who is living is alive? 'Does this make sense?' is what I am thinking to myself right now. Maybe the answer isn't clear and shouldn't be. What is more real than our thoughts, our imaginations?
Ware documents a deep dependence on questioning identity. Sometimes we must go missing. How do we define ourselves? When we pull away from the imagination we are left with/in the 'real world' which might not be a good place to exist.
In this poem, the real / is your escape from the honesty of / the imagination, leaving you / with politics, $, and data.
This book is a comfort. A rash that doesn't irritate but suggests itself before withdrawing back into the body.
IMAGINARY PORTRAIT
A purple and crimson bruise
blossoms on your left shoulder
as an apple tree loses its petals
for a mind of summer. All that is new
transforms into marks
of misguided lovers shaping themselves
into another season's aesthetic
ritual to prolong the poem
living within sex sweat
of bodies and breath of
wine-soaked mouths.
***
Alexis Pope is the author of SOFT THREAT (Coconut Books, 2014), and three chapbooks. Her work can be found in Guernica, Washington Square, Forklift, Ohio, Octopus, Big Lucks, and The Atlas Review, among others. She lives in Brooklyn.
Tags: Imaginary Portraits, Joshua Ware