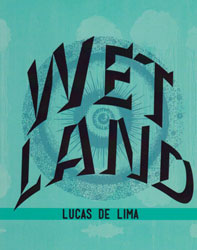 Wet Land
by Lucas de Lima
Action Books, March 2014
108 pages / $12-16  Buy from Action Books or SPD
The premise of Wet Land is almost impossibly weird: it's a book-length response to the death of Lucas de Lima's close friend Ana Maria, who was killed by an alligator. Written mostly in all-caps, the poems are delivered by a narrator who frequently takes the form of a bird, ruminating on Ana Maria, the gator, and the act of writing itself. Early on in the collection, de Lima describes the act of watching a televised reenactment of Ana Maria's death: "IN THE NATIONAL GEOGRAPHIC DOCUMENTARY THE ACTRESS LOOKS/NOTHING LIKE ANA MARIA;/THE OTHER ACTRESS LOOKS NOTHING LIKE HER FRIEND." Here, de Lima sets the tone for many of the tensions that characterize this collection. It's easy to criticize this kind of tasteless reenactment—to see it as a byproduct of a violent, media-obsessed culture. But in Wet Land, de Lima turns the lens on himself, exploring his own anxiety about being complicit in the reappropriation of tragedy.
Considering that the book is written in response to the death of a specific person, it's hard not to see it as being in dialog with the elegiac tradition—and the elegy, of course, has a long history of exploiting misfortune. Think of Lycidas, Milton's pastoral elegy for the death of his classmate, Edward King—my undergraduate professors told me that Lycidas was the most perfect lyric poem in the English language, but whether or not this is true, its actual intention is clearly not to preserve the memory of King. Rather, it gives Milton a opportunity to show off his poetic chops, shamelessly espousing his political opinions. Perhaps the elegy has never been about the subject, but rather, the narrator; perhaps a poem about a tragedy is no better than a primetime television reenactment. De Lima is well aware of these trappings of the elegiac form:
O, THE BIRD INSIDE ME SAYS, IT HURTS TO KEEP KILLING ANA MARIA
& IT HURTS TO KEEP KILLING THE ALLIGATOR.
BUT THAT IS WHAT THE HUMAN DOES WITH WORDS
(from "CRUEL NATURE")
The National Geographic documentary turns Ana Maria's death into entertainment, because as horrific as Ana Maria's death is, it's engaging. Similarly, her unusual death is part of what makes this collection unique—it gives it a hook. After all, the strangeness of Wet Land's premise is what attracted me to the book in the first place. But ultimately, Wet Land isn't really about the death of Ana Maria; rather, it's about the anxiety of representing her death. In effect, de Lima creates a kind of anti-elegy, an interrogation of the mode's exploitative and self-serving properties. As such, the text is hugely self-referential. At one point, the poetic voice is disrupted by a shift into a four-page transcript of an arts committee discussing whether de Lima should receive a grant for Wet Land. The committee members criticize the manuscript, touching on many of the problems of representing tragedy:
It seems melodramatic. And it seems to me that the violence of the subject matter—he's already noted how corporate media has made a spectacle out of it—it seems to me that he's not doing justice to his friend.
At this strange and climactic moment, the creative process blurs into the work itself. Juxtaposed with de Lima's poems are excerpts from what appear to be Ana Maria's emails, and many of these fragments also serve to reinforce the narrator's anxieties. For example, Ana Maria laments that her writing is merely "A BOOK ABOUT MYSELF, WHICH YOU MAY PREFER TO PUT BACK ON THE SHELF," resonating with the problem of self-aggrandizement in elegies. Even the choice to write the book in all-caps is reflective of the collection's preoccupations with mimetic anxiety—depending on one's interpretation, the uppercase letters could be indicative of poetic catharsis, or of pure melodrama, or (most likely) both. As the book progresses, the scope broadens. De Lima becomes increasingly concerned with the horror of AIDS, alluding to works by the artist and AIDS activist David Wojnarowicz. Thus, the focus shifts from an individual death to a collective tragedy. At times, it's difficult to connect these threads, but that also may be the point—Wet Land is heavily concerned with death's overarching presence, its ability to demolish borders and defy logic.
In her response to Stephen Burt's recent essay in the Boston Review, the poet Joyelle McSweeney criticizes Burt's concept of the Nearly Baroque: "forget 'nearly' and 'almost.' I want to go all the way… All the way and out to the other side, which is this side, but eschatologically inverted." Wet Land may be a perfect example of what McSweeney seems to be calling for. Rather than hiding behind an aesthetic mask, de Lima fully embraces artifice, deliberately taking ownership of the inherent violence in poetic representation:
MY BULLET CRACKS THE GATOR'S SKULL LIKE AN EGG.
MY BULLET SHATTERS THE GATOR THE WAY A WORD BREAKS OPEN THE LORD.
MY BULLET IS BEAUTIFUL.
IT SHIMMERS IN THE QUARTER-SIZED KILL SPOT ON THE GATOR'S NECK.
MY BULLET MAKES MY FATHER PROUD.
(from "KILL SPOT")
In this invocative moment reminiscent of Frank Stanford, de Lima suggests that the artistic process is complicit in a circle of violence, death, and rebirth. The gator killed Ana Maria, the book symbolically kills Ana Maria again, and de Lima enters the pulsing door of grief, emerging on the other side with Wet Land, a text that inhabits a different world altogether—exhumed from a swamp, winding along a chaotic figure-eight in a cycle of violence and tenderness. It would be too predictable if de Lima chose to vilify the alligator, but fortunately, he resists the easy route. On the first page of the book, de Lima tells us that the alligator's blood is "so potent it can destroy HIV," and that he feels he has an "alliance" with the creature. The alligator becomes evocative of a transcendent presence, embodying both life and death, eros and violence. In one scene, de Lima envisions a kind of decadent orgy involving the gator and the spirit of Ana Maria:
THE GATOR COMES TO LIFE & OUR EYES MEET
THE SIZE OF THE GATOR & THE INTENSITY OF THE LIGHT DETERMINE ITS EYE COLORS
I THINK WE ARE GOING TO FALL IN LOVE & MAKE ANA MARIA JEALOUS
SHE IS THE PUDDLE WHERE THE GATOR & I TUMBLE IN A CANDLELIT DEATH ROLL…
OUR BODIES EJACULATE COMETS
WE MAKE COSMIC MUSH OF OURSELVES
(from "ANIMAL ECLIPSE")
Here, and all throughout Wet Land, de Lima is somehow able to both engage with the corporeal and escape it—to bind us with leather and poke us with thorns, while still evoking a ghostly, amorphous body. We're told up front that the speaker is taking the form of a bird, but it's often unclear when he's human and when he isn't. This sense of bodily ambiguity becomes even more pronounced later in the text, when a gator/human mutant becomes the focal point (taking cues from the 1959 B-horror movie, The Alligator People). It's fitting that one of the poems in Wet Land is named after Jack Smith's seminal film Flaming Creatures, because like Smith, de Lima effectively enacts a kind of anatomical queering. The body changes shape and species, mirroring the constant flux of language itself, and in particular, our sense of escape and return as readers—how the act of reading allows us to simultaneously engage with and leave reality: "MANY READERS ARE GHOSTS/OBSESSED WITH OUR BODIES." Because of this quality, Wet Land is perhaps a more "authentic" representation of grief than a traditional elegy. Rather than creating a stable narrator—a static self—de Lima's narrator is fractured, indeterminate, and multifaceted, evocative of the sense of psychic fragmentation caused by trauma.
I read Wet Land while sitting on my porch on a humid day, sweating through my t-shirt and thinking about death. (It's a good summer read.) Of the four collections that Action Books has released this year, Wet Land is my favorite. It's unusual to find a book that's this conceptually ambitious without sacrificing music or imagistic clarity, and many of the lines are still stuck in my head. I'm looking forward to whatever de Lima decides to write next—highly recommended.
***
Marty Cain received his BA at Hamilton College, and is currently an MFA candidate at the University of Mississippi. Most recently, his poems have appeared in The Journal, Rattle, Word Riot, and HTML Giant Sunday Service. Find him online here.
Tags: action books, Lucas de Lima, Wet Land