If there's a musician out there today writing more literary lyrics than John Darnielle, the great dark Chekhovian pen, voice and guitar at the center of The Mountain Goats, I haven't heard her or him. (And don't come near me with that Decembrists shit.) To help mark the occasion of the release of a new Mountain Goats album (their 17th studio effort), The Life of the World to Come, I asked extreme Goats enthusiast Alec Niedenthal to write a piece about the band's body of work. Click through and find yourself in the life of the world of Alec's capable, busy hands.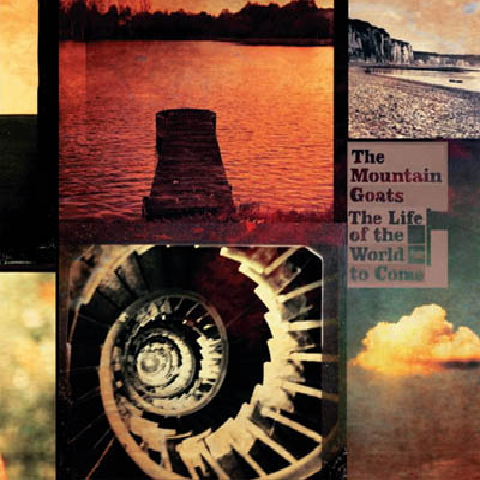 Allmusic used to have a review of Zopilote Machine that's since been removed. The review was a small, haphazard one, like, "This is a normal Mountain Goats album, etc." But then it said, too, something about the song "Going to Georgia." I'm not sure of the precise wording, but the gist was: "'Going to Georgia' […] one of the greatest songs ever written."
"Going to Georgia" is a legend. It's a myth, a winding and violent tall-tale. It's a weep. "Going to Georgia" lives all-purposefully, rawly in my heart. I can rarely listen to "Going to Georgia." It's one of my least-listened to Mountain Goats songs because I never want this song to die or weaken, though it can never die or weaken, because if any work of art is alive, it's "Going to Georgia."
I want to live inside of "Going to Georgia," sleep there, be raised by there, eat there, hunt there, fish there, shop there, masturbate there, graduate from there, work there.
httpv://www.youtube.com/watch?v=xgkNUC5Zxa8
But "Going to Georgia" wraps itself up barely beyond two minutes. "Going to Georgia" turns out to be massively finite, and ends, and then begins the next song on Zopilote Machine, which is kind of a throwaway.
Listening to "Going to Georgia," for me, resembles the movement of reading a work of literature, where most music, for me, is not subsumable by literature. I try not to affirm borders between media, but literary and musical experiences tend to happen entirely outside of each other. I can listen to "Lust for Life" by Girls two thousand times per day, do other shit while listening, sing along a little, and each listen blurs into one collectively bored moment. But, "Going to Georgia": in two minutes, there are worlds and there are whole histories on fire. One of my favorite stories, and one to which I consistently return, "Unrediscovered, Unrenameable" by Christine Schutt, feels like that–like I'm collaborating in someone's suffering, and approaching, somehow, empathy. When I read, or hear, I guess, "I begged against his ear to breathe," I am taken out of me. Similar experience when I hear–read, whatever–John Darnielle's narrator sing: "And you smile as you ease the gun from my hand."
There are reams of Mountain Goats songs which hurt me similarly, internally, in a "literary" way. Off of older records, there's "Going to Queens" from Sweden–probably my favorite Goats record–which gets me all delicate and yearning. "Color in Your Cheeks" from All Hail West Texas. "Elijah" from The Coroner's Gambit, especially any live version. "Night of the Mules" from Protein Source of the Future is a virile ride through some snowy Darniellian hell.
From the new, studio-polished records, "Marduk T-Shirt Men's Room Incident" off of Heretic Pride kicks my broken bits all into gear–those strings! (Am I being masocritical here?) "In Corolla" from Get Lonely gets me truly lonely–is the narrator drowning himself, or swimming? "Lion's Teeth" from The Sunset Tree articulates perfectly the vertigo of bothering your father (and the bewilderment of watching police arrive). There are, of course, standouts on smaller releases. The underappreciated Babylon Springs EP is magnificent.
Each Darnielle song is a short story: a tight vignette about someone's struggle. As such, it's easy to find yourself–your special hurt, the weird way you're lost–scattered and tucked around this wide, wide discography. Recently, I've been finding the exploded chunks of me around The Goats's new album, The Life of the World to Come.
Much has been made out of Life's subject matter–each track is titled after a biblical verse–but really, religion is nothing new for Darnielle. He's been doing religion the whole time. If you listen closely, from the start he's been a little Bible-obsessed. His best stories are entirely normal encounters between absolute faith and absolute doubt. Darnielle's Bible verses are of course only stories, but they are the stories our hearts whisper at our bones to keep us moving. Religious or not, Darnielle's work has always seemed to articulate, even in an age of nihilism and broken discourse, how each vital moment is encoded with religion, with the trappings of faith. Life looks closer, sets a more studied eye against the place of faith in desolate lives. And desolate lives do indeed people this record. We're tugged and shaken by doomed biblical loves, Darnielle's own collapse in the face of his mother-in-law's death, a murderer confronted with the heartbeats–metaphorical or not–of his victim. The album is quiet, but not like Get Lonely–if this makes sense, it's spiritually loud. Spiritually, it crackles.
But, again, nothing new: the entire Mountain Goats oeuvre has much to do with the human spirit, what makes it go. In one of his "Creative Writing 101" essays, Justin refers to the project of the arts as the disclosure of sameness through otherness, i.e. as exposing the deeply felt connective tissue running through "us," both in spite of and through the radical difference between us. There are plenty of "singer-songwriters" (not that Darnielle would necessarily fit snugly here) who flop trying– however sexy (Conor Oberst) and lyrically astute and earnest–and who, by valorizing their own suffering, deflate the sameness-through-otherness movement into a return to the same. Though Darnielle's style might superficially resemble these guys and girls–acoustic guitars, mostly gentle and nasally voice, lyrically driven–the biology of his work, the organs, reflect a matchless depth, an opacity which allows for more deeply engaged storytelling. Darnielle treats his work as a gift, as a sharp, parlous, often prosaic brushing with the unknown, with the fringes of human experience. Even in his most self-concerned work, Get Lonely, the self-as-subject is a character, a small, removed voice. In this way, he is telling stories; his work is its own fractured Bible, a religion itself, and the reader may or may not pray along.
The Life of the World to Come closes, on the wonderful "Ezekiel 7 and the Permanent Efficacy of Grace," with the aforementioned killer telling himself–as if he could do anything else–to "keep moving." There is no clear confidence that he can outstrip his end, only a drive, an essential inertia. These last two words give way to the rhythm of the heart which beats beneath all of Darnielle's stories; it thumps away, and the album ends. It's an odd gesture, certainly, but whose heart is it? The murderer's or the murdered's? Darnielle wants to ask, finally, and this questions shoots through his darkest, most violent work: does it matter?
httpv://www.youtube.com/watch?v=bQ-zZJu6LKI
Tags: Alec Niedenthal, The Mountain Goats