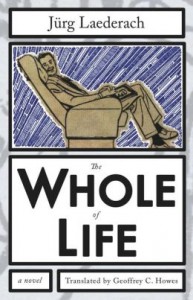 The Whole of Life
by Jürg Laederach
Dalkey Archive Press, Jan 2014
300 pages / $15  Buy from Amazon or Dalkey Archive
Waiting for the publication of Jürg Laederach's The Whole of Life, out now from Dalkey Archive Press, I revisited his very funny and hip 1990 Semitext(e) collection, 69 Ways to Play the Blues. Laederach is a one-time enfant terrible of Swiss literature (he writes "I'll be called a young writer until I'm eighty,") and his work epitomizes boomer cool. A devotee of Jazz and Downtown Music, Laederach made several trips to NYC during the 1980s. 69 Ways was written on the third trip.
Laederach is an avowed devotee of improvisational music:
69 Ways crackles with wry observations. On Bleecker Street: I am Bleecker Street, "that intersects and eschews any rude display of house numbers."
On the view from Swiss cemeteries: "To a majority of the inhabitants of Switzerland, death, not Lake Geneva, brings about a marked improvement in their standard of living. Great pains are taken to see to it that graveyards have a "view" they are thus conceived with a strong sense of landscape and perspective."
When authors get hungry: "All he could do was point a shaky finger at a sandwich and growl."
The Whole of Life shares this offbeat cool. Framed as a sort of messy first-person, the plot follows a Swiss everyman, Bob Hecht, (endearingly called "My boy Bob Hecht" a la Charles Mingus: Beneath the Underdog) as he navigates mid-century industrial Europe.
The book is very funny and sprawling. The ethos of improvisation is most noticeable in Laederach's pastichework. Different styles and references are co-opted and incorporated as a sort of self-analysis. In one section, a year of unhappy cohabitation is narrated as a boxing match. In another, he parses out the existential implications of deleting a Jewish character from the text. He has persistent dopplegangers, including a pair supposedly co-writing his memoir. The text falls into stage directions. And technical directions: "PAN F Perceptol min 68 F 10 ASA 25 DIN 15 Microphen min 20 C 4 ASA 64 DIN 19 or 68 F 5 650 ASA DIN 29 with reduction to 125 … The kind of prose we can expect in the future." But through all this, he maintains a detached cool.
Attempting to integrate into the workforce, Hecht drives truck: "I drive straight ahead until evening…I stubbornly keep going, and then the motor starts chugging. I stop, get out of the car, walk toward a building, turn back to the car, turn on the headlights so that the battery will unperform on me, and walk toward the barracks, a hamburger bar with a sign advertising ketchup in tomato color, how original, almost a gag… It appears as though I've missed work today and spent the whole day searching straight ahead and mindnumbed… "But man," says the guy serving me, "that driving straight ahead was your work, that's what they hired you for!"
The novel seeps deadpan. And translator Geoffrey Howes does a great job catching its talky aspect, this very reminiscent of Renata Adler's Pitch Dark. "Hardly had the tea party gathered up the biscuits, when the scrawny woman came up to the table and cried out: "You are my sweetie pie!""
First published in 1978, The Whole of Life, is one of those big messy books that feel rarer and rarer in 2014. Rather than a single plot or narrative piece, the novel works through different anxieties, chiefly concerning intimacy today. The novel has three sections (Job, Wife, Totems and Taboos), meant to reflect "The Whole of Life," but these themes blend throughout the work. The pitfalls eventually describe Hecht's difficulties with work and lovemaking. Hecht's failures are instantly familiar and his dysfunction seems to reflect a dysfunctional society.
From the introduction: "The whole of "civilized" (twentieth-century, Western) life seems to based on those things that we well-developed primitives must worship (totems) or not mention (taboos) because they are too sacred for mere mortals like Bob and us. The totems include sex and work and their symbols (bed, bedsheets, typewriters, a house and its rooms), and the taboos include parts of the past, notably Bob's "depth psychology" and the Shoah, and parts of the present, notably a bordello for women and the economic secret that the best-quality flesh is produced by cannibalism."
The humor may camouflage some of the tenderness, but this is a singular work. Laederach lays his psychoanalysis bare. And some of the most compelling sections evoke a subliminal gray zone
"In the laundry room Ann had set up ten little men, in ten little cages all in a row. The cages stood on a table, and the table stood on a stone floor, which disappeared in the middle, at its lowest point into a drain. The arrangement of the little men was such that Ann could stand in front of it and put all ten fingers into the cages at the same time. Ann did this, and ten deep but tiny cries echoed through the laundry room, and ten jaws closed on her fingertips."
Along with these works, Laederach notably co edited a Robet Walser anthology with William Gass, and was awarded both the Austrian State Prize for European Literature and the Italo Svevo Award for his many novels and articles. The Whole of Life is an arresting and important work from that oeuvre.
***
Joseph Houlihan lives and works in Minneapolis, MN
Tags: Dalkey Archive, Joseph Houlihan, Jürg Laederach, The Whole of Life