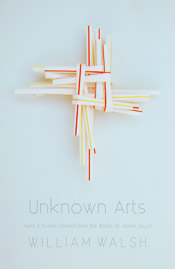 Unknown Arts
by William Walsh
Keyhole Press, 2012
142 pages / $9.99  Buy from Keyhole Press or Amazon
Unknown Arts by William Walsh (Keyhole Press, 2012) is a collection of critical appropriations sourced from James Joyce's Ulysses, Finnegan's Wake, A Portrait of the Artist as a Young Man, Dubliners, and more. A book about Joyce's books, Unknown Arts can be read as analysis, distortion, homage, and/or a work of art all of its own. It is doubtless a contentious book that will likely add fuel to the ongoing and often fiery debates around contemporary criticism, the imprint of influence, and the nature of creativity. Controversial or not, the collection is a valuable artifact that allows rare access into what are for many the impenetrable works of a literary master.
Here's an excerpt from one of the many texts in the collection appropriated from Ulysses (1922), titled "Sunny Jim 2":
Near the end, remembering king David and the Sunamite, he shared his bed with Athos, faithful after death. But thou hast suckled me with a bitter milk: my moon and my sun thou hast quenched for ever. There's the sun again coming out. Paris rawly waking, crude sunlight on her lemon streets. Under its leaf he watched through peacocktwittering lashes the southing sun. The coroner's sunlit ears, big and hairy. A flying sunny smile rayed in his loose features. His eyeglass flashed frowning in the sun. The tip of his little finger blotted out the sun's disk. Mercy of God the sun was in his eyes or he'd have left him for dead. WAS JESUS A SUN MYTH? By heaven, I am guiltless as the unsunned snow! It What went forth to the ends of the world to traverse not itself, God, the sun, Shakespeare, a commercial traveller, having itself traversed in reality itself becomes that self.
At just one hundred and forty-one pages, Unknown Arts is a relatively slim book, and yet attempts to condense and capture Joyce's enormous and ambitious body of work—groundbreaking works written over decades and which forever altered the laws of literature. The unique and many challenges posed by Joyce's work as source, especially in terms of language, structure, rhythm, and what to include and omit, seem insurmountable. An extraordinary undertaking, then, made all the more astonishing because Walsh's mirror to Joyce's unparalleled—and to some, inaccessible—oeuvre is most compelling, a collection that is at turns whimsy, absurdity, and the studied plumbing of Joyce's works, and is always rhythmic and provocative.
Here's an excerpt, a single sentence that runs for seven pages, appropriated from Finnegans Wake (1939) titled "Himself."
… may bethink himself a thought, unless he happens of himself, at the very dawn of protohistory seeing himself such and such, so Shem himself, the doctator, the tragic jester sobbed himself wheywhingingly sick of life on some sort of a rhubarbarous maundarin yellagreen funkleblue windigut diodying applejack squeezed from sour grapefruice and, who always knew and do for himself one dandy time, nay, of a pelting night blanketed creditors, would not put fire to his cerebrum, would not throw himself in Liffey, would not explaud himself with pneumantics, refused to saffrocake himself with a sod, yet the Whole World taken part of himself for his Wife, kuskykorked himself up tight in his inkbattle house, there to stay in afar for the life, Nero or Nobookisonester himself, (this hambone dogpoet pseudoed himself under the hangname he gave himself of Bethgelert) the sames as he was himself and that, greet scoot, with an eachway hope in his shivering soul, …
Nonetheless, it is arguably disconcerting, disturbing even, to shrink and recapitulate a dead master's greatest works. There's an implied audacity and irreverence. We might say Walsh is imitator here and "glorying in the open shame" (to quote from Joyce's erotic letters and not from Unknown Arts). Alternatively, we can also recognize how exhilarating it is that Walsh has dared to deconstruct, re-imagine, and make anew that which would be enshrined and made holy. Many will hail Walsh as an innovator who has created here something that, (again from Joyce's erotic letters), is in the "spirit of eternal beauty and tenderness mirrored." Perhaps only devotees of Joyce's greatest works can truly appreciate Unknown Arts, but even a familiarity with the Irish master's books hardly seems necessary to embrace this unapologetic collection.
Here's a final full text retelling:
CONMEE
From Ulysses (1922)
Conmee blessed him in the sun. Conmee crossed to Mountjoy square. Conmee was wonderfully well indeed. Conmee was very glad indeed to hear that. Conmee was very glad to see the wife of Mr. David Sheehy M.P. Conmee doffed his silk hat. Conmee walked. Conmee stopped three little schoolboys at the corner. Conmee gave a letter from his breast to Master Brunny Lynam. Conmee smiled. Conmee smiled. Conmee walked down Great Charles. Conmee turned the corner. Conmee greeted them more than once benignly. Conmee smelt incense on his right hand. Conmee raised his hat to the Blessed Sacrament. Conmee thought of that spendthrift nobleman. Conmee began to walk along the North Strand road. Conmee saluted Mr. William Gallagher. Conmee walked through Clongowes. Conmee went by Daniel Bergin's publichouse. Conmee passed H. J. O'Neill's funeral establishment. Conmee saluted the constable. Conmee observed pig's puddings. Conmee saw a Turfbarge. Conmee reflected on the providence of the Creator. Conmee stepped into an outward bound tram. Conmee sat in a corner of the tramcar. Conmee liked cheerful decorum. Conmee supposed. Conmee perceived her perfume in the car. Conmee had finished explaining. Conmee saw the conductor help her. Conmee thought that. Conmee thought of the souls of black and brown and yellow men. Conmee alighted. Conmee stepped into the Dollymount tram. Conmee thought of that tyrannous incontinence. Conmee read in secret. Conmee drew off his gloves. Conmee blessed both gravely.
***
Ethel Rohan is Irish and she's got the freckles, blue-white skin, and tattoo to prove it. Check her out at ethelrohan.com.
Tags: Ethel Rohan, Unknown Arts, william walsh