Alexandra Naughton
—
So check it out. My name is Alexandra Naughton. Some call me "tsaritsa." Some call me "based goth." Others call me "fuckhead."
Regardless, I am here, and I am blogging on HTML Giant.
Hi, ma. Hi, pops. Hi, to the people eating cereal at their desks and looking at this post.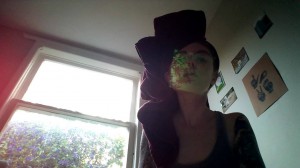 Who am I. Why am I here.
I like words. I don't think I'm that clever. I think I am a writer. I don't like false modesty.
I wrote a book of poems and dedicated it to Billy Corgan, like his name is even in the title, but I don't think he's read it yet. He probably won't.
When I was 17 years old I was listening to the new Ludacris album, Chicken & Beer, with my asshole boyfriend of the hour. He thought he was hot shit because his older brother wrote reviews for All Music and had all these promotional albums that he got for free. Because of this I thought he was hot shit, too, but I also knew he was an asshole. Anyway, the song "Splash Waterfalls" came on while we were making out and I was like, "yo, I bet this is the next radio single, this jawn is tight," and he was all like, "shut up, this song is awful." Well, guess what the next radio single was, after "Stand Up." Yeah, I totally got it right. Tsaritsa's a hitpicking tastemaker for sure.
So like, bite me, asshole ex-boyfriend. I'm blogging for HTML Giant, like what did you ever do.
27 Comments