Audun Mortensen
I had a week off. I decided to leave Germany. I booked plane tickets. I packed a bag. In the bag I put six pairs of underwear, six pairs of socks, five tshirts, one sweater, one button-down shirt, a pair of gym shorts, a pair of long underwear, a copy of The Angel Esmeralda: Nine Stories, a copy of The Year of Magical Thinking, and a copy of Miami, a Flip videocamera, my passport, my cell phone, a 2 oz. bottle of hand sanitizer, my toothbrush, a bottle of vitamins, a bottle of zinc supplement, a cup, and a hefty amount of Konsyl psyllium fiber supplement. I was going to Scandinavia.
I didn't know much about Scandinavia, other than that it was socialist, expensive, and cold. A couple years earlier I'd been published in a short-run magazine called Gustaf, and had limited contact with its editor Audun Mortensen. We'd met briefly in New York and emailed infrequently since then. When I contacted him upon moving to Berlin, he told me he'd been living with his girlfriend, another writer, Victoria Durnak, in Stockholm. He encouraged me to visit and said I could stay with them in their two-room apartment. I asked if he knew anywhere to stay in Oslo, and he seemed not to. I posted on my Facebook asking if I knew anyone in Oslo who wanted to host me for two nights. A few days later I received an email from Kenneth Pettersen, a poet who I'd never talked to as far as I could remember, but somehow seemed a constant in the internet literary scene. A month later I arrived in Rygge, took an hour bus ride through the gray Norwegian countryside, half asleep and flipping through DeLillo stories.
Upon entering Oslo, the scenery changed dramatically. Cranes hung across the sky, like the entire city was under construction. There were buildings coming up everywhere, skyscrapers looming over the damp clouds and foggy ocean. Kenneth met me at a subway station, which took me longer to find than it should've, after I paid the equivalent of $40 for a 48-hour pass, after I paid the equivalent of $30 for the bus from the airport. He took me to his apartment, which was a room with half of a kitchen and a bathroom with heated tiles. I had trouble keeping my eyes open and we made small talk, mostly about literature and blogs. He took me to a bar, where I bought a $40 fish and chips and Aass beer. I said something about how I didn't understand how the money worked and he mentioned wages. He said he worked at a kindergarten.
We drank our beer, then another, and another. There was some sort of a event happening at the bar, hosting an airline company, and a pilot sat in the corner of the room, getting progressively drunker, while his slicked back hair changed directions. He was sweating in a sports coat, tie, jeans. People were silent, drinking from pitchers and then all of a sudden very loud and laughing and then silent again. The bar served Sam Adams and Brooklyn Lager.
[The latest issue of McSweeney's features a section on Norwegian writing, edited by John Erik Riley and Mikkel Bugge. One of the featured authors, Audun Mortensen, author of the newly released novel Roman, recently conducted an interview with Mr. Riley (whose own novel Heimdal, California is forthcoming soon) in which they discussed: "sly stallone, per petterson's personal brand, mcsweeney's, 'norwegian lit scene', celebrity chef breakdown." – BB]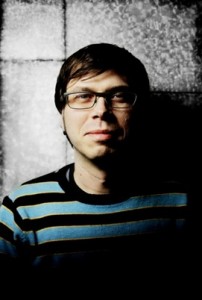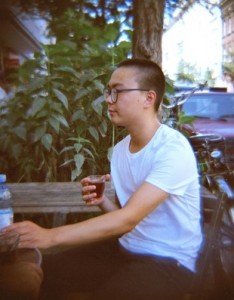 AM: we attended a 'corporate literary party' in oslo last week and got alcohol for free. could you outline some american equivalents, in terms of commercial success and literary style, to five of the most 'prominent' norwegian authors you spotted at this party?
JER: Hm. Erm. If by prominent you mean interesting and/or awesome, I spotted the following five writers:
Erlend Loe (= Douglas Coupland + Andy Warhol + Dave Eggers)
Roy Jacobsen (= Jonathan Franzen + Jack London + John Irving)
Anna Fiske (= Charles M. Schulz + Chris Ware + Dr. Seuss)
Stig Sæterbakken (= Edgar Allen Poe + Antony Hegarty + William T. Vollmann)
Audun Mortensen (= Stephen Malkmus + Facebook + Ramona Flowers)