celestial soul portraits by Erial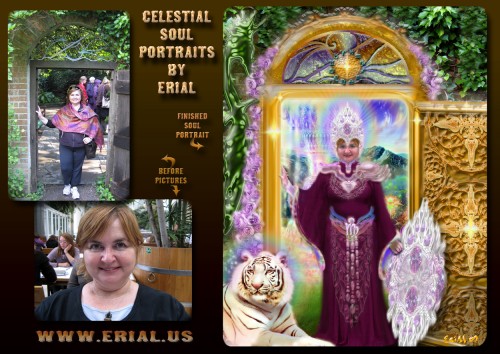 Get your soul portrait today! And while you're over there checking out the goods, be sure to answer this call:  "Attention Art Collectors Seeking Art Treasures." No more shit-collecting for you! From here on out, it's treasures only. (Thanks, Mathias!)
If you're still feeling spiritual after your Soul Portrait, try "The Family Jewels" over at the Smart Set. David Farley takes a look at Christianity's best relics. As expected, #1 is the Holy Foreskin–it's like the "Thriller" video of relics–but some of the other entries are surprising, and it's all good educational fun.
There's nothing holier than anything about "Reading People's Faces" at Reason, the crabby libertarian organ of record. Katherine Mangu-Ward considers Codes of the Underworld: How Criminals Communicate.
In Japan, members of the yakuza have long favored tattoos covering the entire upper body to signal their mafia status. They also amputate all or part of a pinky finger. One study estimated that between 40 percent and 70 percent of the yakuza had sacrificed a digit, generally making the cut themselves.
(thanks A&L Daily for those last two)
What else? Well, homeboy of record, Alec Niedenthal has a new story, called "Moon," in the Catalonian Review, and at the Rumpus, Megan Casela Ross makes Dylan Landis's Normal People Don't Live Like This sound pretty damn interesting. Next time I hit the bookstore, I'll be looking for it. Also at The Rumpus, Stephen Elliott posts installment #18 of his Notes From Book Tour, and this one is extra fascinating, as he lays down some hard numbers:
I read at or participated in 73 events in 33 cities in 95 days. I sold 700 copies of The Adderall Diaries which I bought wholesale, as well as 150 copies of Happy Baby and 80 copies of My Girlfriend Comes To The City and Beats Me Up. Roughly. But that doesn't count all the books the bookstores sold. At maybe 20 events, or more, a bookstore was selling the books. It's safe to say I hand-sold around a thousand copies of The Adderall Diaries. It's safe to say I generated more sales than that indirectly from write-ups in local newspapers and blogs, interviews with small radio stations. 500 more. 300 more. 1,000 more? Hard to say. It depends what you mean.For why? For the same reason I wrote it.