chapbook contest
5. The Bateau Press Boom Chapbook Contest is open for submissions until December 31, 2010. Fuck yes!
4. This woman is a fucking conceptual food artist and vegetable butcher.
11. Thing now is to drop F bombs at readings. Three readings, 9 readers, carpet F bombing. Even lamer is to prep the F bomb. "I know you're college kids, but I'm about to say fuck so deal with it…" or "Hope you people can handle some fuck words. No babies in here, right?" Fuck on. Fuck off. People don't seem as drunk as usual. Maybe the F bombs are Freudian life relief at reading sober. Fuck.
77. An interview with Luna Miguel by SJ Fowler. Thank you, 3:AM. You are a hitchhiker in my heart.
But if I think back to my youth, the truth of the matter is that I didn't pay any attention to criticisms, reproaches, and suggestions either. So I have no authority to speak today.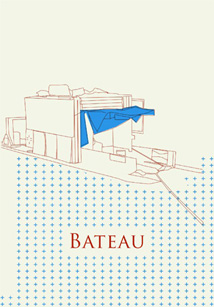 Bateau Press has just launched a new version of their website, with way more access to info than they'd had before, including contents of their current issue, info chapbooks and current submission and contest guidelines.
They are currently running their 3rd annual chapbook contest, which has electronic submissions, nice:
OPEN TO ALL WRITERS

Winner receives $500 and copies of the winning chapbook.

Manuscripts will be read anonymously by staff of Bateau.

Please, no submissions from students or close friends of the editors.

Age and previous book publication are not considerations for eligibility.
Check out the site for more info, Bateau is really doing something cool. I like the handmade style of Bateau and the book object style they represent, there should be more places like this, even more than there currently are.