Death Centos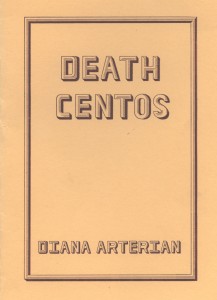 Death Centos
by Diana Arterian
Ugly Duckling Presse, 2013
24 pages /  UDP Page
When my 12 year old daughter rolls her eyes at me, I tell her stop it. I say, stop it. You shouldn't treat me like that. I'm going to die someday.
She says, Mom, I know.
My husband says, Both of you, stop it.
But I can't. I can't stop. So I tell her, we'll be dead forever. Just think about that: forever. Infinity. All of time. And we are only alive for a little second of it, and we barely even get to know each other, and you want to waste the little time we do have being alive rolling your eyes at me.
My husband says, Please, Sara. Not this shit again. Don't say that.
Jeez, Mom. Seriously. I know we're going to die.
But you don't get that it is really soon. I could die tomorrow. So could you.
My husband says, Stop. No more. Stop saying that shit tonight. Just not tonight. Let's just watch a show together, and enjoy our evening. Please, he implores, not tonight. No death stuff tonight.
The book of poems, Death Centos, by Diana Arterian is a book of poetry made by collage and with constraint. Arterian has created a mixed tape of famous figures' final words. Her poems pull the final phrases of famous persons from their resting places of mythology and arranges these phrases into poems. Death Centos, conceptual in conceit or not, is a book of poems that is rich and profound. The author doesn't seem as displaced as in most pieces of conceptual writing. This contributes to a feeling of stability within the text. The poems are full of hearty material. The words are the actual final words of folks before death. Most of the folks quoted carry some importance in the trajectory of civilization. These words lend to the power of the poems, but that isn't the whole story. The arrangement of the words is of paramount importance. I am not a poet. And because of this I can consume poetry in a way that allows my mind to form ideas from the poem, or access to the subtext in a way that feels more mystical than an outright technical analysis would. I'm talking about feelings here. I feel that the work is good. I feel the poems are strong. I felt stirred by them, and provoked. I take this to mean that art is working.
In the first poem "I" in the section LAST WORDS OF THE DYING there is a list at the side of the page highlighting the people whose words have been arranged in the poem: Ludwig van Beethoven, Frederic Chopin, Thomas Edison, Franz Ferdinand, Johann Wolfgang von Goethe, Victor Hugo, Timothy Leary, Wolfgang Amadeus Mozart, Theodore Roosevelt, Tom Simpson, Rudolph Valentino. There are only ten stanzas in the poem and the punctuation defies orderliness. There are no clues here, just a list of contributors. From the first I realized there would be no real correlation between the order of the contributors, and the poems' inclusion— or, if there was, it would be more work than any book of poetry should be. I found myself wanting the poem to align with list of personas so that I could figure out who said what at the end of his life, but Arterian wasn't going to let that happen.
Perhaps this description of my experience with this conceptual piece of work seems pedestrian to you. I think though, that my experience is worth talking about. For so long I felt shut out of conceptual work. That is a huge part of the culture to miss out on. Conceptual projects and poems intimidate cultural consumers. MFA programs like the one I went to are rife with what could be either interesting experiments or half-hearted attempts at grabbing some attention. You have to get close to tell the difference. Only now, years after school, do I find myself brave enough to get close, to engage, and to speak about the work. However, by no means am I an expert. I am a dilettante.
Arterian's first poem taught me how to read the rest. It taught me what to do from the first. I think this says something about the accessibility of her work. About the potential appeal. Not everyone is going to care about poetry, but everyone should feel welcome to engage. I think that the content of Death Centos is inviting. Macabre, yes, but death is coming. To each of us. And "this is the fight of day/and night." This is a space of common ground. This is a book of inclusiveness. This is a book of successful appropriation where the original text adds up to so much more than any of the snippets.
Each of the poems begs to re-read. There is a smoothness despite the punctuation. The poems flow and drip. Arterian is a master at moving you down through poem at a steady pace. In the poem "V" in the first section of LAST WORDS OF THE DYING three names are listed down the side: Warren G. Harding, Frida Kahlo, Martin Luther King Jr. I read the poem "V" three times in each voice, letting each one of these famous persons own the words of the others in a vision of their respective deaths.
Make sure you play "Precious Lord"
tonight—play it

real pretty. That's good.
I hope the exit is joyful

and I hope to never