disney

I'll admit that I giggled when Miley cut her hair and her twitter fan said she looked butch. I laughed when Britney went loco and shaved it all off. Hair seems to be the number one method of rebellion for the Disney starlets, this host of young women who grow up in front of the camera with overly white smiles and innocent girlish good-looks (often dimples), and then completely implode in the most public way possible.  Yes, of course, these girls seek out stardom, and there will always be young kids who will do anything to get on TV or have their fame moment online, particularly now in this image-saturated techno age. And there will always be parents who will push their child from the moment they can walk to be a triple singing-dancing-acting threat. But what really intrigues/confuses me is this idea of the spectacle itself, the way in which there is an intense focus placed on these young women as they mature from kids to teenagers to young adults:  it's a coming-of-age that comes with a side of anti-depressants and multiple rehab trips – but it serves as global entertainment – whether it's taking place on the Disney set, or through leaked grainy mobile bra pics and indiscretions at the Chateau Marmont.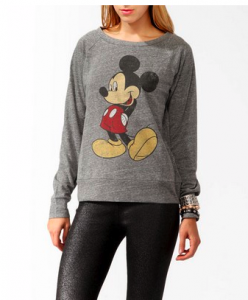 Choosing clothes can be very vexing. Sometimes I think that the turmoil of buying clothes is similar to the kind that exists in the Middle East. There's screaming, destruction, and lots of second-guessing.
My most recent fashion crisis involves not a weird YouTube video but a Mickey Mouse sweater. I first saw the Mickey Mouse sweater at a vintage store in the East Village. When I noticed that marvelous boy mouse on the faded blue garment I became awfully excited.