Elif Batuman
More people are self publishing. Same story, different newspaper. One interesting line: "If you write a book, you are an expert," says Dr. Martin, who spent roughly $40,000 to publish and market five books, including "Are Your Teeth Killing You?" and "This Won't Hurt a Bit."
More people are self publishing. Same story, different news outlet. One interesting line: "In today's tight traditional publishing market, agents, editors, and publishers are now encouraging authors to test market their book by self-publishing."
Child prodigies are terribly interesting to me so I quite enjoyed this fantastic essay about Barbara Rogers née Follett. One interesting line: "'In a multitude of ways," Wilson Follett reported, "we become more and more convinced of the expediency of letting the typewriter be, so far as a machine can, the center and genesis of the first processes.'"
Susan Orlean has a fine bit of an essay here about loving all manner of books and the battle between reading and, well, everything else. One interesting line: "I think the only real battle is between the challenge of getting people to read and the fact that many other pastimes are easier, quicker, and more passive than reading."
Did you know there's a memoir about a woman who loved Little House on the Prairie and started adopting some of the LHOP lifestyle? The book is called The Wilder Life and will be out in April 2011. Yes, I am all over this and will be reporting back, come April 11, 2011.
In the Los Angeles Times, David Ulin writes on how we can make the most of both books and e-books. One interesting line: "Their physicality is part of their function; they are meant to be held as well as read."
The editors of the New York Times Sunday Book Review introduce why criticism matters, then give the platform over to six "accomplished" critics: Stephen Burn, Katie Roiphe, Pankaj Mishra,  Adam Kirsch, Sam Anderson, and Elif Batuman.One interesting line, from Batuman's essay, "Negative criticism is particularly exciting, not only because of schadenfreude, but because once limitations are identified, we glimpse how to transcend them."
2010 has been recapped for our benefit and here is a megalist of "Best of 2010" lists. Happy New Year, everyone!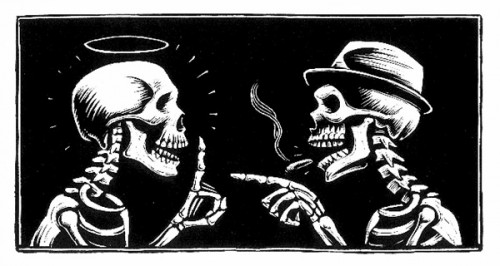 This weekend I spent some time thinking about how much people love talking about MFAs, what they're good for, who should get one, why they're terrible, how much they cost, why they're wonderful and on and on and on. I never imagined that a college degree could generate so much vigorous discussion. I love it.
At The Rumpus, Anelise Chen wrote an essay about the MFA Ponzi Scheme. It's a great, witty essay that makes good, if not commonsensical points. The comments are pretty intense with all kinds of opinions being shared about the MFA with a great deal of cost/benefit analysis. I love when writers get all math-y. I don't have much of an opinion on MFAs. I do not have one. I do believe one should never pay for graduate school but that a graduate education is awesome. There are worse things someone could spend their money on, like drugs, though for some, that might be something better to spend their money on.  I don't judge.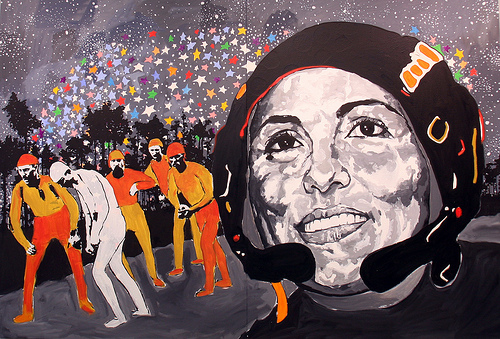 Okay, I'm being a little dramatic, but seriously, Michael–a Long Island iced tea to end the night with? You're an animal. My kind of animal. ANYway.
The Rumpus has an interview with the artist Jake Gillespie (worksample above), whom we in Poetryland know as "the guy who did that cool cover (and interior) art for Mathias Svalina's Destruction Myth."
The Second Pass celebrated their 1-year anniversary recently (hey, cheers!) and they mark the occasion by taking a break from the newer-newer-now pace of publishing/culture to take a look at some very untimely (and in some cases, unavailable) books. "Tales of the Unread." I was especially intrigued by Jacob Silverman's discussion of Past Continuous, a 1977 novel by the Israeli author Yaakov Shabtai, and Matt Weiland's discussion of Killings by Calvin Trillin, a 1984 true-crime book from more or less the last person on earth you'd ever expect to produce a true-crime book.
Speaking of things you've never heard of. Over at The Daily Beast, Elif Batuman introduces the Tolstoy-weary Russo-phile to four "alternative Russian classics" by Shklovsky, Platanov, Mandelstam, and Kharms.
Random
/
Comments Off

on Massive Hangover, Massive Roundup
March 18th, 2010 / 11:58 am