March 18th, 2010 / 11:58 am
Random
Justin Taylor
Massive Hangover, Massive Roundup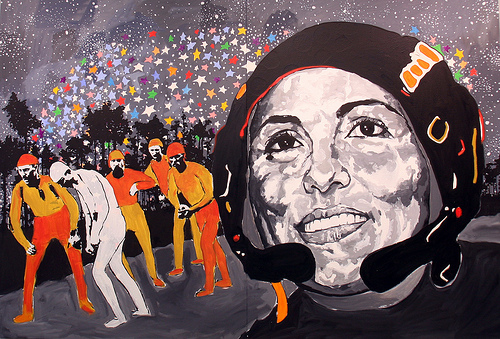 Okay, I'm being a little dramatic, but seriously, Michael–a Long Island iced tea to end the night with? You're an animal. My kind of animal. ANYway.
The Rumpus has an interview with the artist Jake Gillespie (worksample above), whom we in Poetryland know as "the guy who did that cool cover (and interior) art for Mathias Svalina's Destruction Myth."
The Second Pass celebrated their 1-year anniversary recently (hey, cheers!) and they mark the occasion by taking a break from the newer-newer-now pace of publishing/culture to take a look at some very untimely (and in some cases, unavailable) books. "Tales of the Unread." I was especially intrigued by Jacob Silverman's discussion of Past Continuous, a 1977 novel by the Israeli author Yaakov Shabtai, and Matt Weiland's discussion of Killings by Calvin Trillin, a 1984 true-crime book from more or less the last person on earth you'd ever expect to produce a true-crime book.
Speaking of things you've never heard of. Over at The Daily Beast, Elif Batuman introduces the Tolstoy-weary Russo-phile to four "alternative Russian classics" by Shklovsky, Platanov, Mandelstam, and Kharms.
At The Smart Set, Meg Favreau is bugging out because Jimmy Dean has an actual product that is "pancakes and sausage on a stick," which seems basically like a breakfast corndog, and not really more (or less) emblematic of APOCALYPSE CULTURE than any other five things you probably have in your fridge and/or medicine cabinet right now. But hey, everyone's got their thing, and apparently, pancake+sausage-on-a-stick was what put Meg over the edge, and that's more than fair. Also in food-related TSS content, Jesse Smith on "the complicated experience of living next to a Wendy's."
(via Jezebel) Here's a "report" from The Mirror's Life&Style section: "Why women secretly fancy stubbly geeks." It's all about how women say they want a buff, hairless macho dude, but really are looking for something cuddlier, furrier, and less guarded/cold–preferably with a book on its nightstand. Assuming this report is true, I guess the only question I have is, who cares why? Just be glad that it is.
On a related note, here is an xkcd cartoon, which comes to us via Rachel Fershleiser's facebook.
Rachel's boyfriend, btw, has a beard. I've seen it. Can't speak for his cuddliness, but I can guess. Looks like you win this round, The Mirror Life&Style section. Just remember: when The Mirror Life&Style section wins, we all win. Oh. Kay. Moving on–but not that far on. Dale Peck reports, on his facebook, "I just finished an interview with Sarah Schulman of the ACT UP Oral History Project. It won't be online for a while, but you should still take a moment to check out the site. It's really incredible." And so it is, and so you should. (Also: What do you mean you don't know who Sarah Schulman is?)
And finally, at Time Out New York, Jennifer Wood asks Julie Klausner, Stefan Merrill Block, Daniel Nester, and me, to answer some questions about WHAT LIFE IS LIKE.This relates to an upcoming reading that the four of us will be doing at Cake Shop on the 24th. I leave you now with these words of (my own) wisdom.
Who taught you what life is truly like? And what's the greatest lesson he or she imparted on you?

Justin Taylor (Everything Here Is the Best Thing Ever): I have to respectfully but firmly reject the premise on which the question is framed—namely, that I have any idea what life is "truly" like.
Tags: Elif Batuman, Jake Gillespie, Meg Favreau, Rachel Fershleiser, xkcd