featherproof
HOLY SHIT! Featherproof does it again. WHAT THE HELL IS STORIGAMI? It's stories laid out into a foldable fashion — which you print, fold, read and unfold and unread — it's really neat — the stories change as you turn them into animals. Kathryn Regina, Zach Dodson himself, Daniela Olszewska and I wrote them (mine's a pig!), with Brad Nagle and Zach doing the hefty design work. This might be old news, though, if you already read the story in NYLON.
Augury Books — a new poetry press in NYC — looks neat — at least judging by the poems they're reprinting at their site in anticipation of their coming out party — Ben Lerner, Kimiko Hahn, Stacy Szymaszek and more. They don't have a first title lined up yet — there's a contest to decide who it'll be (you can enter for $20 if you aren't affiliated with the press) — find out more about the contest and their impressive inaugural reading — on Wednesday — at their website.
Also, that gang Birds, LLC has a big ToDo in NYC on Friday. One of the few books I'm looking to pick up at AWP is Sommer Browning's Either Way I'm Celebrating which they published late last year. This reading — for the Stain of Poetry — features Dan Boehl, Browning herself, Elisa Gabbert, Justin Marks, Emily Pettit, Sampson Starkweather and Chris Tonelli. Fine feathered friends.
What else? I just received an early copy of The Orange Suitcase by Joseph Riippi. It comes out in March, and it's one to remember.
Last night I watched and loved Winter's Bone.
And here, via Daniel Nester at WWAATD, is Jessie Carty's interesting post about double-publishing.
Or would you prefer to watch a video? Here: Michael Filippone video-reviews Ben Spivey's book, Flowing in the Gossamer Fold.
And to round out this round up with more aviary things: Check out Flying Object, a new independent bookstore. Sure, it's in Amherst, MA (what isn't?) — but there's a lot to explore at their chock-full website.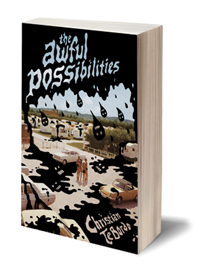 In the summer of last year, Featherproof released The Awful Possibilities, the fourth book by Philadelphia's Christian TeBordo. It is an assemblage of extreme range in sound and direction, as TeBordo's work manages to funnel a kind of well-orchestrated, rising mania across a range of perspectives and situations, including teenage suburban thug rappers planning a school shooting, a logic-fucked woman involved in shady black market business in a hotel, a dude trying to buy a new wallet, deathbed advice minds, and several other hybrid enactments than in other hands would lack the flair of TeBordo's ability to funnel livelanguage and feeling into seemingly any kind of body. As says George Saunders: "Christian TeBordo shows that it is possible to be, simultaneously, a wise old soul and a crazed young terror."
Last month, Christian and I took some time emailing about the book, Christian's experience of influence by Brian Evenson and others, the process of assembling a text, getting along in sound and structure, approach, revision, and nudie pics.
* * *
BB: The Awful Possibilities is your first collection of short fiction after having published three novels. Do you see yourself more as a novelist, and is there a difference in your approach? Were these stories written over a long period of time?
CT: Let me answer these backwards, because that way it goes from easy to really hard. The stories in The Awful Possibilities were written over a little more than 10 years. One of the stories in there is the first I ever made that I considered a story. The most recent (the postcards), I sent to featherproof after they'd accepted the manuscript. Actually just before the book got laid out. I wrote and published my three novels during the same time. I don't approach the forms differently when I sit down to write. For me it's just the sentences and the persona that generates the sentences telling the larger work where to go. On the other hand, I try to do something different each time. People who read my last novel might recognize a sensibility or tendencies in The Awful Possibilities, but I hope nobody would be able to predict what one would be like having read only the other. The question of how I see myself is a little tougher. As a writer, I'm happy doing both. Stories are fun because sometimes you can just bulldoze through a draft in a sitting or two. Or you can spend weeks being really meticulous and crafty with a few paragraphs without getting disgusted by what you're up to. Novels are fun because you have some sense of what you're going back to each night and there's more room to surprise yourself. The truth is, though, I feel more comfortable with short stories because I do want to be read, but I want my stuff to be an all-out assault, too, for now at least. I think people are more willing to put up with that for 10 pages than 200.

Courtesy of two of the best book producers I know: Zach Dodson (of featherproof books) and Caroline Picard (of Green Lantern Gallery & Press): a new independent online book store, and rumored brick&mortar location in Chicago. All sorts of local favorites are among the first titles presented. This has me really excited; nice to see another outlet for great books gathered, as well as a built in support system for readings and other art.
And next: Weightless Books, an ebook store. Again: lots of great presses, all sorts of prices and formats (all DRM free). Fill up those chips. Say goodbye to money.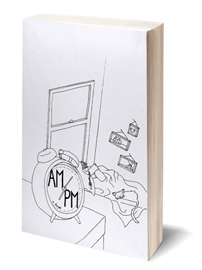 Out this month from Featherproof, as a kickoff to their brand new and already brain-changing Paper Egg Books: Amelia Gray's fabulous AM/PM, a short novel that follows "23 characters across 120 stories full of lizard tails, Schrödinger boxes and volcano love."
I was already really excited about this before I saw how beautiful the book is (as is to be expected in the nimble hands of designer Zach Dodson), having continually been wowed and had my skirt blown up by Amelia's work in the past, such as this amazing story in the Diagram Innovative Fiction finalists, and Caketrain, American Short Fiction, etc.
Last night, though, reading AM/PM from cover to cover before bed, I could not stop rotating between the sharp, quick gut giggles that Amelia's layered one liners continually deliver, and awe at her unmatched ability to meld the everyday minutiae of houses and people-talk with moments of pure existential terror and sublime gloaming.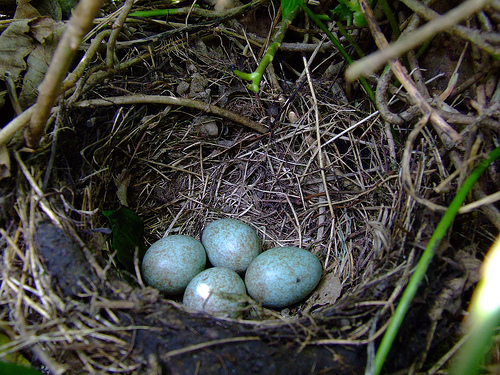 Aaron Burch reminded me that I had posted about Paper Egg Books a while ago, and he said new things are going on over there, things everyone ought to check out.
So I checked it out and am now out $50. That's right, a 3yr subscription to Paper Egg Books will cost you $50 but guarantees that you'll receive two books a year for the next three years. I like that idea.
So, goodbye, Ulysses S. Grant. Hello Paper Egg Books.
Paper Egg has also announced a few things that make me excited about my 3yr subscription. Because I am lazy, I have simply copied and pasted from their website the following two 'press releases':
The Great Paul Hornschemeier, he of the prodigious illustrative talents and author of numerous fantastic Fantagraphics books, will illustrate and design every edition of Paper Egg. As much as this little effort is something of a throwback, we wanted to embrace the old-school methods of having each Paper Egg contain similar design elements, so that as you line them up on your shelves year after year, they begin to amass a sort of group mind. To that end, Paul will work closely with featherproof design guru Zach Dodson to create our new line of books. And, of course, Paul will illustrate each Egg.

Really, we couldn't have found a finer artist for the job, as Paul has done some incredible book design work in the past, and each of his own books—including Mother, Come Homeand The Three Paradoxes—combines all that we love in art: a technician's eye, an impish sense of humor, and enough melancholy mixed in that we can never quite set our compass right.

If you're not acquainted with Paul's work, please, please acquaint yourself.
And:
So now that you know what we're doing, how we're doing it, it's time to tell you what we have in store. For our first Paper Egg, we'll be sending you The Awful Possibilities by Christian Tebordo. It's Christian's first collection of short stories, and anyone who's familiar with his past work knows it's got to be dark, beautiful, strange, and the kind of book that opens new doors with every page turned.

A little background: I'm lucky enough to hold off the bill collectors with my job as the editor of Time Out Chicago's Books section. When Christian's first novel, The Conviction and Subsequent Life of Savior Neck came across my desk in 2005, I was blown away. I had one of those nights where I didn't fall asleep until a couple of hours before work, when the book was finally done. Since then, he's followed it up with Better Ways of Being Dead (awesome) and We Go Liquid (amazing). So when we decided to launch Paper Egg, it was obvious to me that we should to start off right with a book from Christian. In fact, in some sense, Paper Egg was designed to publish Christian's book. It's brilliant, and strange, and the mammoth bookselling network is simply not suited for something like it. We're hoping we are.

To read a great Ned Vizzini interview with Christian, go here, and one of his stories at La Petite Zine.
I am going to go check my mailbox now. While I'm gone, why don't you visit their website, see how it works, and then subscribe.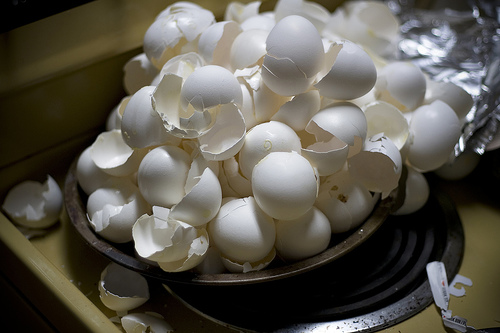 Featherproof has a 'new baby' and it's called Paper Egg Books.
From the website:
Ladies and gentlemen, we humbly welcome you all to the future of publishing. Just kidding.

Actually, welcome to this new thing we're doing. The "we" is featherproof books, and the "thing" is a subscription-only series of books. Here's the idea: You subscribe to paper egg for just $20 a year, and we send you two beautiful, limited-edition books by some of the most exciting authors working today, writing in disciplines often disregarded by that big, ugly marketplace (we're talking little, beautiful forms like the novella and the short-story collection). More soon, as we get hatching.
I don't know much else about the project as the site is still unfurnished, but the idea sounds cool. Keep an eye on this; they say more to come in early 2009.
(Thanks to Tobias Carroll for the link)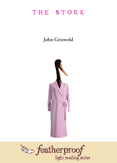 Featherproof Books has been in fantastic habit of releasing free mini books for quite a while, featuring a line up of fully downloadable and print-friendly short PDF-based chapbook like things from people such as Amelia Gray, Paul Fattaruso, Kevin Sampsell, and tons of excellent others. There have them archived on the site there for free along with their regular print books, including the brand new and very excellent design-masterpiece BORING BORING BORING BORING BORING BORING BORING by Zach Plague, which in itself is a thing to stare at and behold.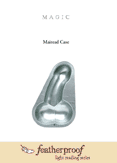 As of this week there are two brand new minibooks: THE STORK by John Griswold and MAGIC by Malread Case, which are both queued up in my printer. It's a great e-lit companion to their print press.. so if you haven't done so already, drop by and check some out, and when their submission window opens again, send them something.