federico fellini
My friend Tadd over at Big Other has a post up about why Plato wanted to kick all the poets out of his ideal republic. And I'm no philosopher. But my understanding has long been that Plato's problem with poets/art (besides the whole mimesis "copy of a copy" thing) is that art is messy, uncontrollable.
Like, consider this: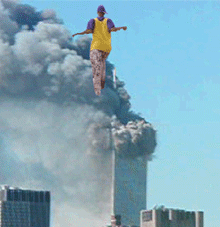 Someone—some artist somewhere—decided to make this. Is it good? Bad? Funny? Sick? Evil? Juvenile? Calculated? Hip? Clever? Stupid? Immoral? Amoral? Sure—it's all those things, and more! It supports a variety of readings. In fact, the better an artwork is (I think this is a pretty OK one), the more irreducible it tends to be (at least, according to certain lines of aesthetic reasoning that I think Tadd would agree with).
Good art disrupts the social order. It wakes you up, shocks you, makes you feel alive—it makes you see the world again, differently. Bad art is boring, predictable, prescribed, a weak illustration of what you've already been thinking. (That's my problem with so many depictions of September 11th, Roxanne—they reduce that day into something so digestible, so mundane, it's as though it never happened.)
La Prisonnière, Henri-Georges Clouzot, 1968
Twin Peaks, episode 30, David Lynch, 1991