Grab the Lapels
I recently stumbled across Grab the Lapels, a book review venue that describes itself as  "ladies only — the books are written by women, and read by a woman." In light of continuing conversations about both the VIDA count and related gender critiques in the publishing world, and the environment of literary criticism in general, I found the concept of this site really interesting. Melanie Page, the brain behind Grab the Lapels, was kind enough to answer some brief questions:
***
JL: For those that don't know, can you explain the concept behind Grab the Lapels?
MP: Grab the Lapels is a website (so far, it's just me) that posts reviews of prose—but everything reviewed is written by women. The only reason I don't do poetry is because it's not a comfortable place for me to review well. Not all reviews are 100% gushing/positive, but all of them are respectful toward the author. Reviews are posted on the 1st, 7th, 14th, and 21st of the month. They are posted not only at Grab the Lapels, but on Google+, Amazon Reviews, Goodreads, Facebook, and are linked to The Next Best Book Blog's site. The books I review can be genre, innovative, mainstream, whatever.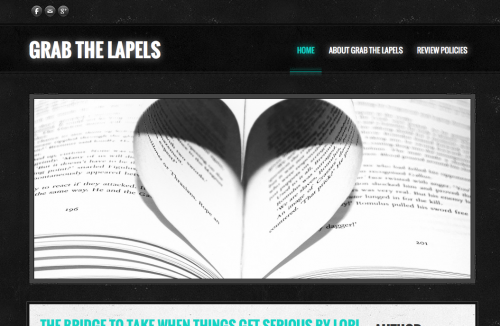 JL: Can you talk a bit about your past experience reviewing for other publications and what led you to start a review site specifically for and by women?
MP: I started with one review in The Collagist after Cris Mazza posted on Facebook that she wanted someone to review her forthcoming book. After I caught a typo in a book review at JMWW I was brought on to review there, and have done so regularly since 2012. I've also written for the Notre Dame Review, Necessary Fiction, The Next Best Book Blog, and American Book Review. In some cases, like NDR and ABR, the reviewer has little choice about what she reviews, but for the other publications I was often given a list of books from which I could choose. Most of the time the list was full of men and very few women, which bothered me. I started only choosing books by women after I reviewed a book that I thought was shallow and misogynistic (downright degrading, really) for one magazine. My review was so negative that the magazine shied away from publishing it, so I posted it on my Goodreads account and ventured out on my own.