guillermo del toro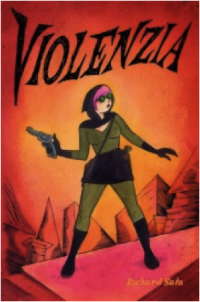 Violenzia
by Richard Sala
Fantagraphics, 2013
51 pages / $4.99 Buy from ComiXology
Rating: 10.0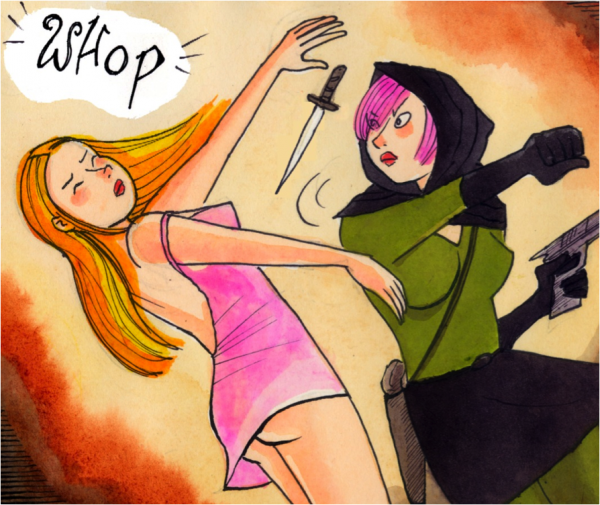 Pacific Rim was my favorite film of 2013 because of its heavy use of science fiction tropes. Guillermo del Toro borrows everything from Neon Genesis Evangelion and G Gundam to Power Rangers and Godzilla. He breathes life into these tropes with innovative concepts like drift compatibility and Lovecraftian aliens from beneath the Pacific. Add in del Toro's choices to eschew motion capture effects and to cast Charlie Day as the charming and tatted Newt and this film earns a huge place in my heart.
Richard Sala's Violenzia, his latest digital comic book, operates on a similar level. Sala takes the conventions of Golden Age comics like Dick Tracy and The Shadow and updates them for the digital era. He strips away any true exposition or plot in favor of a taught, fifty-page sequence of action as Violenzia—a hooded vigilante with a shock of magenta hair, twin pistols, and a miniskirt—dispatches members of a moon cult, hillbillies dealing Krokodil, and a ghoulish business exec. duel-wielding a sword and legalese all to get revenge on a nefarious mastermind, and the result is breathtaking.
The book never takes the time to explain who Violenzia is or why she wants to kill the crime boss, but it doesn't matter. Instead, Violenzia evokes the joy of action comics with lush colors and retro pencilings. READ MORE >
The sciences, each straining in its own direction, have hitherto harmed us little; but some day the piecing together of dissociated knowledge will open up such terrifying vistas of reality, and of our frightful position therein, that we shall either go mad from the revelation or flee from the deadly light into the peace and safety of a new dark age.
– H.P. Lovecraft
Essentially every culture has a mythological history which includes primal, undifferentiated formlessness: the abyss, as much topless as it is bottomless. Figuratively speaking, this abyss is neither aquatic nor interplanetary. Rather, it's a little of both. The howling Tao, the primal ocean upon which Vishnu slumbered, amorphous being, chaos preceding time, primordial stew.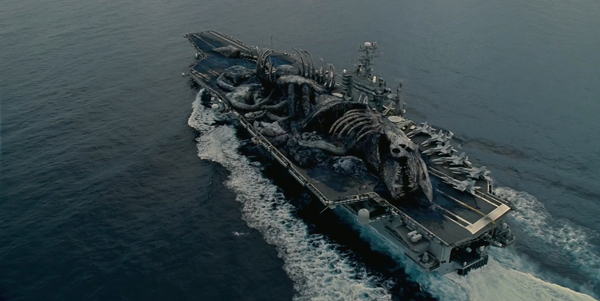 Today, in cockpits and bathyspheres, astronauts and their aquatic counterparts contort into metal cabins, surrounded by death, to peer from thick windows into empty, hostile landscapes. Cloaked in metal, they transport light where there has never been any — to what James Cameron, after his much-ballyhooed 2012 submersible dive to the Challenger Deep, called a "barren, desolate lunar plain," or (more viscerally) which William Beebe, passenger in the world's first bathysphere, described as "the black pit-mouth of hell itself." From this hell-mouth emerge our literature's greatest monsters, those embodying primeval dread itself: the Kraken of maritime myth, Godzilla, Cthulu, and now, the Kaiju aliens, which shimmy through an interdimensional breach at the bottom of the ocean and sow chaos on the coasts of the world in Guillermo Del Toro's magnificent new film, Pacific Rim.  READ MORE >