gurlesque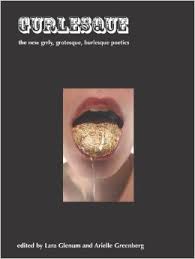 The second e-version of Gurlesque, an anthology of "the new grrly, grotesque, burlesque poetics," is coming out soon with an expanded number of amazing female writers, including Jennifer Tamayo, Marisa Crawford, K. Lorraine Graham, Kate Durbin, Kate Degentesh, among others— along with the original contributors, one of whom is Stacy Doris.
When I read Doris' funny, edgy, cerebral, and (dis)sensual Paramour in college, I knew I needed to go to San Francisco State for my MFA so that I could work with her in person. Stacy proved to not only be a phenomenal writer but also a caring mentor. Her passing in 2012 still feels raw today.
After reading an excerpt of Doris' book The Cake Part [1] which was published in the first edition of Gurlesque, I decided to read the full version and then (circuitously) write the following essay, incorporating other writers that used theater the way she did (or did not) in that book.
Only, since I was writing about transformative theater, I figured the traditional essay format wouldn't lend itself as well as a more dramatic format…
***
Scene: In a spaceship in a parallel universe. Android GERALDINE KIM types commands into the complicated lit-up dashboard as her ship is being attacked by a multitudinous tentacled alien race.
GERALDINE KIM: (ignores cosmic blasts while typing furiously.) I tried to write an essay on theatrical writing (not to be confused with the genre but more a leitmotif within other genres of writing—namely poetry) and then I realized that there are actually only a handful of instances of this in contemporary fem writing (that I could find).
GERALDINE KIM's BEST FRIEND WHO WISHES NOT TO BE IDENTIFIED: (enters.) How many instances did you find?
GERALDINE KIM: Four.
Random
/
Comments Off

on A THEATRICAL ESSAY ON TRANSFORMATIVE THEATER FROM THE WORKS OF A FEW CONTEMPORARY FEM WRITERS
August 15th, 2014 / 10:00 am
I heard Dodie Bellamy use the terms "emotional porn" and "operatic suffering" recently on her blog and I love that. I recently wrote on my blog about "emotional excess" in relation to the films of Andrzej Żuławski, and I've just been thinking–I love things that are flamboyantly and unapologetically emotional. It makes me think of teenagers. Since crossing over into my 20s, I look at teenagers and feel kind of embarrassed for them. They lack emotional filters. They're so direct about their suffering. They're making themselves look pathetic. But really–I kind of envy them, their lack of restraint. It must be really freeing to be that open without feeling the urge to censor yourself.
When I was in high school, I used to call a certain type of girl a "Plath Girl." For me, the Plath Girl was white, upper-middle class, educated, a perfectionist, melodramatic, mean, and incapable of feeling joy. I guess I still used this term in college…isn't that fucked up? This is my therapeutic admission of my fucked-upness. Yes, now I remember. There was a girl I thought was cute and I asked her on a date. She always wore black eyeliner and had a Virginia Woolf tattoo. I thought we could go to the airport and watch the planes take off but she was like, why don't you just come to my room? When I went to her room, she did lines of coke off her desk while ranting about how much she hated everyone, how depressed she was at school, and before I knew it, she had left me so she could hang with other people. When my friends asked me about the date, I think I just said, "turns out she's quite the Plath Girl." (But was this an incorrect categorization? Did the tattoo mean she was actually a Woolf Girl?) Really, I think the Plath Girl is kind of sexy. She has direct access to her emotions and isn't ashamed to show her bitterness or depression. (I am also involuntarily turned on by emotionally volatile people that can sometimes be cold to me. Perhaps it is a masochistic impulse.) There is certainly a performative element that pervades this kind of outward display of emotion, but that doesn't mean it's just some stupid act.
Poetry. The anthology GURLESQUE: THE NEW GRRLY, GROTESQUE, BURLESQUE POETICS brings together eighteen poets of wide-ranging backgrounds, united in their ability to push the aesthetic envelope through radical, femme, Third Wave strategies, and pairs them with visual artists who do the same. At the turn of the millennium, we are witnessing the emergence of a vital–perhaps viral–new strain of female poetics: the "Gurlesque," a term that describes writers who perform femininity in their poems in a campy or overtly mocking manner, risking the grotesque to shake the foundations of acceptable female behavior and language. Built from the bric-a-brac of girl culture, these works charm and repel: this work is fun, subversive, and important. (New Release — order from SPD)