Lucy Corin
1. Lucy Corin Web Log:
14. httpv://www.youtube.com/watch?v=0pMS5IMOxCA
Warhol on the Internet (imagine)
567. What is the contagious psoriasis to write shitty poetry? I did it. Hell, some people make a fine time/dime doing it. (I'm going to hell for linking to that kid, but add to tally, that one Tuesday, etc.) Is it developmental, in our DNA (99% of which we share with mice–this explains the dreadful sonnet [titled "Our Chance has Run"] about an ex-lover/farmer's wife, a shooting star, and a sad owl I found in the cheese)? Maybe it's a necessary process. The next step is to seek outlets for shitty poetry, explaining scam operations, blogs, script tattoos, and moms. You did it, right? Wrote shitty poems. Do tell.
4. What's the glow day and time to write? I'm going obvious: Sunday, early morning, while the sky is low/blue, the caffeine burning off the hangover fumes. The brain hops. No?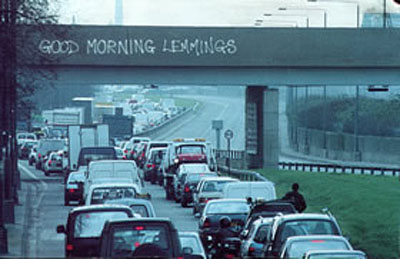 1.) A really cool excuse:
"Saying she was working on a sequel to 'Wolf Hall,' Mantel was not at the NBCC event."
Yeh, I can't attend the awards. I am writing the sequel to the book you are awarding. While you drink shrimp and eat gin, I am writing. Excuse me. Pop!
2.) What's Andy Warhol doing in rural Colombia?
I don't know. A tomato can full of cocaine? Who gives a fuck. Blar me.
3.) Did you know Lucy Corin is in the Great Outdoors issue of Hobart? How issue is this killer? Buy, fondle, crunk, read.
4.) I stopped reading a novel today with 9 pages left. The end. Ever done that?
5.) Sometimes Lit Mags use ugly fonts and it makes me sad. Sweet like forehead tattoos I want my words. I see my piece (oh how very important) and think, "Fuck, that looks like a lawyer or a dead fish or a lawyer with a dead fish." Or I am trying to read other words and the font keeps pushing like a hydrogen cloud, human-given; a laboratory vision of near incompetence the moment it was thought, a hollow blar of a font just waiting for the smelly feet, waiting for the nasal drip from New York to come telling me in his fray, hopelessly hollow yet somehow charming, yellow, open-air way meant for stopping my brain from uploading beauty. But I digress. So.
WHAT IS THE BEST FONT?