meaning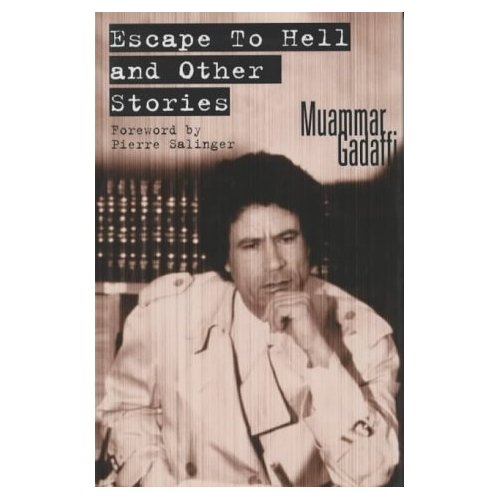 From the NYT obituary of Osama bin Laden:
Yet it was the United States, Bin Laden insisted, that was guilty of a double standard.

"It wants to occupy our countries, steal our resources, impose agents on us to rule us and then wants us to agree to all this," he told CNN in the 1997 interview. "If we refuse to do so, it says we are terrorists. When Palestinian children throw stones against the Israeli occupation, the U.S. says they are terrorists. Whereas when Israel bombed the United Nations building in Lebanon while it was full of children and women, the U.S. stopped any plan to condemn Israel. At the same time that they condemn any Muslim who calls for his rights, they receive the top official of the Irish Republican Army at the White House as a political leader. Wherever we look, we find the U.S. as the leader of terrorism and crime in the world."
Words will always be words. I can call something whatever I want and it doesn't mean a thing until it is validated by power (in whatever form) and then by people because of power. Everyone keeps "rejoicing" and the only people I see or hear questioning that celebration is the people. I'm sure it's coming in small ways from the left but the President has not denounced it, let alone spoken to it so far as I have heard. If I remember correctly, people were pretty upset about this: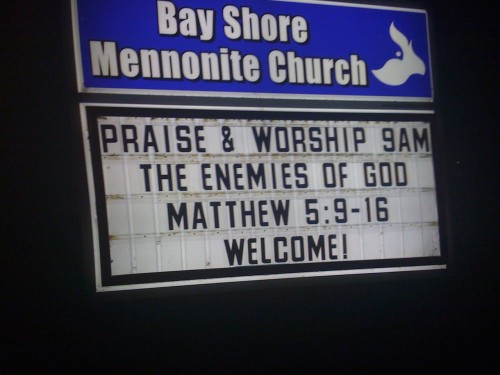 Are the enemies of God welcome here at the Bay Shore Mennonite church? Verse 11 of Matthew 5 reads, "Blessed are you when people insult you, persecute you and falsely say all kinds of evil against you because of me." But, seriously, what if the enemies of God (whatever that means) walked into church one Sunday morning screaming obscenities or staging a hunger strike in front of the podium? I seriously doubt the Mennonites would be down. Not to mention, this sign is probably not saying what it means (or meaning what it says for that matter). Does it mean, "Praise and worship the enemies of God" or "The enemies of God are welcome here" or "Praise and worship. The enemies of God, with reference to the Beatitudes. Welcome" ?
Look at this (bathroom poetics No. 3):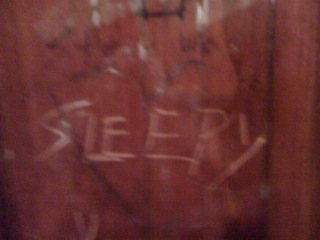 I believe that someone in the bathroom stall at Smokin' Joes was tired after a few beers, a few missed opportunities, too much inhaled smoke. I believe it because it's a likely scenario. But welcoming the enemies of God into your place of worship is not as likely on a number of levels, the most obvious being that "enemies of God" is the dumbest phrase in the world. Not that I am a realist, by a long shot. I like unlikely scenarios when the writer gives me the freedom (leeway, wiggle room) to not believe them literally.