Octopus Books
Sorrow Arrow

by Emily Kendal Frey

Octopus Books, 2014
1. I read Sorrow Arrow in June.
2. "What was the last book you read/what was your favourite, lately?" A friend of mine who was out of town for the summer sent me this text message. I told her it was Sorrow Arrow by Emily Kendal Frey. When she got back into town a few months later I loaned it to her.
3. If you're like me, once a year or so, you read a book that makes you rethink the way you've been writing entirely and you come away from it sure beyond a shadow of a doubt that the only way to write is the way that writer does it.
4. Sorrow Arrow was one of those books. When I was finished with it I just felt the entirety of all the poetry I'd ever written pass into obsolescence.
5. My first exposure to Emily Kendal Frey was when we both had prose poems published in Issue 6 of Banango Street in January. I felt privately certain they only published my poem because it was a prose poem roughly the same length as hers and together the two felt like they were kin somehow — cousins of about the same age who look just like each other but only met for the first time in their late teens. Hers was the more successful cousin by far.
6. I added her on Facebook and a few weeks later she posted as a status the sentence "She is born!" and the book's cover, a faceless blankness wrapped in a green wreath, whirling, encircling sheaves of grass.
7. Two weeks later she posted that the book was available for order and I ordered it immediately.
8. Here is one of the poems: "A radiation plume is making its way to us/We write it down so we won't think/Lap dogs sprinkled with acid snow/I got on the plane and sat back/Out the window I regretted complaining/I'm sorry I wasn't able to get inside your color/The sky was cobalt, deafening/I die so I can live/Outside category" (p. 57)
9. At the centre of Sorrow Arrow is a tragedy. There is a tragedy at the centre of every great book of poetry, I imagine.
10. Frey's tragedy runs through the poems—none of which have titles—like a skein of gold, a vein you can see just beneath the skin, a tungsten wire that glows bright and hot to the touch.
Comments Off

on 25 Points: Sorrow Arrow
October 6th, 2014 / 12:00 pm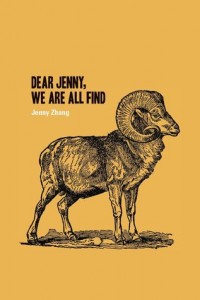 Dear Jenny, We Are All Find
by Jenny Zhang
Octopus Books, 2012
116 pages / $12.00 buy from Octopus Books or SPD
1. MOTHERLANDS
"keats was married to vladimir nabakov
they gave birth to my aunt who spoke no Spanish
and colonized all of western Europe
and that's why michael's dad ate my left toe leaving me
crippppled"
("Lifestyle: I Think I Had a Nice Life and Then I Was Doing Weird Things Like Talking About Having a Bad Life")
2. I started following Jenny Zhang on her blog Fashion For Writers, back in 2007 or something when I made my living selling vintage clothing to places like France for too much shipping and attempting be less insular by people taking photos of what they were wearing in other places. She was in Iowa wearing coats that made me feel like I could survive winter in Ohio and Montreal, where I was planning to move next.
3. Broke and preoccupied with trying to survive winter by books and digging my car out with hot water to get to the thrift store the morning of 50­cent tag day, my Canadian neighbor didn't own a shovel. "Why doesn't your city know how to buy salt for their streets?!" I stayed mute and poured water and felt mute that winter, representing a city I had exclusively lived in and identified with and clutched at matryoshka dolls from antique malls lining my shelves and wanting to chuck one at my car for living somewhere that made it requisite.
4. I think I owned, like, 10 vintage coats at one point. I got pretty disgusted with myself that winter.
5. A couple weeks back, Heather Christle re­posted the caddis fly larvae works of Hubert DuPrat in Cabinet Magazine and posited the idea that poems are analogous to sheaths, constructed from details of our shifting environments. I didn't set out to write a companion essay review, but 25 bullet points are hard to extract from concepts this immaculately presented as external, when poetry is thought of as a "internal" and "emotional" when it communicates a lot like clothing. Here's the traditional review reaction I had if I felt differently:
6. "Dear Jenny makes me feel so many more creepy­voyeur­fangirl things, like 'yikes oh yikes I'm exceedingly aware of how we're reading ancestrally and seeing the sheaths in their past and future relevant form reading anything, into love poems to things and people and continents dead for centuries!!!!!'" Genuinely felt, but I sound twelve.
7. "Family members are resurrected for a second and then blown back to poppy fields before you can say 'twat.' Zhang's incurably dynastic and reads prosaically in its turns and forms, and they're bratty and fleshly corporeal in each syntactical bowel movement." Blurb suited for an
Amazon review: discarding.
8. "We are all find she says
bonjour well because
well she is Chinese and anyway
we don't use R's"
("My Mother Leaves Me a Message Where She Pronounces All Romance Languages in a Deep Voice")
The semiotic problem of "Asian-­American" is the book's seppuku, which I mean gesturing with misappropriation like Zhang does in so many poems. The inherent difficulty of language in relation to identity as ­American is as blatant as asking "what are you?" to your face, language can answer that anything but in part. If the audiences of the speaker's voice heard I was from Ohio, they'd think definitely lived near cows and should have a twangy Gummo accent. How many times did I cringe at Harmony Korine's decision to film in Nashville? Each and every time I moved.
9. It would be better to use a dung beetle analogy instead of the silk casings Octopus Books gives to its larvae. Dear Jenny's concerns and permutations of scatology is made legitimately profound, or find its profundity is pointed at without making the profane pornographic. Example:
10. ". . .I've been coursing through the finite rivers
the smudge of black on yr fingertips and I'm yrs
ya cunt, I'm yrs, yr the cuntiest
cunt I've ever cunted" ("Key Phrase") READ MORE >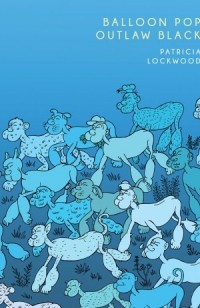 Balloon Pop Outlaw Black
by Patricia Lockwood
Octopus Books, 2012
104 pages / $12.00 buy from Octopus Books or SPD
1. "Popeye." The protrude of oldest skin, the swell of the part that sees.
2. "TITLE FONT SET IN CHAMPAGNE & LIMOUSINES."
3. "Regarding ink, why black? Black because something was extinguished there?"
(When We Move Away From Here, You'll See A Clean Square of Paper Where His Picture Hung)
Lines. Black Lines, (Saying those words out loud to myself makes me think of Lockwood's Octopus partner, Ben Mirov, and his Black Glass Solioquy), are so important to Balloon Pop Outlaw Black (to every text) and to the powerful, self-conscious nature of its "drawn" characters. They are how the cartoons come to appear into their paperflatbookflat, but moving "Popeye" worlds. They are what all of our poems are b(l)oated with and lifted with and broken up by.
4. I forgot my razor in Minnesota, so there are small black lines coming out of my armpits and legs right now. I hesitated the first time I bought a bra that was black. Do you remember when that meant [inside of a Ten Things I Hate About You cultural map] that you were aching to have sex with whatever boymachine? I sat behind a hot girl named Sara in a history class and saw black lines coming out of and through the material of her white Calvin Klein t-shirt. I believed that it was those lines that made boymachines popeye and pupeye across the cover of yearbooks like "blueprints of bulls" (Killed With An Apple Corer, She Asks What Does That Make Me).
5. Now I believe all of your underwear is made of glowing and changing moodring material.
6. It is black lines, night letters, dark lines, definite lines that create and strong arm identity here in this text, that attract all words and beings of this dynamic hair forest together into their lonely, swallowing on swallowing world.
"The dimension is a coat; it is flowered on the green ground. The cartoon wouldn't wear it if
his mother didn't force him" (The Cartoon's Mother Builds A House in Hammerspace).
7. In BPOB, however, lines become, are pushed brilliantly to be, what also gulps identity up, what bruises it around. It's beautiful burst. It's hammerwriting.
Elisabeth Workman, mentions a quote by Lisa Robertson inside her Cuntos Manifesto  that feels imperative every time I re-read Lockwood's poems and every day I make toast, "Identity is very ungenerous and completely non-erotic." The characters here, the speakers here, want to allow themselves to fall apart while engulfed under the speechlove of another dark line or person or word as it invades and saturates and distorts them into bigger better. It think it is the best picture of a galaxy.
8. "And it's hard to tell where the house ends and her insides
begin, there is so much inside around her"
(The Cartoon's Mother Builds A House in Hammerspace).
9. "How can she always arrive at him?"
(The Cartoon's Mother Builds A House in Hammerspace)
10. Lockwood's characters: a whale, a boy, a mother, a father,  a she, "Popeye", a he, crawl at us and at each other with cartoon mouths and cartoon chests. They aren't comic books. Their muscles are not hyper-masculine or hyper-realistic. Their muscles look like little bumps on the page. Cartoons brush against almost being pathetic constantly, just like we/I do. It's what is funny. And it is what makes so much room for interesting there and in BPOB. READ MORE >
Dear Octopus Fans,
We have five announcements to make:
1. Eric Baus's Tuned Droves
2. Shane McCrae's One Neither One
3. Open Reading in April for full-length manuscripts
4. Subscriptions for 2009-2010
5. T-Shirts
[details on #s 1-5 after the jump, and at the very bottom: a picture of Bill Kristol getting nailed by a pie   -JT]
Barrelhouse is a thing we like and their blog has reviewed new chapbooks by people we like so you should read the review and like the books and the people too. 
A Tale of Two Chaps discusses They All Seemed Asleep, by Matthew Rohrer from Octopus Books, and Hit Wave by Jon Leon from Kitchen Press. 
Here are two unhelpful excerpts from the review: 
On Rohrer- >>You've never heard of anything like that, right? <<
On Leon- >>I should say that the chapbook begins with two quick odes…<<
Uncategorized /
Comments Off

on LIKE FEST
October 4th, 2008 / 12:20 pm