Perfect Lovers Press
Whoa, hi, I'm still reeling from this reading I went to on Friday night, which was all about Perfect Lovers Press, which is run out of Cincinnati, which (PLP + Cinci) is run by Dana Ward and Paul Coors. It was held at The Poetry Project and it was something that went really, really late into the night and it was something that was just about perfect–with amazing readings from amazing people like Yvette Nepper (who just ruined everyone so here's her chapbook) and Sue Landers (who has a chapbook called What I Was Tweeting While You Were on Facebook, but I can't find a link so yeah holler @ Dana & Paul) and Micah Freeman (who said "Hi" to everyone and read these amazing poems that are kind of about Amy Winehouse but also not really, it's all about our peaks and valleys, the whole thing) and John Coletti (who just wow) and other people and especially Leopoldine Core, who I have really, really liked for a really, really long time so I took some video:
and I just thought everything she read was so full and so rough, especially when she's all:
i'm ashamed
of how easy it is
to know me
i'm so familiar
naked all the time
my same legs
my ass
i am such a weird little girl
for wanting to live in your
light
picketing in the heat
like an ant
and I don't know what else to say, besides energy, man–it's kind of everywhere.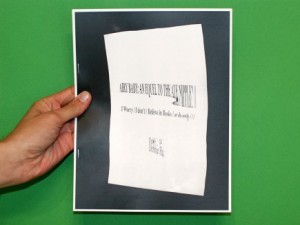 AIRY BABY: AN EQUAL TO THE ATE NIPPLE?//I worry/I don't/Believe in Books/or do owly///
by Debbie Hu
Perfect Lovers Press, 2013
Edition of 100 / $5  Buy from Perfect Lovers Press
Debbie Hu wants you to think about baby, but all I can think about is what baby means for poetry. Mac Low starts off his 17th dance with the realization/instruction, "Someone has a baby or seems to have one." Yes, obviously, we are always having some kind of baby. Notley—to whom Hu gives a much necessary shout out—once questioned, "Do you think women & men have kids in order to become immortal?" Why baby and why now? Are we making baby or is baby making us?  Is it baby or the process of baby? Poets used to have babies now they have the Internet.  Poets today let their babies do unfathomable things and leave their tiny baby lives in shambles. Contemporary Poet Jennifer Pieroni's baby is primarily unlucky. In "Unlucky Babies," she locks her baby out of the car and does not even allow for it to learn to type. Contemporary Poet Chelsey Minnis puts her baby on secret trial: "A baby on 9/11 was definitely in love with me and the parents did not know." Hu's baby lives in a similar place. It is part voyeur, part chauffeur, and part Gucci waiting in the wings.  She writes:
Baby has no laundry machine, only a writing conceit. The baby thoughts of
the baby writing
machine, uploading a picture of herself on the internet, looking suburban.
Baby tries hacking her
relationships with words like love letters like the write combination will
crack the chains & change
a mind & minor upheval. But the effects are weird on the heart. So baby
goes back to writing
words for baby eyes only.
Hu's baby has been taught to type because Hu's baby is sometimes herself. Most often, though, baby is more of a symbolic bystander than a conduit. Baby is not always the most important thing but this book seems to be baby's own creation. Perhaps it would be best to say that Airy Baby, is a kind of intertextual baby book; for the gentle omnipresent-omniscient baby, there is Ke$ha. There is charming organizational risk AKA formal chaos. There is the political as it battles with the personal. There is Cantonese then New Zealand. There are penises or shame. The narrative voice is distinctly cohesive yet polyvocal in a very necessary way.
Hu switches between the hyper casual and the "large idea" casual. She goes from "I wore a candy stripe dress / To the General Assembly and my pleaseface until I / Become a pop star my pleaseface is a dontrapeme pleaseface becuz / stay away my cunt smells terrible" to "it wounds me to read that she craves solitude and no / accountability, I feel like I am all despicable money" in just one page. She is sometimes Gurlesque transgressive in a blunt way like Ariana Reines, but most often a very idealistic type of gross-delicate, something that makes me think of Jenny Zhang's first collection. Feng Sun Chen, from whom Hu quotes extensively, also comes to mind.
While very much composing a "poetry" book, the pieces are sometimes epistolary fragments and other times stolen bits from the pages of some tangentially yet brilliantly related thing. Airy Baby has titled sections, but they're largely irrelevant; demarcations and page numbers become nobody's business. Pieces start and stop wherever they'd like—pick back up then quit again.  Baby, itself, operates similarly, waiting in the background for its opportunity to be the savior or the disgrace. To be the distraction. Baby is present for pages then not at all; it vanishes.
There are epiphanies laced throughout but, much like the emotional content of the book, these realizations are muted. The writing is laced with a certain sense of overwhelming comic unhappiness—the kind of thing that surfaces with any period of introspection. Hu jokingly alludes to David Foster Wallace in the book's preface, and, like Wallace, uses footnotes to distract and "confuse" the reader. Here, though, it would seem that Hu employs these asides to soften the intensely emotional or personal. We are always returning to humor because humor is the only way to comprehend humanity.
Comments Off

on AIRY BABY: AN EQUAL TO THE ATE NIPPLE?//I worry/I don't/Believe in Books/or do owly///
August 30th, 2013 / 11:05 am