Monday, August 11th, 2014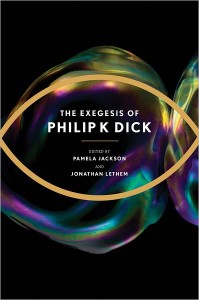 The Exegesis of Philip K. Dick
by Philip K. Dick
Edited by  Pamela Jackson & Jonathan Lethem
Houghton Mifflin Harcourt, 2011
976 pages / Buy from Amazon
Some authors' lives are more interesting than their literary output. I'd rather read Ted Morgan's excellent William S. Burroughs biography Literary Outlaw than any Burroughs' book other than Junkie. Philip K. Dick led such a grandiose life that he'd belong in this category if he hadn't written A) so many interesting novels and short stories and B) at least three major novels in Ubik, The Three Stigmata of Palmer Eldritch and The Man in the High Castle. He also left behind an unwieldy hunk of mystagogic scout work now known as The Exegesis of Philip K. Dick.
Let's get some basic facts out of the way. Dick is popularly known as the author who inspired films like Blade Runner, Total Recall and Minority Report. He was mired in the pulp mills of sci-fi for most of his career (44 published novels; 121 short stories). He was prescribed (!) meth-amphetamine and gobbled whatever drugs he could pillage from his mother's medicine chest. He enjoyed the company of five different wives. Most significantly, he experienced a series of mystical encounters:
1)    A beam of pink light told him that his son had a rare, serious birth defect that needed medical attention. This couldn't have been observed with the naked eye. At the hospital doctors confirmed Dick's otherworldly diagnosis. His wife from that period corroborates the story.
2)    When a delivery girl came to his door wearing a fish sign necklace that was worn by the early Christians, Dick came to believe in an underground network of secret Christians that he was being initiated into.
3)    During a period of heavy amphetamine use, he looked into the sky and saw a menacing, metallic, malevolent god. This wasn't a transitory hallucination. The old triple-M sky-god looked down on Dick for a number of days, serving as inspiration for his masterpiece The Three Stigmata of Palmer Eldritch.
4)    Most spectacularly, Dick reached the conclusions that:
–       Time was an illusion
–       Reality was a hologram
–       The year was actually 50 A.D.
–       The Roman Empire never ended
–       Without having read The Book of Acts, he independently recreated parts of it in his novel Flow My Tears, The Policeman Said.
Much of this is revealed as the tractate in his novel VALIS, whichfrequently references Dick's exegesis, defined as a "critical explanation or interpretation of a text or portion of a text, especially the Bible." Up until recently, only a truncated version had been published, but self-styled Dickheads were desperate for more. Jonathan Lethem, Pamela Jackson and a team of editors dug through Dick's cartons of manic exegeting and in 2011 Houghton Mifflin Harcourt published a thousand page volume titled The Exegesis of Philip K. Dick.