shya scanlon
1. Shya Scanlon's Forecast has been launched at Flatmancrooked. "The year is 2212, the weather is out of control, and Seattle is being rebuilt with electricity generated from negative human emotion."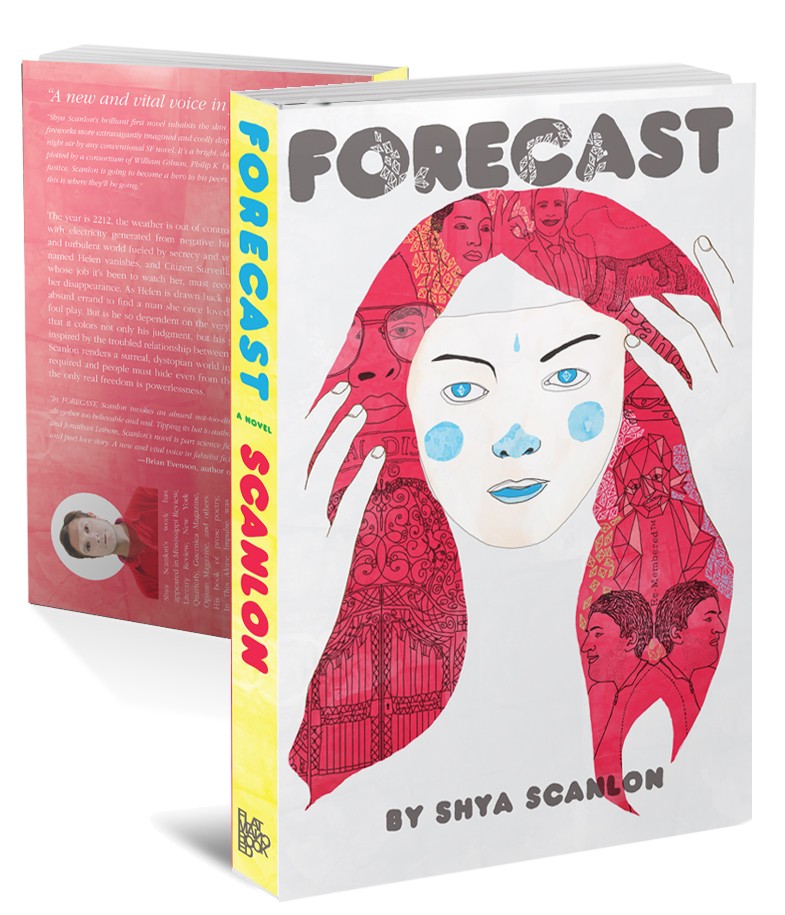 2. Lindsay Hunter has a rad new freakstory at 52 Stories: Three Things You Should Know About Peggy Paula.
3. At Comics Alliance, "The Monsters of H.P. Lovecraft's Cthulu Mythos, As Drawn by Children"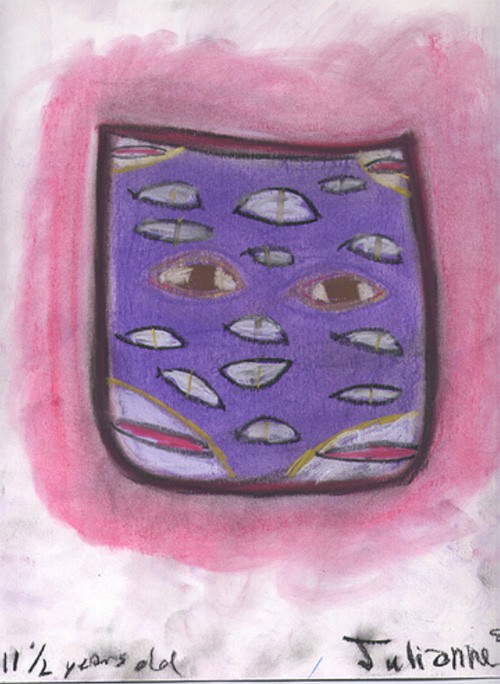 4. New issue of Notnostrums.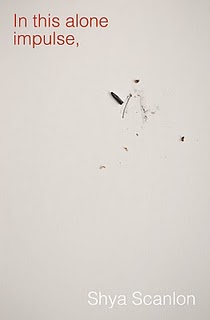 Released earlier this year from the magnificent Noemi Press, Shya Scanlon's full length print debut In This Alone Impulse, is truly of thing of many things. Using 7 line blocks of language to evoke a sublimely confounding string of styles, voices, jokes, murmurs, machines, Scanlon has truly forged from a seemingly simple set of building blocks a highly tuned and deceptively challenging machine of language and idea.
For a taste, check out Shya's YouTube feed, which features short videos of a wide range of folks reading sections from the book. Here's a rather rad one by A.D. Jameson, performing, 'Hansom':
Over the past few weeks Shya and I talked some about the construction of the book, its influence, becoming, tone, approach, as well as some of his other forthcoming works.
Blake Butler
—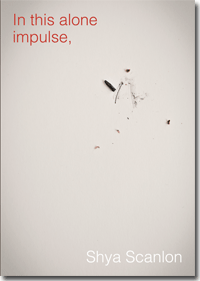 Shya Scanlon's much anticipated In This Alone Impulse is now available for preorder from Noemi Press. "If Gertrude Stein ran track for Mineola Prep, she'd text these alert, convival poems from the team bus." — Joyelle McSweeney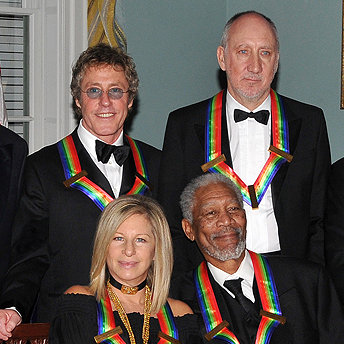 The fine folks at Electric Literature have launched a blog. The first two posts at The Outlet are a chapter of Shya Scanlon's Forecast and this short essay by Jim Shepard about writing non-fiction-based fiction.
The first worry writers have when they consider working with something like historical events has to do with the issue of authority:  as in, where do I get off writing about that?    Well, here's the good and the bad news:  where do you get off writing about anything?   Where do you get off writing about someone of a different gender?    A different person?   Where do you get off writing about yourself, from twenty years ago?
Uncategorized /
10 Comments
October 1st, 2009 / 11:46 am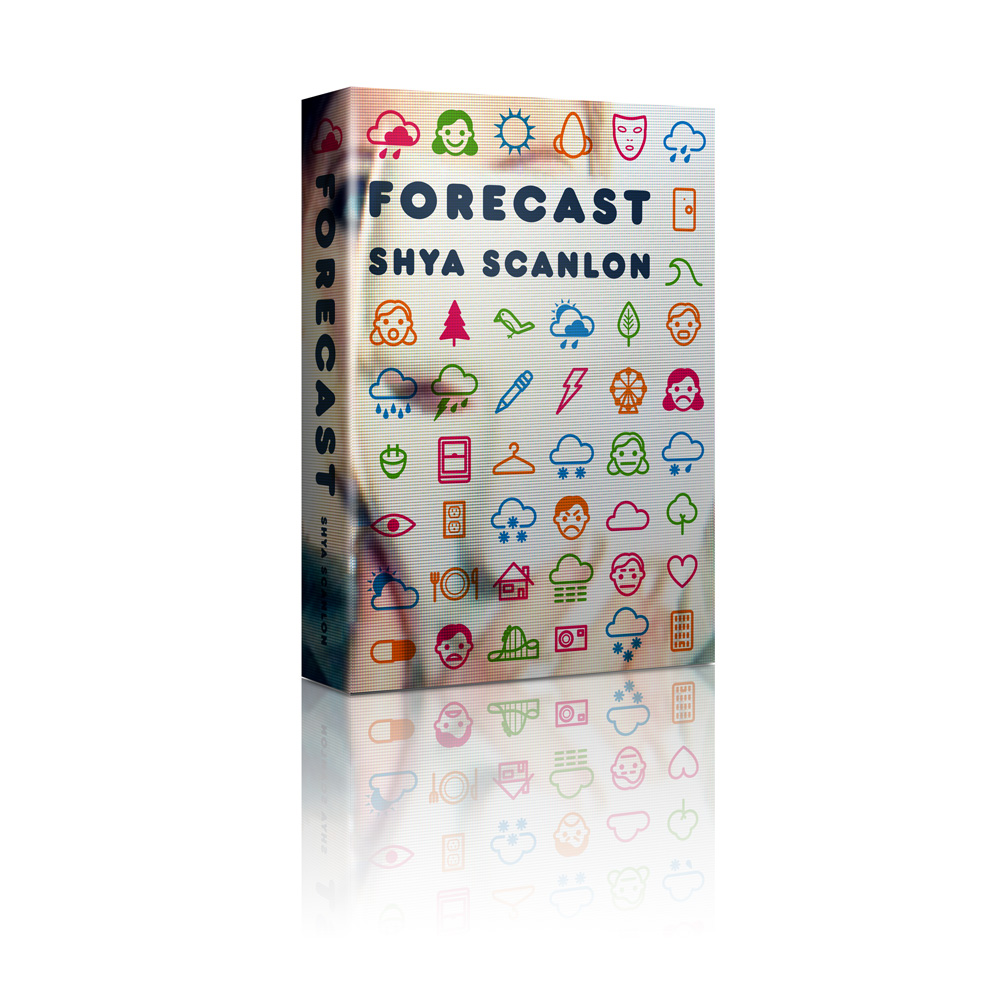 Forecast is being serialized semiweekly across 42 web sites. For a full list of participants and links to live chapters, please visit www.shyascanlon.com/forecast.
CHAPTER 19
In her dream they were still together. Unhappy. Asseem scowled at Helen, clearly blaming her for the movement of her arms down the sides of her body and onto her back. Her fingers poked and prodded, roaming freely as her hands pulled them across the fenceless farm of skin. The couple was in an immaculate bedroom, and as Asseem stared at her in disgust he walked around and picked at small scabs on the wall. She tried to speak, but her accent was so thick she couldn't understand herself—some kind of vowel-heavy heaving and moaning, a familiar word escaping now and then only to be pulled back in, kicking and screaming, to the vague morass of soupy sounds. She watched as he made his way from one side of the room to the next, the open sores behind him oozing, pus running down the walls. She looked out the window. Rain was coming down in puddle-size drops, and she began to hear it on the roof, a series of thunderous beats that blended into a steady roar and shook the walls. Helen looked back at Asseem and again tried to speak, to call out above the noise, but her voice was entirely drowned out by the rain, and her boyfriend continued to pick scabs and stare cruelly, his judgment distorting his face so much it took on twenty years, growing older as she watched. Then the puss began to take shape. It slowly pooled together at Asseem's feet and formed into the bric-a-brac of childhood, cluttering the floor. Helen tried to stand, wanting to plug the leaking holes, but she was held in place by her arms, their white knuckles blending in with the bleached cotton sheets. The sound of the rain grew louder, Asseem's scowl deepened, and the floor was filling up, now a sea of small objects: toy cars, pens and pencils, stuffed animals and books along side so much trash. It was climbing up her boyfriend's legs, building beneath him as he dug deeper into the walls, his eyes now filled with a blank stare that was not, she realized, looking at her, but past her, through her. He was being consumed. Fearing for Asseem's life Helen began to yell, to overwhelm the room's racket with her own, and though she could still not understand her words she could begin to pick her sound out within the cacophony and it grew, louder than the beating rain, louder than the mounting rumble of debris until at last it finally broke like a fever at its peak and all sound stopped.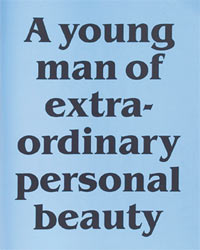 [Via The Book Design Review]
This is the cover of a new version of The Picture of Dorian Gray published by Four Corners Books in London. It's published like a magazine, I guess cuz first it was published in a magazine. Any good books coming out in magazines nowadays? Is everybody enjoying Shya Scanlon's "book," Forecast? (Speaking of nice design and serialized novels?)
I mean, get outta town, that's the cover of the book. It's got a nasty font and a word-
break and it don't got the title or author or nothing.
Fn-A right, that's pretty dang wapow. (Even it was reviewed in Financial Times.) I gotta go back to school.
I checked out Four Corners. They have other awesome looking books.