stacy doris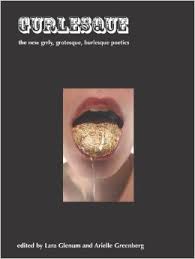 The second e-version of Gurlesque, an anthology of "the new grrly, grotesque, burlesque poetics," is coming out soon with an expanded number of amazing female writers, including Jennifer Tamayo, Marisa Crawford, K. Lorraine Graham, Kate Durbin, Kate Degentesh, among others— along with the original contributors, one of whom is Stacy Doris.
When I read Doris' funny, edgy, cerebral, and (dis)sensual Paramour in college, I knew I needed to go to San Francisco State for my MFA so that I could work with her in person. Stacy proved to not only be a phenomenal writer but also a caring mentor. Her passing in 2012 still feels raw today.
After reading an excerpt of Doris' book The Cake Part [1] which was published in the first edition of Gurlesque, I decided to read the full version and then (circuitously) write the following essay, incorporating other writers that used theater the way she did (or did not) in that book.
Only, since I was writing about transformative theater, I figured the traditional essay format wouldn't lend itself as well as a more dramatic format…
***
Scene: In a spaceship in a parallel universe. Android GERALDINE KIM types commands into the complicated lit-up dashboard as her ship is being attacked by a multitudinous tentacled alien race.
GERALDINE KIM: (ignores cosmic blasts while typing furiously.) I tried to write an essay on theatrical writing (not to be confused with the genre but more a leitmotif within other genres of writing—namely poetry) and then I realized that there are actually only a handful of instances of this in contemporary fem writing (that I could find).
GERALDINE KIM's BEST FRIEND WHO WISHES NOT TO BE IDENTIFIED: (enters.) How many instances did you find?
GERALDINE KIM: Four.
Random
/
Comments Off

on A THEATRICAL ESSAY ON TRANSFORMATIVE THEATER FROM THE WORKS OF A FEW CONTEMPORARY FEM WRITERS
August 15th, 2014 / 10:00 am