The Persistence of Crows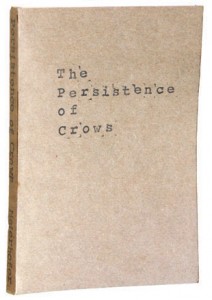 The Persistence of Crows 
by Grant Maierhofer
Tiny TOE Press, 2013
173 pages / $12  Buy from The Open End
Coming of age narratives are usually as riddled with tropes as low-budget horror films. Sure, there are a few outstanding novels in the genre like Bret Easton Ellis' Less Than Zero and Anthony Burgess' A Clockwork Orange, but the list of must-reads grows at the speed of stalactites. Grant Maierhofer's The Persistence of Crows, from Tiny TOE Press, has joined that short list with a story full of depression, too-beautiful moments, and kind of soul crushing realness.
Henry Alfi is a young man who's recently stopped using drugs and alcohol. Sadly, his new unaltered state of consciousness has him feeling bored, lonely, and profoundly disenchanted by the people and institutions that surround his life in the Midwest: AA, friends, college, family, the women he dates, etc. One of the few things Henry enjoys is writing, so a trip to New York with his college newspaper seems like the perfect opportunity to get away from everything for a while and ponder the future. Surprisingly, the trip turns out to be more than an escape and Henry finds himself ready to move, eager to discover the world, sure that he wants to pursue a career in writing, and falling quickly in love with a woman who shares his view of the world.
The Persistence of Crows starts out as an unimpressive narrative about a young man about to embark on a trip to NYC. Despite the lack of an exciting start, Maierhofer manages to set the hooks in via his use of language and character development. The strategy is risky, but he pulls it off. The prose has a unique, somewhat offbeat rhythm and the dialogue is sharp. Also, he establishes early on that his main character is deeply flawed but also thought-provoking and the kind of individual you want to learn more about:
"It felt better to be walking by myself. I didn't feel unsafe when I was alone. I didn't care if some bum crept up to me. I would fight and what would happen would happen. It was when I was with others that I got nervous. It's far easier for me to imagine defending myself than it is protecting the life of somebody else. Their life can be completely abstract even if they're standing right next to you."
Henry is the poster child for the broken/dissatisfied/irritated/Google generation. He feels alienated, gloomy, and deracinated despite being home. His life on drugs and alcohol was bad, but his life without them isn't better. The story seems to be a character study for a few chapters because the dark past, recent troubles, and disturbed state of mind are all in place, but it changes drastically once Henry lands in New York. A bit of dark humor and pervasive dreariness quickly switch to a beautiful homage to the Big Apple in which Maierhofer's knack for language and imagery take center stage:
"The rain beat down on all of us. These youthful faces soaked in the same Hudson River breeze as the old folks arm in arm enjoying the bright lights of the city. I was surprised to see that even in the afternoon the lights shone as brightly as all of the photographs I'd seen of the city at night. When I turned the corner, all breath was taken out of me. Any worry I had ever felt in my entire life up until that point turned into a sense of power as I stood there staring at the gray and red and silver world encircling me."
The homage to NYC saturates the narrative for most of the middle third of the novel, which contains a few odd encounters between Henry and locals that deserve to be in film, and eventually bleeds into the brief but magical time Henry spends with Sara Lee Poe, a fellow journalist he meets at a panel. The duo allows the city to filter everything they experience together and they weave a cocoon of shared ideas and passion that blinds them from their imperfections. As soon as their time together is over, reality comes crashing in and Maierhofer uses it to destroy both everything Henry built and readers' emotions.
The Persistence of Crows switches between a romance, a bizarre comedy, and something that pulls from most of Woody Allen's early work. It is an exploration of loneliness, addiction, the construction/obliteration of love (or at least a reasonable facsimile), and disconnection. Maierhofer's Henry thinks trying to pay attention to what others have to say can only lead to suicide, but he ends up contemplating suicide because of things that were left unsaid. Stories about falling in love in oh-so-magical New York are as old as the city itself, but Maierhofer has updated the premise to offer the honesty and ugliness that fans of authors like Tao Lin, Ana Carrete, and Sam Pink demand, and the result is worth a read.
***
Gabino Iglesias is a writer, journalist, and book reviewer living in Austin, TX. He's the author of Gutmouth (Eraserhead Press) and a few other things no one will ever read. His work has appeared in The New York Times, Verbicide, The Rumpus, HTMLGiant, The Magazine of Bizarro Fiction, Z Magazine, Out of the Gutter, Word Riot, and a other print and online venues. You can reach him at gabinoiglesias@gmail.com.