The Selected Poems of James Henry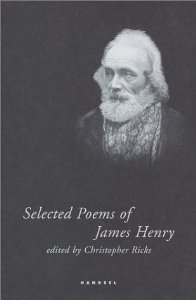 The Selected Poems of James Henry
by James Henry
Handsel Books, 2002
180 pages / $22.00 buy from Amazon
1. There really is no direct route to Irish poet James Henry (1798- 1876).
2. Most often his fans come by way of Henry James (an absent comma in a library computer) and a well-developed sense of humor.
3. Despite a consistent output (six strong books of poems, beginning in the 1850's), James Henry was a virtual unknown until the poet Christopher Ricks included him in the 1987 New Oxford Book of Victorian Verse.
4. According to Ricks, the books he found in the Cambridge Library had never been cut. Ricks discovered an enormous treasure in Henry's work.
5. James Henry shows a hilarious and distinctly modern vision of the world.
6. He champions the prosaic.
7. In one poem he declares, "Blessed be the man who first invented chairs!/ And doubly blessed, the man who beds invented!"
8. In another he celebrates the pleasure of the mattress, "Let those, who will, enjoy the English bed/Of feather-stalks from which successive housemaids/Have pillaged to the last flock of the fine down/…Give me the Italian mattress broad and long/ Of fine, combed wool elastic; and the coarse/Hempen or linen sheets, washed in the fountain."
9. On his favorite blossoms, "Sweet breathes the hawthorn in the early spring/ And wallflowers petals precious fragrance fling,/Sweet in July blows full the cabbage rose/ And in rich beds the gay carnation glows…But of all odorous sweets I crown thee queen/ Plain, rustic, unpretending, black eyed bean."
10. Henry was a practicing physician and a student of Virgil. Following his retirement, he traveled Europe, settling in Dresden. This modern cosmopolitanism and his career in medicine both shine through in his strongest works. READ MORE >