Tombo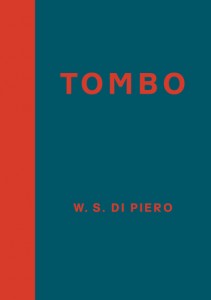 Tombo
by W.S. Di Piero
McSweeney's Books, 2014
65 pages / $15  Buy from McSweeney's
Tombo is a book about place as much as anything. It's about San Francisco. Many poems are about place – whether they are explicit about it or not. Di Piero is explicit in Tombo. W.S. Di Piero recently won the Ruth Lilley Poetry Prize, a Guggenheim Fellowship, a National Endowment for the Arts Grant, the Lila Wallace-Readers Digest Award, and writes for the New York Times, among other places. He is an incredibly distinguished poet and McSweeney's bills him as "a master of the adjective, a master of sound and story."
I'd never read anything by W.S. Di Piero before this book, which I read primarily at cafes not in San Francisco. Di Piero starts the book by addressing, you, the reader, "Life, as you say, my friend, / is lived in its transitions." Life is funny like that. The first poem, The Running Dog, involves a brunch I could envy "A breakfast of poached eggs, / spiked coffee, newsy talk, / crushed sun behind the clouds, / marine layer vapors phasing / blue to green, and the body / quivers through its days." In fact, like living in San Francisco and eating brunch, there's a lot about the life of the poet that seems enviable, depending on your disposition.
I would highly recommend this book if you appreciate poemy poems full of foghorns, flowers, and random interjections in other languages. Di Piero prides himself on sound and music, and there is a certain music in these poems – while they're unrhymed free verse, there's a recognizable rhythm and music throughout.
The poem Sleeping Potions reminds me of a story I heard from a local bike mechanic: A man came into his bike shop, and took a used bike out for a test-ride. The man never came back. He had left his bag with a laptop, credit cards, wallet, and other valuable things, at the bike shop as collateral / insurance. A few days later the bike shop gets a call. The police had found the man "several hundred miles" north of the bike shop – he had no explanation for what he had done – he didn't know or remember the previous several days. The bike was returned to the shop and the man got his bag and valuables back. But what happened between the shop and hundreds of miles north?
And what's happened in Tombo during the intervening fugue paragraph? We've moved from Hayes Street, to Duboce Triangle, to the N-Judah. We've got a look at Market and the Mission and Dolores Park. Di Piero has said that his books "start out as miscellanies." The poems in Tombo don't have the kind of narrative arc or grand teleological direction. They're brief meditations. "If my poems come out right, they tell what it feels like to live in a world of troubled relatedness," Di Piero said in an interview. I like this idea of troubled relatedness – and I think it's an interesting way to talk about poems.
Comments Off

on Tombo by W.S. Di Piero
July 7th, 2014 / 10:00 am